France's Serme Joins Egyptian Trio in British Open Finals
France's World No.4 Camille Serme will be the only non-Egyptian in action on finals day at the 2019 Allam British Open as she overcame England No.1 Sarah-Jane Perry at Hull's Allam Sport Centre earlier today to earn her spot in the title deciders alongside Egyptian trio Nouran Gohar, Ali Farag and Mohamed ElShorbagy.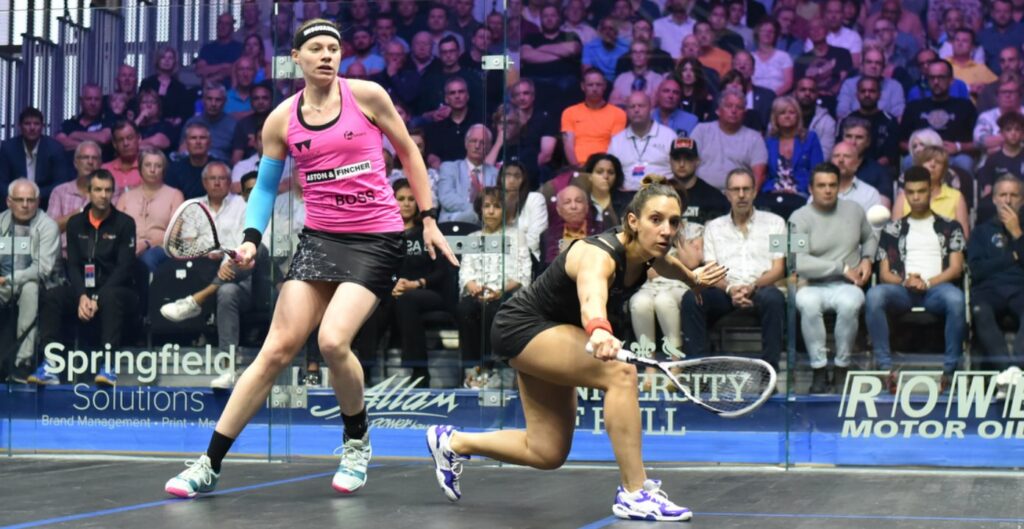 Serme became the first Frenchwoman ever to win the sport's longest-running tournament when she beat former World No.1 Laura Massaro in 2015, and she will have another opportunity to etch her name into the history books after getting the better of World No.6 Perry by a 12-10, 7-11, 11-6, 13-11 scoreline.
Perry, the 2017 champion, had her chances and led 7-3 in the fourth, but a tenacious performance from Serme saw her take a win which sees her reach a first PSA World Tour Platinum final since January 2017. Serme will play 2016 runner-up Gohar in the women's final.
"It was difficult today, she had a lot cheering, but the crowd were very fair, they enjoy good squash, and even though the English player didn't win, they clapped at the end," said Serme.
"Sarah-Jane was playing better in the fourth, she was finding her length and I was trying to get in front of her again. It seems I play better when I'm behind.
"Nouran's been playing very well for the last few months and she's in very good form. I'm looking forward to a good battle, and I'll be ready for it."
Gohar followed up a semi-final dismantling of World No.1 Raneem El Welily with a superb display against World No.3 Nour El Tayeb to earn a place in a second Platinum tournament in a row.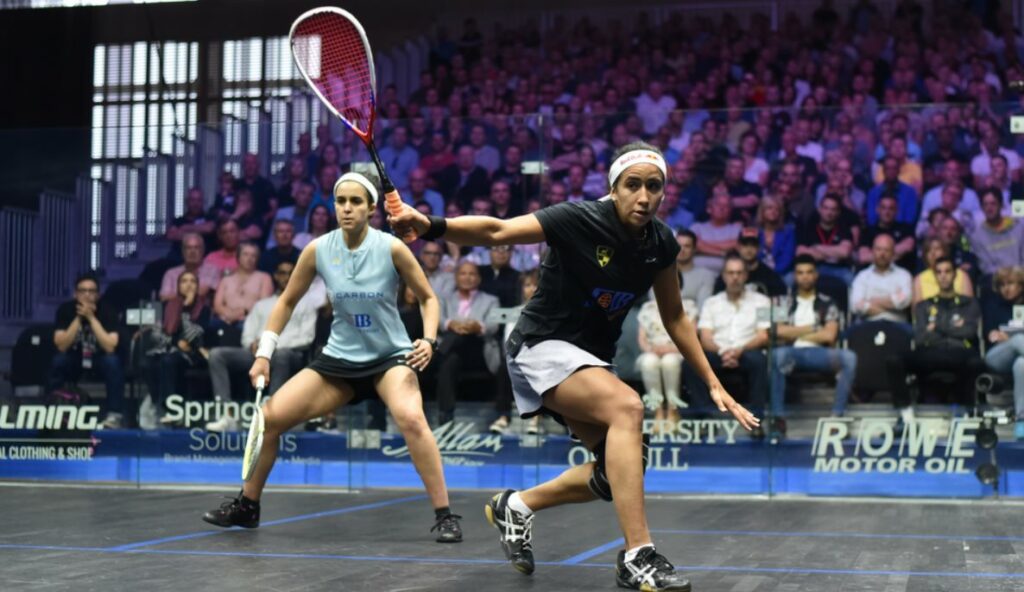 The World No.7 has been in fine form recently after advancing all the way to the El Gouna International title decider last month and the hard-hitting 21-year-old outplayed El Tayeb to earn an 11-9, 11-2, 6-11, 11-9 victory.
Gohar, a construction engineering student at the American University in Cairo, sat her final university exams in the build up to the tournament, but says her lack of preparation for the tournament has been a blessing in disguise rather a hindrance.
"I had my final exams before coming here, so I wasn't playing that much squash, I was just studying a lot," the Egyptian said.
"I think it helped today and throughout the week. Sometimes when you don't play so much squash, you're really fresh, moving on court fast and have new ideas. I think that was the case today."
In the men's draw, the world's top two players – Ali Farag and Mohamed ElShorbagy – will do battle after they defeated World No.6 Paul Coll and World No.4 Karim Adel Gawad, respectively.
Farag will appear in his 10th PSA final of the season – and third in a row – after prevailing in a thrilling 77-minute encounter with New Zealand's Coll to reach the British Open final for the first time.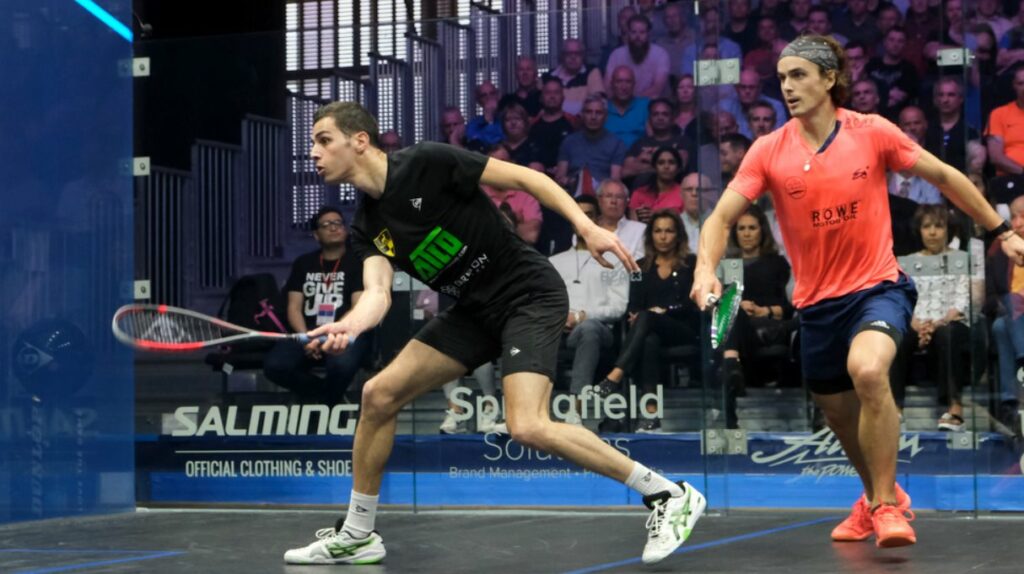 The duo put on a semi-final clash befitting of one of the sport's most prestigious tournaments, with Coll playing some accurate squash to take the opener. Farag stayed calm though and some incredible retrieving from the 27-year-old saw him finally get the better of his opponent by an 10-12, 11-7, 11-4, 10-12, 11-7 scoreline.
"It is unfair to talk about it [this match] in just a few sentences. It is one of those matches that you are going to remember forever," Farag admitted.
"Win or lose, you would have been proud to have been a part of it. I think Paul and I represented our sport very well and we did our sport proud. Also, what an occasion to do it, on semi finals day at the British Open."
Farag and ElShorbagy will now meet for the fifth time this season after ElShorbagy displayed some of his best squash against Gawad to earn an 11-9, 11-3, 11-9 victory.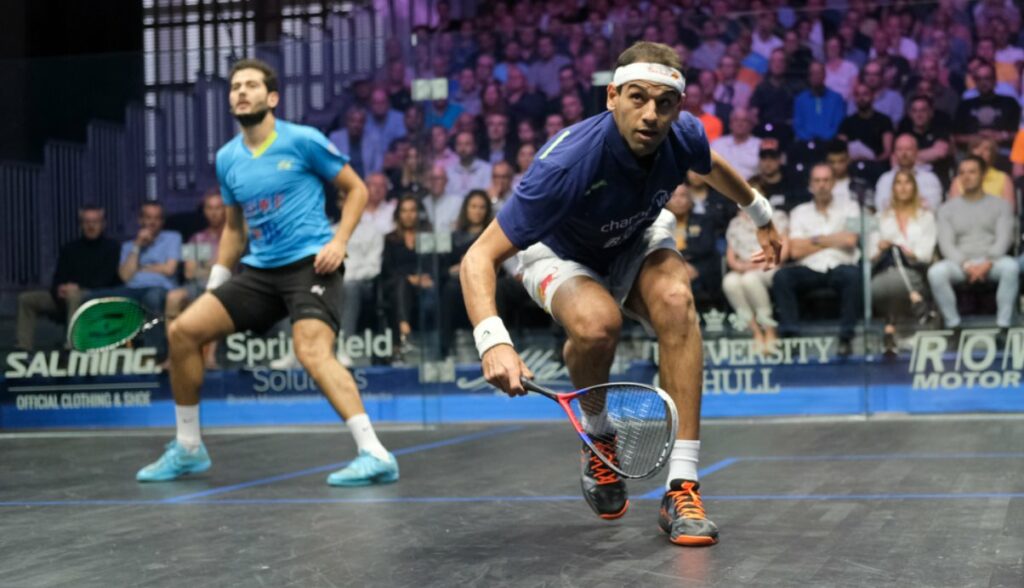 Gawad was suffering with a shoulder injury sustained during his 89-minute quarter-final with Germany's Simon Rösner and never really got going as he fell victim to an immaculate performance from ElShorbagy, World No.2.
ElShorbagy hasn't dropped a game all tournament and will appear in his fourth British Open final after winning the event in 2015 and 2016, and reaching the final last year against Colombia's Miguel Rodriguez.
"Ali had to go through a lot of tests today, and again he passed the test," said ElShorbagy.
"At the end of the day, he is the one in the final and I am the one who has to face him. You have to forget the rest of the tournament and now there is one big match tomorrow and there will only be one winner."
The  finals begin at 15:00 (GMT+1) on Sunday May 26 and action will be shown live on SQUASHTV (rest of world), Eurosport Player (Europe only) and by major mainstream broadcasters around the world, such as BT Sport.