Allam British Open 2021 : Day SEVEN, FINALS, from 15.00
[1] Nour El Sherbini (EGY) bt [2] Nouran Gohar (EGY) 3-2: 9-11, 13-11, 5-11, 11-7, 11-2 (64m)
[3] Paul Coll (NZL) bt [1] Ali Farag (EGY) 3-1: 6-11, 11-6, 11-6, 11-8 (64m)
El Sherbini claims third British Open

World No.1 Nour El Sherbini inflicted her sixth major final defeat on Egyptian compatriot and defending champion Nouran Gohar, coming from behind to claim her third British Open title.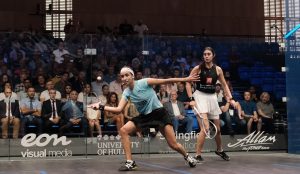 Ahead of today's meeting, most predictions indicated an El Sherbini win was on the cards, with SquashLevels giving Gohar just a 34 percent likelihood of victory.
Further, in the pair's 17 previous PSA meetings, El Sherbini had bested Gohar in 13 of them, winning all five of the major finals the pair had contested, including victories in this summer's World Championship and the 2016 British Open finals.
World No.2 Gohar, could not be written off though. The 23-year-old, a winner in 2019, had been playing some of the best squash of her career recently and, like El Sherbini, had only dropped one game throughout the entirety of the tournament, with her 3-0 semi-final victory over No.4 seed Hania El Hammamy arguably the performance of the tournament.
Although there had been some pre-match discussion about whether El Sherbini's persisting abductor injury would affect her performance, both players were quick to shut this down. Speaking after her semi-final win over USA's Amanda Sobhy, El Sherbini said playing with an injury was helping her play better squash due to an increased focus on accuracy. Similarly, Gohar said: "I think Nour is playing better when she's injured actually."
Relentless 👊

Squash of the highest quality from @NouranGohar and @noursherbini 👏#BritOpen21 #WhereLegendsAreMade pic.twitter.com/XiH8Ums6pl

— Allam British Open (@BritOpenSquash) August 22, 2021
The first game set the tone for the match, with both players pushing hard and looking formidable. El Sherbini had the better of the early stages, taking a 5-2 lead with her clinical accuracy catching out Gohar. The 23-year-old soon settled, though, and dealt El Sherbini a barrage of powerful drives. El Sherbini struggled to adapt to Gohar's tremendous pace and the No.2 seed took the first game 11-9, winning the final point with a tremendous backhand boast.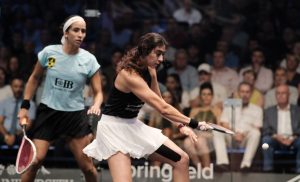 Both players traded points in the second, with neither able to pull clear until a couple of uncharacteristic unforced errors from El Sherbini gave Gohar a two point lead at 7-5. More errors followed from El Sherbini, giving Gohar three game balls and a golden opportunity to put one hand on the trophy. El Sherbini, however, showed ice-cold nerves, knocking off the points to turn the game on its head and take an 11-10 lead. Now it was Gohar's turn to see off the game ball, taking the score to 11-11, only for El Sherbini to immediately retake the lead 12-11. This time, El Sherbini converted, levelling the match with a 13-11 win.
As the ball softened up in the third, more errors crept into El Sherbini's game and Gohar took full advantage, taking a higher position on court and speeding into a 7-1 lead. Although El Sherbini began to chip away at this lead, it proved to great a hurdle and Gohar required only one of her five game balls to take the third 11-5.
El Sherbini battled gamely in the fourth and, appearing to be having trouble with her movement, chased more winners. This tactic, while riskier, proved a worthwhile one and El Sherbini took the game 11-7, though she appeared to be in severe discomfort when leaving the court.
🎙️ "She's gone into another realm!"@noursherbini is not giving this up 😤

We're going to five – what a final! #BritOpen21 #WhereLegendsAreMade pic.twitter.com/WJLlwup4kB

— PSA World Tour (@PSAWorldTour) August 22, 2021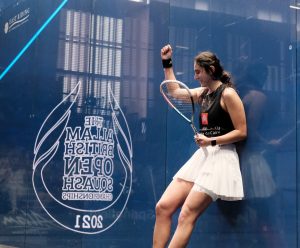 This win seemed to give the Warrior Princess a second wind and she looked dominant in the early stages of the fifth, as she took the tempo out of the game and dictated play.
Although Gohar desperately tried to pull El Sherbini off the T, the World No.1's devastating accuracy, missing earlier in the match, eventually put her to the sword, with El Sherbini taking the final, decisive game, 11-2, to become the first woman since Nicol David to win the tournament three times.
The moment @noursherbini became the 2021 British Open champion 🤩

Congratulations, Nour 👏#BritOpen21 #WhereLegendsAreMade pic.twitter.com/MiDreazU2k

— Allam British Open (@BritOpenSquash) August 22, 2021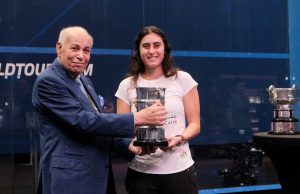 Speaking after the match, El Sherbini said: "It's really hard right now to describe it, but I'm really glad that I sneaked the last game at the end. Nouran is very fit and on form and is very strong. I was struggling the whole match and just wanted to keep going and keep pushing every point. I was almost going to be 2-0 down and who knows what would happen. I didn't expect the last game would be that quick but I felt myself going point after point and I didn't want to stop if it was working. So just keep going, keep going and it's an indescribable feeling right now.
"Maybe [the softer ball benefited me]. At the end of the fourth actually, we were at 7-7, 8-8 and I just won four or five points after each other. I just tried to relax a little bit to make my shot come because I thought I'd done a lot of unforced errors. So I just wanted to get my shots back, be more confident, and relax. I think I relaxed a little bit and that's why I tried to play my shots and go for them, even if they go down.
"It's amazing [to have won a third title]. The British Open is a title that every player would love to win and competing in the British Open straight after the World Championship is very tough for me mentally, but I just wanted to keep the same form I was on. It was very hard for me because I was struggling a lot but I'm here right now and really glad and grateful that I'm standing here and chatting with you right now."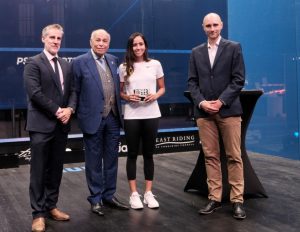 Gohar said: "It's tough, definitely it's tough. But it was better than the World Championship final and I'm just proud of the week here. It was a great week. I learned some stuff from the final of the World Championship. I tried to execute it here. I think I was closer to the win today, which is still positive. I mean, I can't really complain.
"Being in the final of the most prestigious tournament, it's huge. Definitely I would love to win it for sure, for a second time in a row, but last year was amazing and I have such amazing memories on this court. Every time I feel demotivated, I just go back to the video and watch the 2019 final, it's very special for me. 
"All credit to Nour, she came back in the fourth and fifth and she played amazing squash, so she truly deserves it. Congrats for her. I hope next year I will come back and fight for another title. I would always come back and try to fight more and more and more.  It's always enjoyable to be back here."
Gohar went on to thank her family, friends coaches, sponsors and the crowd for making the event so special for her.
Result: [1] Nour El Sherbini (EGY) bt [2] Nouran Gohar (EGY) 3-2: 9-11, 13-11, 5-11, 11-7, 11-2 (64m)
Spectacular Coll wins maiden British Open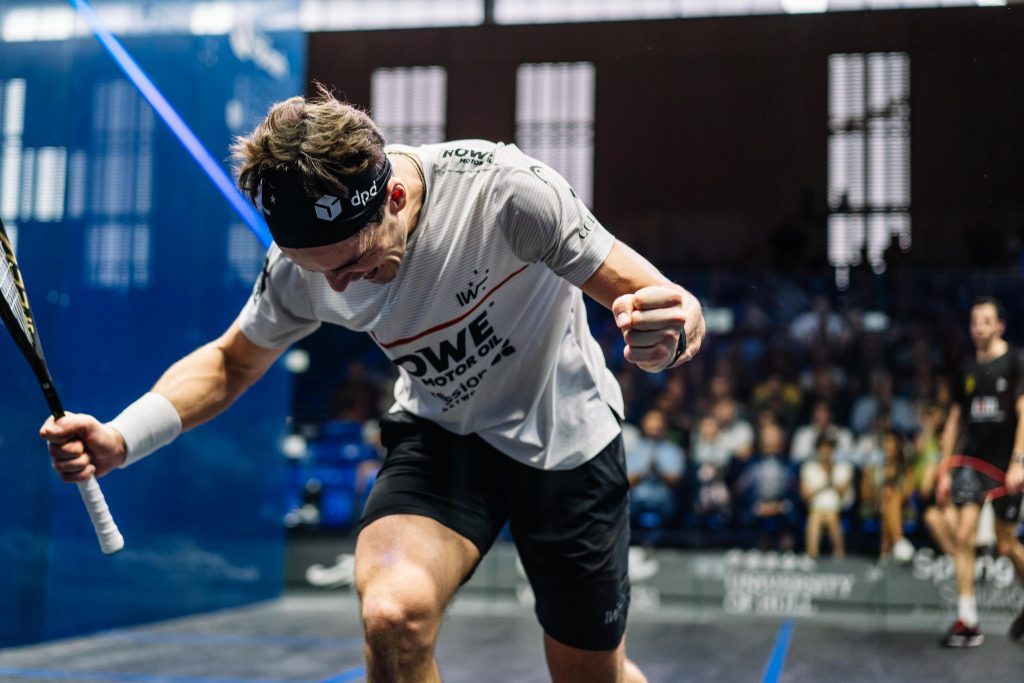 New Zealand's Paul Coll became the first male Kiwi to win the British Open, after the 29-year-old sensationally beat top seed Ali Farag 3-1.
Ahead of the match, Farag had reason to be confident. In the pair's 14 PSA matches, Farag had beaten Coll an eye-watering 13 times. This included wins in two finals in 2020, the Qatar Classic and the Windy City Open, as well as in the semi finals of the 2019 British Open.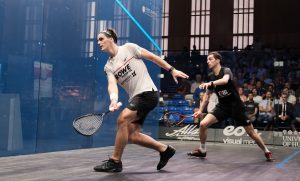 Coll, however, went into today's meeting knowing not to fear the record books. In his semi-final victory over World No.1 Mohamed ElShorbagy, who had held a 9-1 record over Coll, the 29-year-old looked unplayable, requiring just 31 minutes to knock the defending champion off his perch.
Farag had the better of the first game, easing to an 11-6 victory as an off-looking Coll struggled to get into the match.
The No.3 seed, however, came back well in the second and raced into a 7-1 lead with an amazing and accurate display, targeting the back corners and forcing Farag onto the back foot. Not for a moment did Coll let the intensity drop and he took the game 11-6, though he may have felt nervous seeing Farag save four game balls, having been 10-2 down.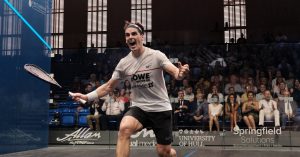 Coll followed up this game with an excellent showing in the third, which he took 11-6 again, with Farag struggling to find a response.
Farag pushed desperately in the fourth and was able to keep close to Coll after winning a number of brutal rallies. Coll, however, may well be the player best suited to this type of game, such is his fitness. The World No.4 was content to trade long rallies with Farag, finally taking the match, and championship, with a well-deserved 11-8 victory.
🎙️ "He's done it! He's won the British Open!"@paulcollsquash has made history! 🏆

He's the first male player from New Zealand to win the title! 🇳🇿#BritOpen21 #WhereLegendsAreMade pic.twitter.com/mRuCqgcdtZ

— PSA World Tour (@PSAWorldTour) August 22, 2021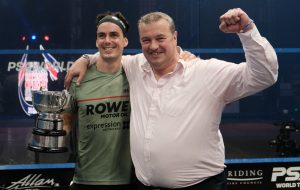 After the match, Coll said: "It's been a long journey for myself. Coming right from juniors, I had to leave home at a young age. This moment right here makes it all worth it. To have my coach in the crowd, one of my really good friends, Lee, in the crowd, just makes it extra special to be able to do that. My parents were supposed to be here, but due to COVID they can't travel, so just super proud of this moment. I just want to thank everyone from New Zealand and everyone who's helped me over my career to get to this stage. There's too many people to single out, but thank you all. I love you all. Thank you to the whole of New Zealand for getting up at two AM and watching. Thank you so much, everyone in the crowd who was here and came out to support, I just want to thank you all for everything that you've done for me.
"I was probably slightly different to everyone [else who won previous Opens]. I didn't start my squash until a bit later. [If] I went through juniors with Ali, he probably would have bageled me 3-0, 11-0 in every set. But this is the pinnacle of squash, apart from the World Championships, so to get my first major title here, against a good friend, and one of the best players in the world means everything to me.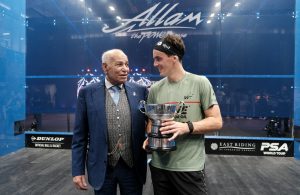 "Before I forget, I want to thank Dr. Allam and all the other sponsors for putting this event on in such tough times.
"[Immediately after the match] I rang my girlfriend [fellow professional Nele Gilis] back in Amsterdam, she was crying. I rang my parents straight away, they were crying as well. There's just too many people to thank for me. But I just want to thank everyone who's helped me. My sponsors, everyone, they've become more friends and part of my team rather than just sponsors. This for everyone that's come along that journey with me. I'm just super proud and super happy in this moment."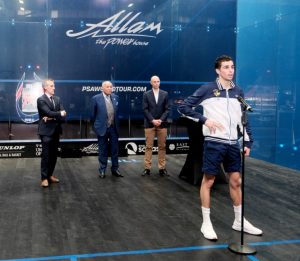 Farag, meanwhile, joked: "I hate Paul. That's how I feel right now!"
He added: "I came here really wanting to win it, especially after I made it to the final last time I was here and I played a good final. I thought I was ready for today but then Paul came out after that first, well, even in the first he was playing really well and then he was just the better player today to be honest. I keep talking about it over and over again, but every time I see Paul, I just think about how inspiring he is really. The way he's come from juniors to rise up the rankings and just to relocate himself from New Zealand to Holland and then seeking a new coach in England, he's doing nothing but improving every single day. It's just a testament to what a great character he is. He takes the losses very graciously, but always hungry to improve. I look up to him from that standpoint, really. It's been long coming, he's been reaching the final of major events, it's been long coming to win one. It's awful that it's against me, but congrats Paul.
"It's been a tough ride but we can't complain. We're super grateful to be playing again, it's the only way it could happen and if I had to go to Mars to play the British Open, I would have done it. The British Open is such a prestigious event. Thanks to Dr. Allam for keeping supporting the event, supporting the sport. It means a lot to us, coming back here for the ninth time. The fact that the sport keeps coming back is great for us. But I'm raring to be home already. I've planned a week by the beach and I'm not going to look at a squash ball or a squash racket for a week. No chance.
"It's not about me today, it's about Paul. He needs to take the mic and enjoy the day. But for me, I just would like to thank you guys for coming. There is an Egyptian contingency here and we could hear you between points and it means a lot to us. And the Dunlop team, obviously you guys have been a great support for me. My team back home [too]. But I will leave the stage to Paul."
Result: [3] Paul Coll (NZL) bt [1] Ali Farag (EGY) 3-1: 6-11, 11-6, 11-6, 11-8 (64m)