World No.10 Mazen Hesham will line up in the semi finals of a PSA World Tour Platinum event for the first time since 2015 after he overcame Switzerland's Nicolas Mueller at Hull's Allam Sports Centre to reach the last four of the Allam British Open.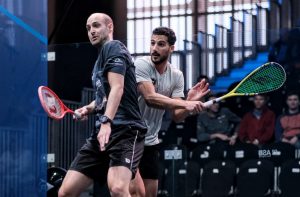 Hesham, who will appear in the British Open semi finals for the first time in his career, prevailed in an entertaining five-game battle which saw both players contest some exhibition-style rallies, much to the delight of a packed crowd.
Mueller, who was the first Swiss player to reach the quarter finals of this event, twice came from behind to equalise, but he was ground down by his opponent in the third as Hesham completed an 11-7, 11-13, 11-3, 11-13, 11-5 victory. The Egyptian will now contest a major PSA semi final for the first time since the Qatar Classic in November, 2015.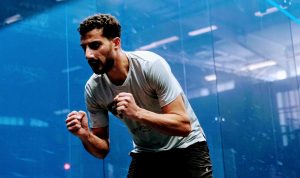 "Me and Nicky haven't played in our careers and then in the last four or five months we've played so many times, and every tie is tougher and tougher," Hesham said.
"I kept pushing and pushing just to be able to seal the deal. I'm very happy to be here, enjoying the squash and entertaining the people, having the best time of my life.
"My body is always playing games with me, but I'm used to it now, I'm just dealing with every match at a time. I'm really lucky, I want to thank all the PSA physios, they really help me out. People sometimes make fun that I've always got the physio, but there's no other way to do it."
Hesham will take on two-time runner-up Ali Farag for a place in the final, with Farag coming back from a game down to overcome former World Champion Tarek Momen in a testing fixture.
World No.1 and defending champion Paul Coll is also through to the semi finals after he got the better of close friend and regular training partner Diego Elias, beating the Peruvian 11-7, 11-8, 11-8 in 58 minutes.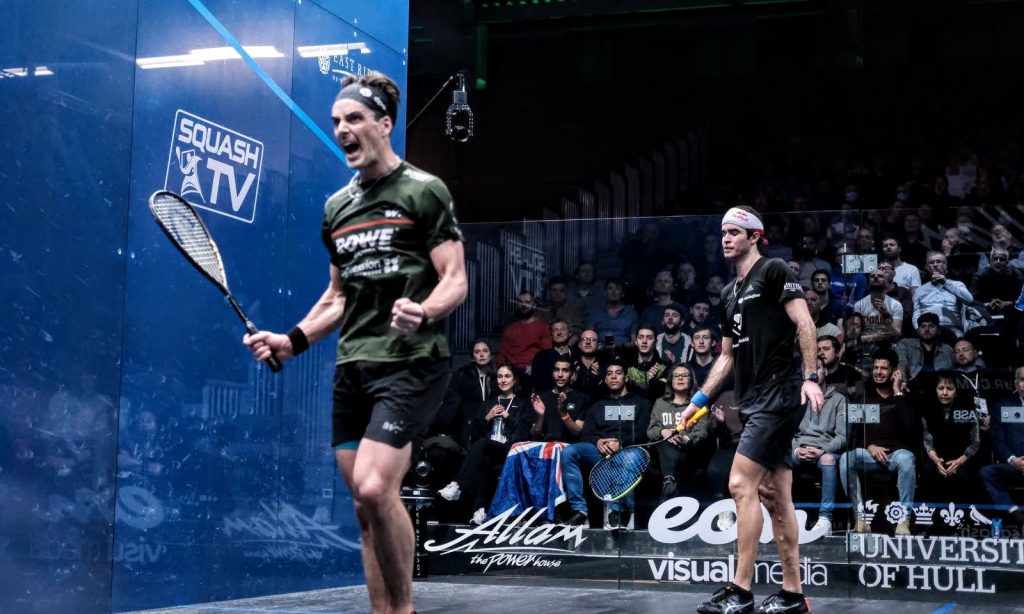 "It was a free-flowing clean match, they're the most enjoyable matches to play," said Coll.
"We're really good friends, we always respect each other and give it everything. Diego has been working on his strength and movement and it's showing in his game, he's a lot stronger on the ball. Thanks to all my supporters, my boys coming from NZ, I have my girlfriend here and my physio here. The crowd has been great and I can't wait to play again tomorrow."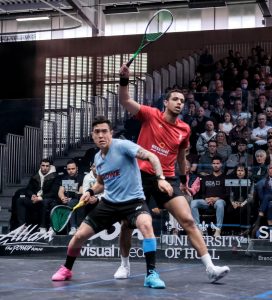 It will be the New Zealander's third time in the semi finals and he will go up against World No.4 Mostafa Asal for a place in a second successive British Open title decider. The pair have had some brutal battles in the past, with their last fixture going the way of Coll after three previous defeats to the 20-year-old.
Asal, who has won the British Junior Open U17 & U19 titles previously, defeated 2018 champion Miguel Rodriguez in an entertaining three-game battle that was closer than the scoreline suggests. The Egyptian will now feature in the British Open semis for the first time.
In the women's event, World No.5 Joelle King has reached the last four of the British Open for the first time after six previous quarter final defeats courtesy of a dominant 12-10, 11-9, 11-5 victory over World No.6 Sarah-Jane Perry that ended English participation in the draw.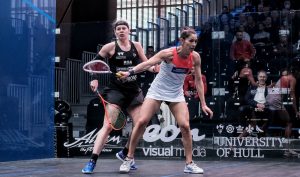 "SJ and her partner have just had a little baby a few weeks ago, so I know they have been going through so many emotions," said King.
"I'm just so glad they've finally got their little boy. But it's so hard to come out and play a friend, you have to set all emotions aside, and it was my seventh quarter final and I just want to go further in these tournaments."
King will take on World No.3 Hania El Hammamy next, with El Hammamy confidently dispatching Belgium's Tinne Gilis. Neither player has reached the title decider of the British Open before, meaning there is guaranteed to be a new finalist in the women's event.
World No.1 Nouran Gohar will take on World No.4 Amanda Sobhy in the other women's semi final. Gohar overtook Nour El Sherbini at the summit of the PSA Women's World Rankings today and made a winning start to her second spell as the world's top female player, with an 11-4, 11-8, 5-11, 11-9 win over the impressive Nour El Tayeb.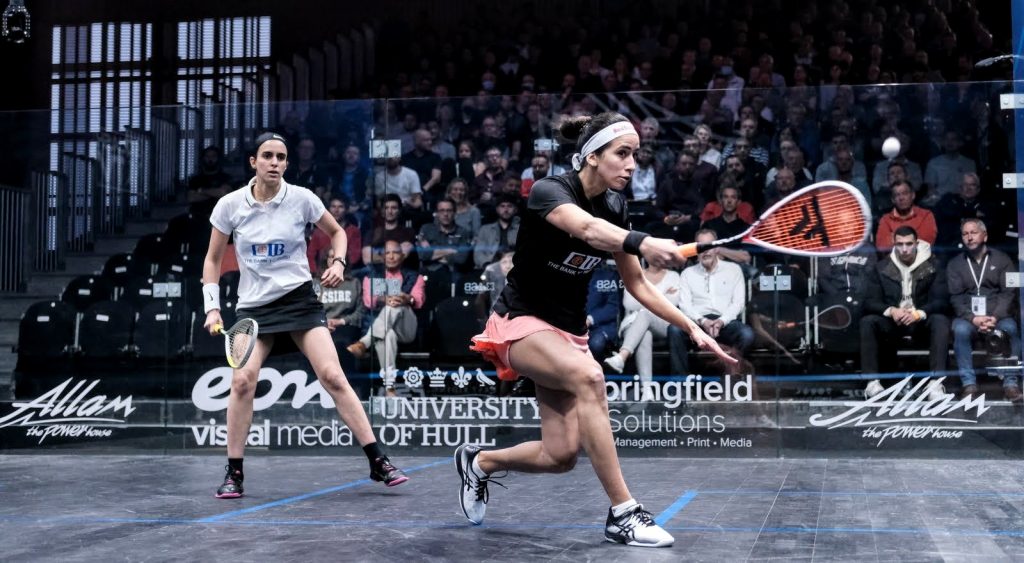 "My love for the British Open goes back to 2016, when I reached the final when I was 18, just after I'd won the British Junior Open, so it's very special," said Gohar.
"I just want to thank the Allam family for their support of squash. When people ask me about my favourite venues, I always say the British Open. I usually have my mum here with me, so it's strange not having her here, but I just have good memories."
The semi finals of the Allam British Open will take place tomorrow (April 2) and play begins at 14:00 (GMT+1). The action will be shown live on SQUASHTV as well as on the channels of PSA's broadcast partners.
Results and Schedule
Men's Quarter Finals: 2022 Allam British Open
[1] Ali Farag (EGY) bt [5] Tarek Momen (EGY) 3-1: 6-11, 11-9, 14-12, 11-5 (62m)
Mazen Hesham (EGY) bt Nicolas Mueller (SUI) 3-2: 11-7, 11-13, 11-3, 11-13, 11-5 (52m)
[4] Mostafa Asal (EGY) bt Miguel Rodriguez (COL) 3-0: 12-10, 11-7, 11-5 (44m)
[2] Paul Coll (NZL) bt [6] Diego Elias (PER) 3-0: 11-7, 11-8, 11-8 (58m)
Women's Quarter Finals: 2022 Allam British Open
[2] Hania El Hammamy (EGY) bt Tinne Gilis (BEL) 3-0: 11-4, 11-3, 11-5 (28m)
[5] Joelle King (NZL) bt [4] Sarah-Jane Perry (ENG) 3-0: 12-10, 11-9, 11-5 (42m)
[3] Amanda Sobhy (USA) bt Olivia Fiechter (USA) 3-0: 11-6, 11-7, 11-8 (35m)
[1] Nouran Gohar (EGY) bt [8] Nour El Tayeb (EGY) 3-1: 11-4, 11-7, 5-11, 11-9 (52m)
Men's Semi Finals: To Be Played April 2nd
[1] Ali Farag (EGY) v Mazen Hesham (EGY)
[2] Paul Coll (NZL) v [4] Mostafa Asal (EGY)
Women's Semi Finals: To Be Played April 2nd
[2] Hania El Hammamy (EGY) v [5] Joelle King (NZL)
[1] Nouran Gohar (EGY) v [3] Amanda Sobhy (USA)