The British Open continues today with 32 Round Two matches on four courts at the Edgbaston Priory Club.
Yesterday's winners are for the most part pitched against some of the top sixteen seeds, who enter the competition at this stage – although five matches are between a pair of unseeded players – while today's winners will earn themselves a match on the Glass Court at the Rep Theatre.
You can watch all four courts live, follow on Live Scoring and our Social Feeds, and we'll have roundups of the afternoon and evening sessions right here.
WATCH LIVE  DRAWS & RESULTS  LIVE SCORES  SOCIAL FEEDS  PHOTO GALLERY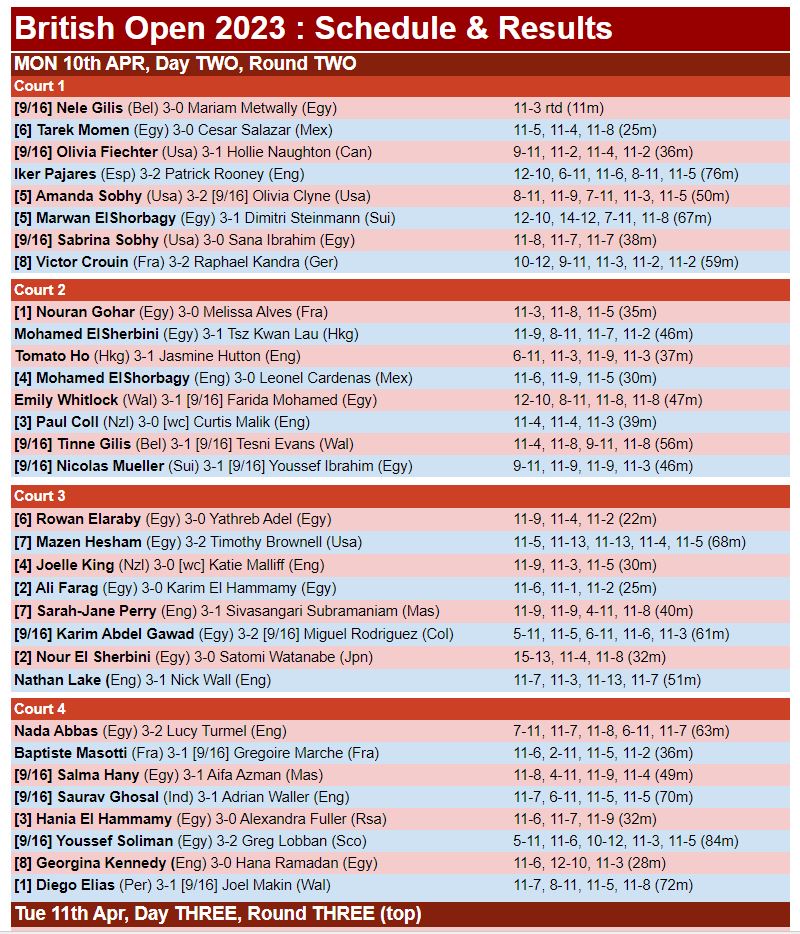 WATCH LIVE  DRAWS & RESULTS  LIVE SCORES  SOCIAL FEEDS  PHOTO GALLERY
Evening Roundup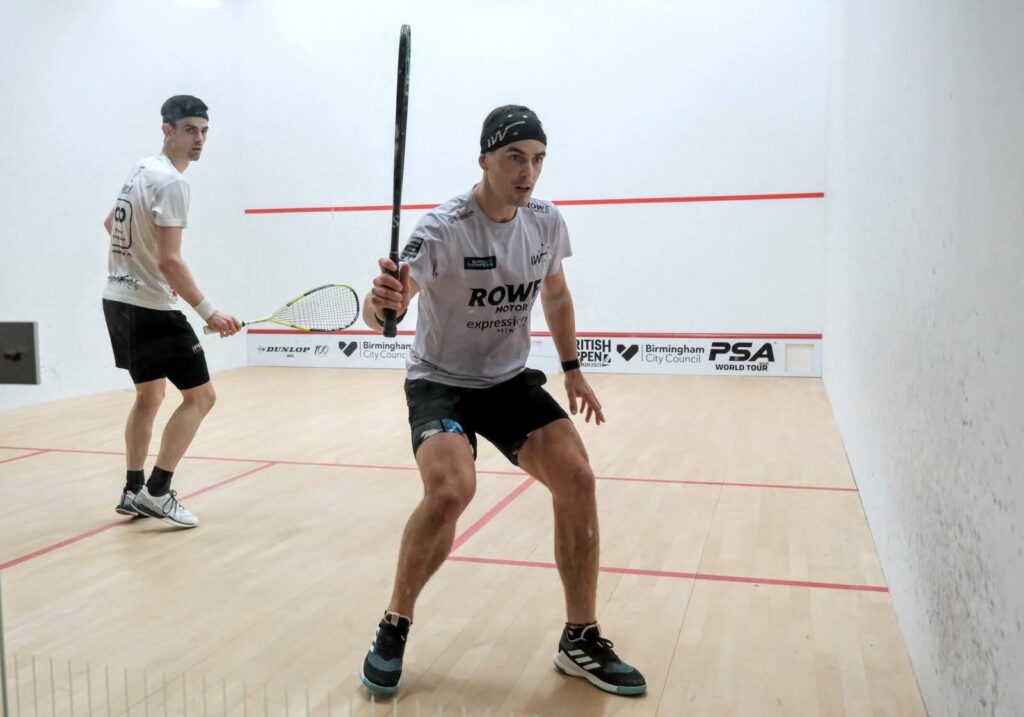 Reigning British Open champions Paul Coll and Hania El Hammamy got their title defences off to the perfect start in the evening session.
New Zealand's No.1 Coll dispatched tournament wildcard Curtis Malik in straight games to book his place in the third round.
"Obviously it is a new venue so I am probably the only person who is disappointed we are not back in Hull! I have some great memories there, but I am looking forward to this week in Birmingham!" Coll said.
"I come here to train a lot with my coach Rob Owen a lot, he lives here in Birmingham. I have been here for a week in training camp and I am very familiar with the area. It feels a bit like a second home for me, so I am looking forward to this week! I have plenty of familiar faces around and I am hoping we can have a good tournament!
"It's happiness being in England, it's familiarity as well! A lot of Kiwis round, but the same sort of humour, same sort of life-style so I always feel comfortable when I come to England. I have a lot of good friends here so I enjoy coming here, and that translates into my squash. I feel happy here, comfortable here!"
El Hammamy meanwhile saw off Alexandra Fuller by the same scoreline to set up a third round clash with Emily Whitlock on Wednesday, after the Welshwoman overcame Farida Mohamed.
"I'm really glad to be back in Birmingham this time," she said.
"It feels good to be defending champion, it feels good to be back, it's a precious tournament and I'm really looking forward to be playing round by round, game by game, and hopefully I can come up this week with a win.
"It's definitely big in terms of a title – it's the biggest one in my career so far and the biggest one in terms of a prestigious tournament and it was great after a big loss last season, so it was definitely a motivating result for me.
"I've not defended a title successfully before, so being able to do that this week in the British Open would be big for me and I'm just looking to focus match by match, game by game and focus on my game plan and my tactics and hopefully with a good performance I can get the title back."
Elsewhere Amanda Sobhy came out on top in the all-American battle against Olivia Clyne, winning 3-2, while Youssef Soliman and Greg Lobban also went the distance with the former progressing.
Home favourite Sarah-Jane Perry defeated Malaysia's Sivasangari Subramaniam 3-1 to advance to the third round, where she will meet Nada Abbas.
Afterwards, Perry said: "I am really pleased to get through that today. Siva is a quality opponent. You saw in Toronto that she had match ball against Olivia Clyne, who has been in hot form, so I was really conscious of that going into the match, along with trying to control my emotions. I was desperate to get on that glass court at The Rep!"
"I went over there a few weeks ago and the set-up is fantastic. Lots of people have been saying they have tickets to come and see me, and I was telling them that I still had a match to play before that!
"There are no easy matches, the strength and depth in the women's game has really gone up in the last few years.
"I had a little drop off in the third and she was all over me! I wanted to start the fourth game really positively, and to get back to playing that positive squash. Thankfully I did that, and I got over the finish line!"
Six-time World Champion Nour El Sherbini came through a tough battle with Satomi Watanabe to reach the third round. She will take on Sabrina Sobhy next, who downed Sana Ibrahim 3-0.
"I'm very happy with my performance today and happy with the win. Satomi is a very dangerous opponent and a tough first round and playing on a normal court is hard, very bouncy and it's not my type of game. I tried to adapt and it took me a while in the first game and I'm happy to win in three," said El Sherbini.
"At the start of the first game I was a bit flat and she was playing really well and surprised me a bit with her shots and I was still trying to adapt to the court and the game. It took me a little bit at the beginning but at the end I won the game and it was really important.
"The British Open is one of my favourite tournaments and one of the biggest ones and you always aim for it. I'm happy to be through to be playing on the glass court and I'm really looking forward to this week."
Diego Elias, who could reach the summit of the PSA World Rankings next week, overcame Joel Makin 3-1 in a 72-minute encounter. Nathan Lake will be his opponent after he beat Nick Wall.
"It was very tough against Joel – he's a great player and he's been playing well. I think I played well in the third and fourth and I think this is very good for me this tournament and hopefully I can go all the way," Elias said afterwards,
"We played a few weeks ago in Canary Wharf and it was a best of three, he did very well and it was less than half an hour the match. I didn't play well but he played great, but today I got my revenge, I knew it was going to be tough with the way he played.
"I think this performance is good for the rest of the tournament. I'm going to prepare, recover and get ready for the next match."
Egyptian pair Marwan ElShorbagy and Karim Abdel Gawad join Victor Crouin and Nicolas Mueller in the third round, with Tinne Gilis and Gina Kennedy also advancing in the women's draw.
Afternoon Roundup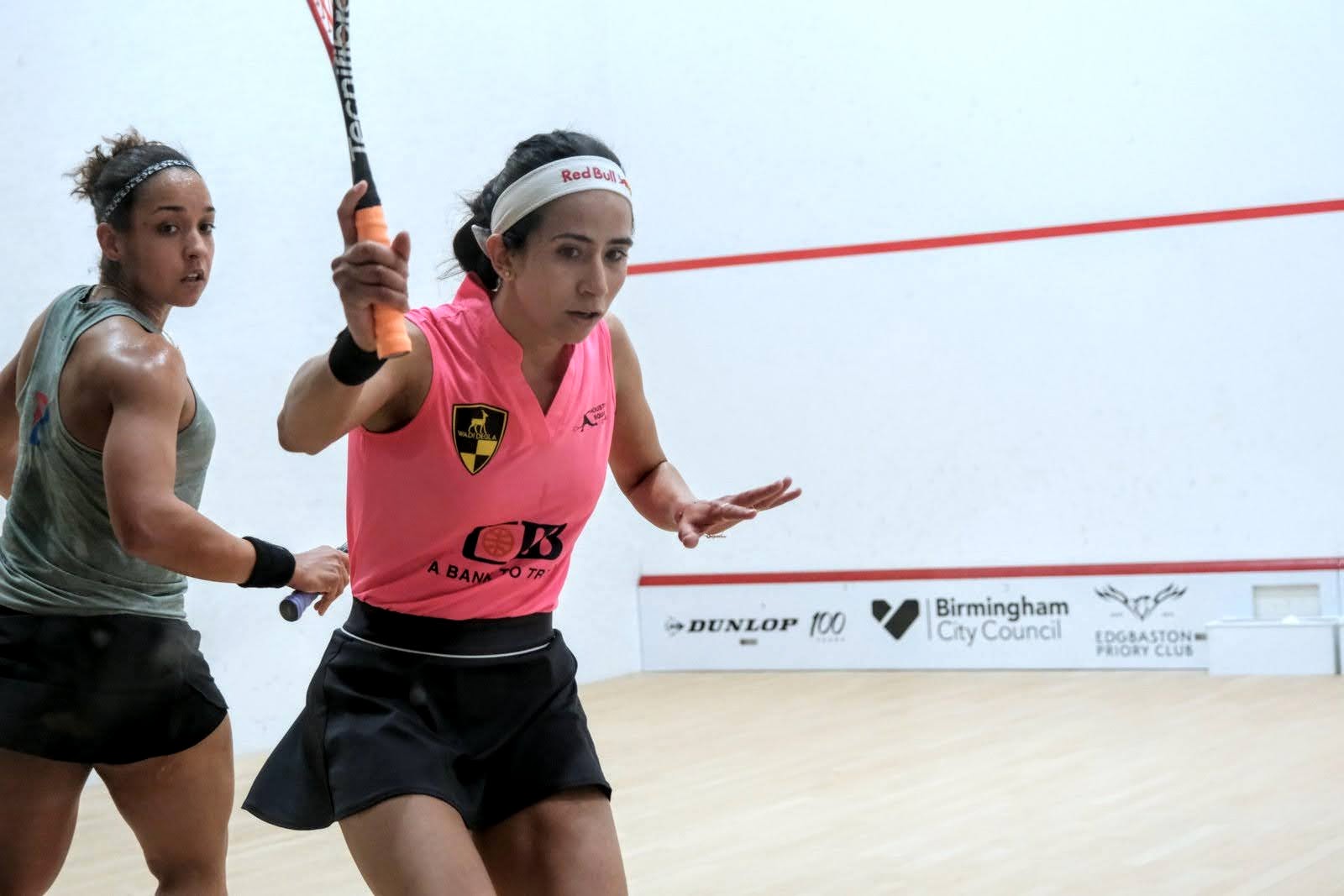 All the top seeds in action in the afternoon session of day two took victories, as the British Open continued in Birmingham.
World No.1 Nouran Gohar was in action in the first batch of matches, taking to the court at midday. She got the better of Frenchwoman Melissa Alves in straight games, to book her place in the third round.
"It was a good match, Melissa is a great player and it wasn't an easy first round match for me. I like these kind of matches to get me going in the tournament and now I'm looking forward to my next match," Gohar said.
"It's a good feeling to win in three – you're fresh for tomorrow's match, especially when you don't get a rest day because everything is back-to-back. I'm happy with my performance, it wasn't easy, but it's good to be breathing high and running a bit. I'm feeling good and I'm looking forward to getting back out there.
"You tend to practice on traditional courts so there's not much of a difference and it feels like a practice match! But it's good sometimes as you can get sick playing on the glass all the time! It's a different atmosphere and vibe but I'm so happy to be on the glass tomorrow."
New Zealand's Joelle King and Egypt's Rowan Elaraby also joined the World No.1 in the third round. They got the better of wildcard Katie Malliff and Egypt's Yathreb Adel, respectively, to make the last 16 of the competition.
Nada Abbas and Salma Hany also added to the Egyptian contingent through to the third round, with Belgium's Nele Gilis, American Olivia Fiechter, and Hong Kong's Tomato Ho also moving through.
Three-time British Open champion Mohamed ElShorbagy is appearing at the tournament for the first time representing England, and he started his 2023 campaign in Birmingham with a confident 3-0 victory over Leonel Cardenas.
"I'm very happy to win. It's been a very tricky two or three weeks for me, especially during Canary Wharf. The match today was about getting confidence, excited and motivated to be playing well. I'm looking forward to the next few days – it's a big next few days for me with Diego (Elias). We're both battling for World No.1 – everyone's battling for the British Open title – but there's an extra bit of pressure for us. It's amazing to be competing that with him and at this stage of my career. I really hope we both have an amazing event," ElShorbagy said.
"World No.1 for over four years. If you get it back again it's more of a bonus rather than a goal. Every time I got to World No.1 I knew I was going to get there, whereas this time it's a goal because I'm not 27/28, where before I knew how to put the work in in training and work out my opponents I knew I was going to get there. This time I know I'm playing against guys who are at their peak: Diego and Asal. This time is exciting and this time it's a goal to be No.1 and playing for England makes this more motivating because I would like to do it for England. I've done it so long for Egypt, so this time I want to do it for England with the support I get from here.
The Egyptian trio of Ali Farag, Tarek Momen and Mazen Hesham also went through to the third round as part of the top eight seeds, with the latter having to go the distance to down American Timothy Brownell. Meanwhile, Farag and Momen got the better of Karim El Hammamy and Cesar Salazar, respectively.
The other match to go to five in the afternoon session saw Spaniard Iker Pajares knock out World No.20 Patrick Rooney in the deciding game. The Spanish No.1 was featuring for the first time in six weeks, and was able to win the fifth 11-5 to set up a clash with Momen on Tuesday afternoon.
"Very happy! Over the moon to have made it to the last 16 of the British Open. Obviously, after the World Champs, it is one of the biggest tournaments on Tour, it is something very big for me!" Pajares said.
"I couldn't play the tournaments in the last month because I couldn't get in [the draws] so I have been training hard with my coaches in Barcelona. I am so happy to see that all the work I have been doing in the last two months has paid off today.
"Tomorrow, I am playing Tarek Momen. I have never played Tarek being fresh, I always play him after brutal matches. I have 24 hours to recover now, I am on the glass court so we will see!"
India's Saurav Ghosal also beat English opposition, as he downed Adrian Waller in a tough four-game battle. Baptiste Masotti and Mohamed ElSherbini were the other two men to advance to the last 16 from the afternoon session in the men's draw.