A dramatic conclusion to the quarter-finals as Paul Coll, Diego Elias and Nour El Sherbini win in five as Amanda Sobhy dethrones Hania Hammamy in three …
British Open 2023 : Day SIX, QUARTER-FINALS (bottom)
[2] Nour El Sherbini (Egy) 3-2 [8] Gina Kennedy (Eng)  9-11, 11-5, 11-4, 9-11, 11-4 (51m)
[1] Diego Elias (Per) 3-2 [8] Victor Crouin (Fra)  4-11, 9-11, 11-7, 11-6, 11-9 (76m)
[5] Amanda Sobhy (Usa) 3-0 [3] Hania El Hammamy (Egy)  11-8, 13-11, 11-4 (36m)
[3] Paul Coll (Nzl) 3-2 [5] Marwan ElShorbagy (Egy)  8-11, 11-8, 11-6, 7-11, 11-1 (70m)
WATCH LIVE  DRAWS & RESULTS  LIVE SCORES  SOCIAL FEEDS  PHOTO GALLERY
Reports and Reaction
Defending champion Coll comes through in five
[3] Paul Coll (Nzl) 3-2 [5] Marwan ElShorbagy (Egy)  8-11, 11-8, 11-6, 7-11, 11-1 (70m)
Defending  champion Paul Coll is through to the semis once again after he defeated Egypt's Marwan ElShorbagy in a four-game contest to round out the quarter finals.
The Kiwi is aiming to win a third British Open crown in a row, but he started slowly, with 'the Jackal' coming out of the blocks the quicker of the two. ElShorbagy won the opening game 11-8, but Coll fought back to flip that scoreline in the second, to level the match.
The World No.4 carried his momentum into the third game, with a better line and length being played down both walls. That helped him move into the lead for the first time in the contest, with ElShorbagy then taking a three-minute injury break after the third game.
He was complaining of dizziness and clutching his abdomen, but a quick start to the fourth game, along with a lapse in concentration from the Kiwi, saw the Egyptian level the contest and send it into a deciding game. Coll started strongly in the fifth and final game, and it was his from there on. ElShorbagy could only muster a single point, with Coll moving through to the British Open semi-finals once again.
"It was a mental battle out there for me tonight. I'm not sure what happened at the end of the third, but I hope he's alright," Coll said.
"It definitely got in my head a bit in the fourth and I made some stupid mistakes. I ended up pulling it together in the fifth but it was an up and down one tonight and it was all about the mentality and pulling through. I come back out here tomorrow night and take it to the World No.1.
"It would be amazing to win British Opens in a row. It's one of the most prestigious titles on tour so to have my name on that trophy three times would be absolutely amazing, especially in this arena to win the first one would be pretty special. I'll recover tonight and will give it my all tomorrow."
Sobhy stuns defending champ in three
[5] Amanda Sobhy (Usa) 3-0 [3] Hania El Hammamy (Egy)  11-8, 13-11, 11-4 (36m)
US No.1 Amanda Sobhy has taken down defending British Open champion Hania El Hammamy to reach the last four of this year's competition.
The World No.3 had defeated the American last month at the Black Ball Squash Open, in a match that went to five. This time, though, it was a completely different story, as Sobhy won in straight games in less than 40 minutes.
El Hammamy went 8-4 up in the opening game, but a run of seven straight points saw the World No.5 come from behind to take the first. She came through to win it 11-8, and carried that momentum into the second.
Sobhy then had three game balls in the second game to double her lead. She led 10-9, 11-10 and 12-11, with 'the Leopard' saving the first two. The American eventually got the job done to win the game 13-11, and then flew out of the blocks in the third. She was in control throughout it, and went on to secure the victory, booking her place in the last four of the British Open.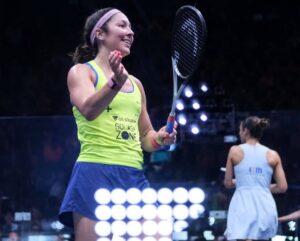 "It sounds like I've won the tournament, and I shouldn't think that way because this is just the quarter-finals. But it was such a tough match and mentally I think I got my tactics spot on today. She's the defending champion and I kind of didn't have anything to lose.
"This incredible venue screams performance and if anyone knows me I'm a performer, regardless of whether it's squash, music or theatre so this is like home! I feel like I'm at home here and I can play my best squash and I guessed it showed tonight with my squash.
"At first she came out all guns blazing and it took a little bit to sink in. The matches before me went on a little bit longer so there was a delay and you're welcome Paul and Marwan for trying to catch you guys up! It took some time to get into it and I found my groove.
"The fact that I'm really enjoying myself out there and when I do when I'm happy and my body's healthy, I'm playing my best squash and I'm so grateful to have my team and my coach and physio. It's nice to have the support in addition to this phenomenal crowd."
Diego back from the brink
[1] Diego Elias (Per) 3-2 [8] Victor Crouin (Fra)  4-11, 9-11, 11-7, 11-6, 11-9 (76m)
Peru's Diego Elias came from two games down to overcome France's World No.8 Victor Crouin, to reach the semis of the British Open for the first time in his career.
The Peruvian will become the sport's newest World No.1 on Monday, but he started slowly in his quarter final contest with the Frenchman. Crouin, also aiming to reach the semis of this event for the first time, was on fire to start with, winning the opener 11-4 before then doubling his advantage with an 11-9 win in the second.
From there, Elias just kept running and running, making sure he stayed in the match. Although his squash was not at his best, his fighting spirit was there for all to see, and he came through to win the next two games to send the match into a decider.
The Peruvian went 10-5 up in the last game, but Crouin fought back to win four straight points. The nerves did not show for Elias, who was able to seal the deal with the fifth match ball, and to move through to a first British Open semi-final.
[sui_quote]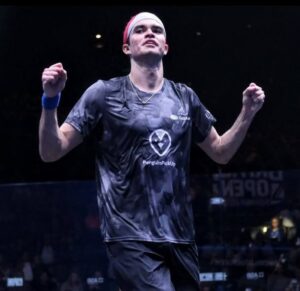 "I didn't play my best squash, for sure. Victor played really well at the start and he was twisting me a lot. I've never played him before and I didn't know what to expect," Elias said.
"He's been coming up the rankings really fast and playing well. I'm just happy I could come back. I wasn't happy after the first two games, but I'm just happy I could get my head together and come back.
"He's quick and plans his matches very well. He's very smart, quick and a great player so I had to be at my best at the end. I'm happy I could come back.
"It's a dream come true, becoming World No.1. I wasn't going to be happy at all if I lost today and being No.1 on Monday would have been terrible for me! I'm just happy I could win today and my main goal this week is to win the tournament and hopefully I can play a lot better tomorrow."
[/su_quote]
Sherbini survives Gina test
[2] Nour El Sherbini (Egy) 3-2 [8] Gina Kennedy (Eng)  9-11, 11-5, 11-4, 9-11, 11-4 (51m)
World No.3 Nour El Sherbini booked her place in the semi-finals after overcoming Gina Kennedy in five games.
In the first match in the second half of the quarter-final draw, home favourite Kennedy drew first blood when she clinched the first game 11-9. But six-time World champion El Sherbini came flying out of the traps in the second, storming into a 9-1 lead before errors started to creep in to open the door for Kennedy. However El Sherbini was able to see it through and restored parity.
The Egyptian was beginning to find her range as she went 2-1 up, but Kennedy levelled proceedings to force a decider when she took the fourth 11-9 with the home crowd in her corner. But the experience and quality of El Sherbini told in the fifth as she was able to close out the match and progress to the last four.
"I'm glad I won it in the end. Gina is playing incredibly well this season and this was totally different to the last two meetings," said El Sherbini.
"Everyone is improving and watching their other opponents, she did well today, kept pushing and didn't want to let go. I'm happy I took a huge leap in each game I won and this is what made the difference at the end.
"There's a lot of things I'd love to improve on before the next round! There's no days off anymore, but I'll talk it through with Greg to see what went wrong today.
"I still think I didn't play near my best, I'm winning which is the positive side but I need to work on a better plan and with better shots and make them count tomorrow."
Preview
The British Open continues at Birmingham's Rep theatre this evening with four quarter-finals from the bottom half of the draws.
Tonight's program opens with three-time BO champion Nour El Sherbini taking on the last home hope, Gina Kennedy. It's Kennedy's sixth BO appearance, but only the third since her return from US studies and this is already the furthest she's reached. For Sherbini it's a tenth BO – she was runner-up in her first in 2012 at the age of 15, and this will be her eighth quarter-final. They've met twice, with Sherbini taking both in straight games.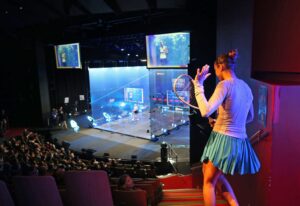 World-number-one-to-be and top seed Diego Elias takes on France's Victor Crouin in the second match. The Peruvian is appearing in his seventh BO in a row, and his third consecutive quarter-final, but he's yet to go further. Crouin is a BO newbie, this is just his third consecutive appearance, and this will be their first meeting on tour.
Defending champion Hania El Hammamy is up next, against USA's Amanda Sobhy. Hammamy carried her British Junior Open successes into the senior event, this is her sixth in a row and has reached the final in the last two editions. For Sobhy it's an eighth BO and she's been in the semi-finals for the last two years, so one of those records will be dented tonight. The H2H stands at 5-3 in Hammamy's favour with the last two meetings shared.
Last up is two-time defending champion Paul Coll, taking on Egypt's Marwan Elshorbagy. Coll is competing in his seventh successive BO and has improved each time (losing in R1 then R2, the QF, then SF) before taking the crown in the last two editions. This is Marwan's 11th successive BO and his third quarter-final, but he's never gone further. The Kiwi leads the H2H 6-4, winning the last four meetings.
You can Watch Live on SquashTV, follow on Live Scoring and our Social Feeds, and we'll have reports and reaction right here.