The sport's oldest tournament gets underway this weekend, with the British Open returning to Birmingham for the first time in more than two decades.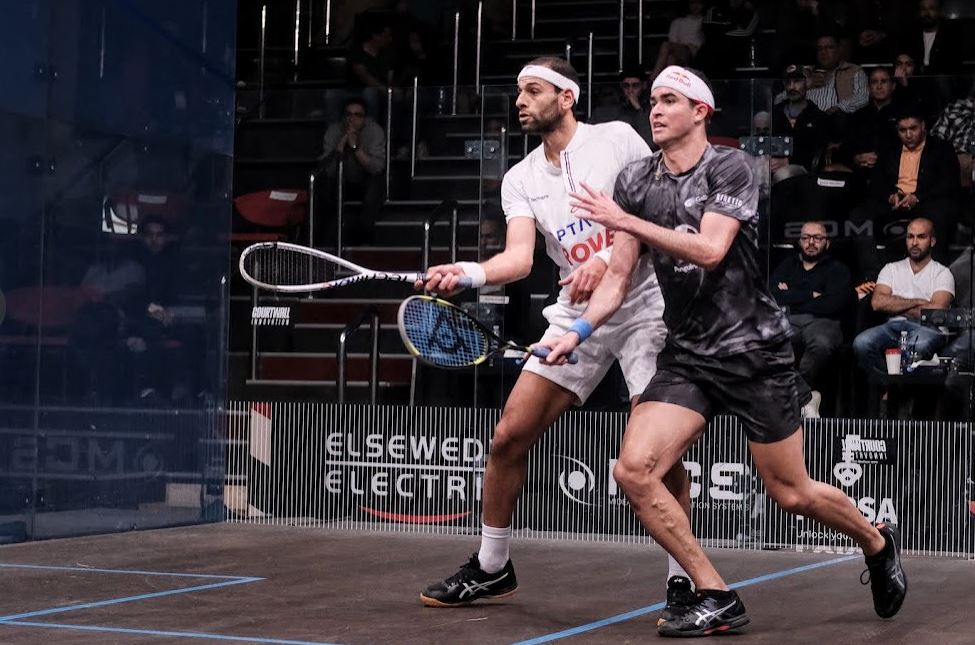 Battle for World #1 resumes
The tournament will see a two-way battle for the World No.1 spot in both the men's and women's rankings. A new men's World No.1 is guaranteed, with Peru's Diego Elias or England's Mohamed ElShorbagy set to move to the summit of the rankings come next Monday.
Once again, Nouran Gohar and Nour El Sherbini will be battling it out to reach the top of the women's rankings. It has been more than a year since 'the Terminator' was not at the top of the list, but that could change with an El Sherbini victory in Birmingham.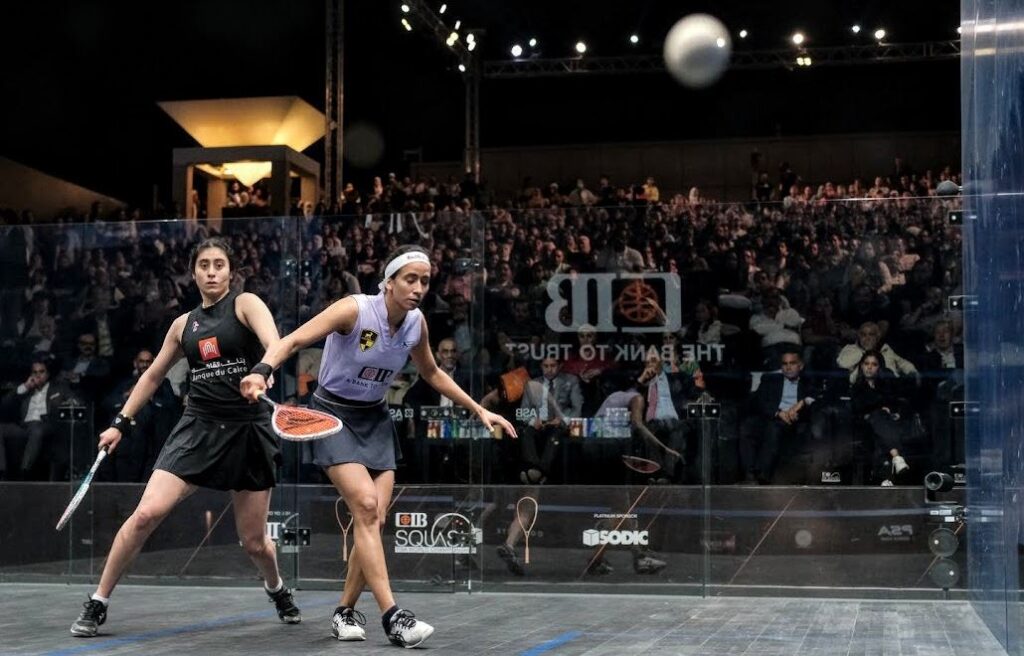 Defending Champions looking for more
Meanwhile, defending champions Hania El Hammamy and Paul Coll will be looking to win on British soil once more. The British Open triumph was one of four Platinum titles that El Hammamy claimed in 2022, along with wins in El Gouna, Hong Kong and at the Pyramids.
Coll will come in as a two-time defending champion, having won this tournament in both 2021 and 2022. If he was to take a third consecutive British Open crown, he would become the first male player to do so since the great Jansher Khan did so in the 1990s.
Brits looking for home success
Along with ElShorbagy, who will be competing at the British Open as an Englishman for the first time, Sarah-Jane Perry and Georgina Kennedy will both be seeded in the women's competition. Perry, the World No.8, is a former finalist at this tournament, and she will have the home crowd of Birmingham right behind her. As will Welshman Joel Makin, who has called England's second city his home for many years now, and has thee unenviable task of taking on top seed Elias in his first match.
EPC and the Rep
The action will take place across two venues in the city, with the Edgbaston Priory Club hosting the opening two rounds of the competition (as well as the World Championship qualifying events over the following days). From the third round onwards, a glass court has been erected in The Rep Theatre, with the stage being set for the British Open champions to be crowned.
British Open 2023 : Round One Draws
Men's Draw

[2] Ali Farag (EGY) Bye
[17/32] Omar Mosaad (EGY) v Karim El Hammamy (EGY)
[17/32] Shahjahan Khan (USA) v Tsz Kwan Lau (HKG)
[17/32] Mohamed ElSherbini (EGY) v Faraz Khan (USA)
[17/32] Patrick Rooney (ENG) v Todd Harrity (USA)
[17/32] Iker Pajares Bernabeu (ESP) c Henry Leung (HKG)
[17/32] Ramit Tandon (IND) v Cesar Salazar (MEX)
[6] Tarek Momen (EGY)  Bye [7] Mazen Hesham (EGY) Bye
[17/32] Sebastien Bonmalais (FRA) v Timothy Brownell (USA)
[17/32] Baptiste Masotti (FRA) v James Willstrop (ENG)
[9/16] Gregoire Marche (FRA)  Bye [9/16] Karim Abdel Gawad (EGY) Bye
[9/16] Miguel Rodriguez (COL)  Bye
[17/32] Leonel Cardenas (MEX) v Balazs Farkas (HUN)
[4] Mohamed ElShorbagy (ENG)  Bye [3] Paul Coll (NZL)  Bye
[17/32] Eain Yow Ng (MAS) v [WC] Curtis Malik (ENG)
17/32] Adrian Waller (ENG) v Yahya Elnawasany (EGY)
[9/16] Saurav Ghosal (IND)  Bye [9/16] Youssef Soliman (EGY)  Bye
[17/32] Greg Lobban (SCO) v George Parker (ENG)
[17/32] Dimitri Steinmann (SUI) v Lucas Serme (FRA)
[5] Marwan ElShorbagy (EGY) Bye [8] Victor Crouin (FRA)  Bye
[17/32] Raphael Kandra (GER) v [WC] Simon Herbert (ENG)
[9/16] Nicolas Mueller (SUI)  Bye
[9/16] Youssef Ibrahim (EGY)  Bye [17/32] Aly Abou Eleinen (EGY) v Nathan Lake (ENG)
[17/32] Auguste Dussourd (FRA) v Nick Wall (ENG)
[9/16] Joel Makin (WAL)  Bye
[1] Diego Elias (PER ) Bye
Women's Draw
[1] Nouran Gohar (EGY)  Bye
[17/32] Melissa Alves (FRA) v Cindy Merlo (SUI)
[17/32] Mariam Metwally (EGY) v Lee Ka Yi (HKG)
[9/16] Nele Gilis (BEL)  Bye [17/32] Nada Abbas (EGY) v Tong Tsz-Wing (HKG)
[17/32] Lucy Turmel (ENG) v Nour Aboulmakarim (EGY)
[17/32] Sivasangari Subramaniam (MAS) v Chan Sin Yuk (HKG)
[7] Sarah-Jane Perry (ENG)  Bye [6] Rowan Elaraby (EGY) v Bye
[17/32] Yathreb Adel (EGY) v Lucy Beecroft (ENG)
[17/32] Jasmine Hutton (ENG) v Fayrouz Aboelkheir (EGY)
[17/32] Tomato Ho (HKG) v Hana Moataz (EGY) [9/16] Olivia Fiechter (USA)  Bye
[17/32] Hollie Naughton (CAN) v Enora Villard (FRA)
[17/32] Rachel Arnold (MAS) v [WC] Katie Malliff (ENG)
[4] Joelle King (NZL)  Bye [3] Hania El Hammamy (EGY)   Bye
[17/32] Alexandra Fuller (RSA) v Nicole Bunyan (CAN)
[9/16] Farida Mohamed (EGY) Bye
[17/32] Emily Whitlock (WAL) v Joshna Chinappa (IND) [17/32] Aifa Azman (MAS) v Emilia Soini (FIN)
[9/16] Salma Hany (EGY)  Bye
[9/16] Olivia Clyne (USA)  Bye
[5] Amanda Sobhy (USA)  Bye [8] Georgina Kennedy (ENG) Bye
[17/32] Hana Ramadan (EGY) v Zeina Mickawy (EGY)
[9/16] Tinne Gilis (BEL)  Bye
[9/16] Tesni Evans (WAL)  Bye [17/32] Nadine Shahin (EGY) v Sana Ibrahim (EGY)
[9/16] Sabrina Sobhy (USA)  Bye
[17/32] Satomi Watanabe (JPN) v [WC] Torrie Malik (ENG)
[2] Nour El Sherbini (EGY)  Bye
Matches from Edgbaston Priory will be shown LIVE and free on the British Open website, while matches held on the glass court at the Rep will be streamed LIVE on SQUASHTV, with the semi-finals and finals also being shown live on broadcast channels around the world.