The second day's play of the Allam British Open takes place today, as the seeded players being their campaigns in the last 32 at the Allam Sports Centre in Hull.
Once again, like on the opening day, the three traditional plaster courts will be used alongside the glass court, with 32 matches in play over the course of the day, eight on each court.
The evening session on the glass court sees the top two in the world from both the men's and women's game in action. Nouran Gohar starts off the session against compatriot Zeina Mickawy, before Ali Farag takes on Greg Lobban. Nour El Sherbini then faces USA's Olivia Fiechter, with Mohamed ElShorbagy taking on Welsh No.1 Joel Makin, in what could be the match of the day.
Frenchwoman Camille Serme gets play underway on the glass court, with Marwan ElShorbagy, Paul Coll and Hania El Hammamy also in action.
Over on the side courts, the likes of English No.1 Sarah-Jane Perry, last week's Manchester Open winner Diego Elias, and the Egyptian contingent of Karim Abdel Gawad, Mostafa Asal and Fares Dessouky, will all be aiming to get their British Open's off to a good start.
Rowan Elaraby and Alexandra Fuller kick things off on Court 4 at 12:00, with Olivia Clyne against Milou van der Heijden on Court 5, and US No.1 Amanda Sobhy taking on Malaysian starlet Sivasangari Subramaniam on Court 6.
*Order Of Play*
*Glass Court*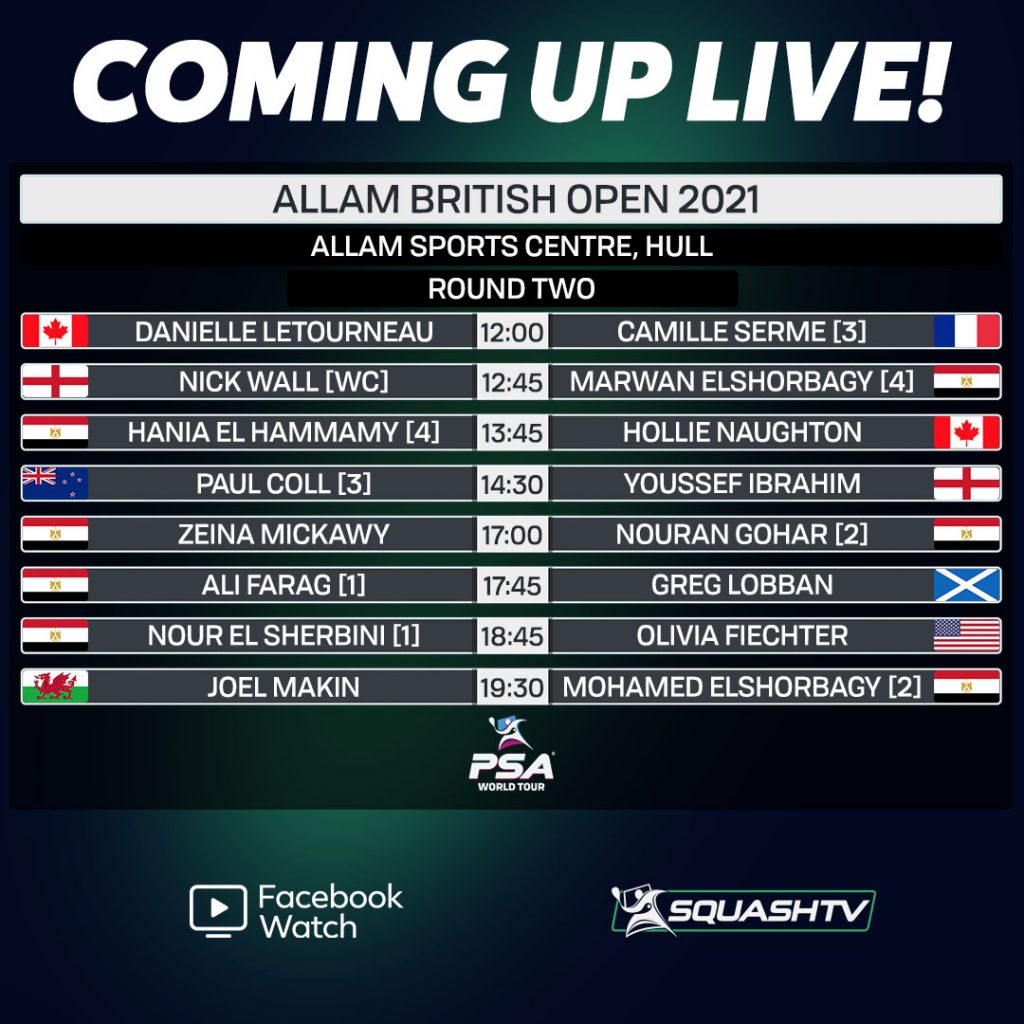 You can catch all the action live from the Allam Sports Centre on SquashTV, and the official Facebook page of the PSA World Tour (excluding Europe and Japan).
Court 4
12:00 Rowan Elaraby (EGY) v Alexandra Fuller (RSA)
12:45 Raphael Kandra (GER) v Victor Crouin (FRA)
13:45 [5] Sarah-Jane Perry (ENG) v Coline Aumard (FRA)
14:30 Mohamed Abouelghar (EGY) v Adrian Waller (ENG)
17:00 Sabrina Sobhy (USA) v Tinne Gilis (BEL)
17:45 Mazen Hesham (EGY) v Nicolas Mueller (SUI)
18:45 Melissa Alves (FRA) v Nele Gilis (BEL)
19:30 [6] Fares Dessouky (EGY) v Youssef Soliman (EGY)
You can watch all the action from Court 4 here.
Court 5
12:00 Olivia Clyne (USA) v Milou van der Heijden (NED)
12:45 [5] Karim Abdel Gawad (EGY) v Eain Yow Ng (MAS)
13:45 Nadine Shahin (EGY) v [8] Salma Hany (EGY)
14:30 Gregoire Marche (FRA) v Borja Golan (ESP)
17:00 Jasmine Hutton (ENG) v [7] Joelle King (NZL)
17:45 Omar Mosaad (EGY) v Abdulla Mohd Al Tamimi (QAT)
18:45 Mariam Metwally (EGY) v Donna Lobban (AUS)
19:30 Alan Clyne (SCO) v Iker Pajares Bernabeu (ESP)
You can watch all the action from Court 5 here.
Court 6
12:00 [6] Amanda Sobhy (USA) v Sivasangari Subramaniam (MAS)
12:45 Todd Harrity (USA) v Miguel Rodriguez (COL)
13:45 Lucy Turmel (ENG) v Rachel Arnold (MAS)
14:30 Mathieu Castagnet (FRA) v [7] Diego Elias (PER)
17:00 Tesni Evans (WAL) v Emily Whitlock (WAL)
17:45 George Parker (ENG) v [8] Mostafa Asal (EGY)
18:45 Joshna Chinappa (IND) v Haley Mendez (USA)
19:30 Baptiste Masotti (FRA) v Lucas Serme (FRA)
You can watch all the action from Court 6 here.
You can also keep up with the live scores from the event here.