The Allam British Open gets underway at 12:00 (GMT+1) on Monday, with 96 of the world's best players descending on the Allam Sport Centre at the University of Hull, aiming to take the title at the oldest competition in the sport.
The Platinum level event, which celebrates its 10th year of backing from the Allam group, will see a prize pot of $360,000, spilt equally between both men and women.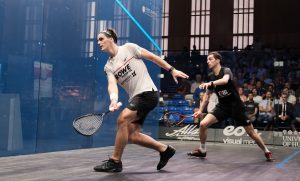 Former World No.1 Ali Farag will head up the men's draw as the top seed, with new World No.1 Paul Coll aiming to defend the British Open crown he claimed in 2021, when he beat Farag to become the first male New Zealander to ever win the 'Wimbledon of Squash'.
Three former World Champions, in Tarek Momen, Karim Abdel Gawad and Mohamed ElShorbagy, the latter of which also being a three-time British Open champion, will also be among those aiming for glory. Compatriots Marwan ElShorbagy, Mostafa Asal, Fares Dessouky and Mazen Hesham will also be in and amongst it come the end of the competition – with Asal and Dessouky meeting in their opening matches in a repeat of the Canary Wharf Classic final.
Along with Coll, Peruvian Diego Elias, British No.1 Joel Makin, Colombia's Miguel Rodriguez and Frenchman Gregoire Marche provide the non-Egyptian threat for the title.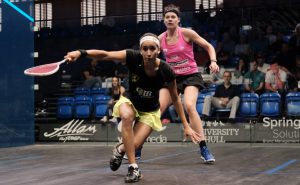 Following the withdrawal of Nour El Sherbini, soon-to-be World No.1 Nouran Gohar will be the top seed for the women's tournament, as she aims to win in Hull for a second time. Fellow Egyptian Hania El Hammamy will be the No.2 seed for the tournament.
USA's Amanda Sobhy, the World No.4, and New Zealand's World No.6 Joelle King will be among those aiming to take the title away from Egyptian hands, along with England's Sarah-Jane Perry, who will be one of several home hopes in action throughout the week in Hull.
Georgina Kennedy will also receive a bye through to the second round of the competition, alongside Perry, while Lucy Turmel, Jasmine Hutton, Lisa Aitken, Emily Whitlock, Adrian Waller, Patrick Rooney, George Parker, Nathan Lake, Declan James, Greg Lobban,  Alan Clyne all in action on the opening day.
The tournament will also feature four wildcards, with one of those being young Englishwoman Katie Malliff, who recently booked her spot at the PSA World Championships after winning one of four qualifying events, the Val de Reuil Normandie. Millie Tomlinson, Sam Todd and Nick Wall will be the other wildcards for the Allam British Open.
Glass court action at the Allam British Open will be shown live on SQUASHTV, with play from the side courts being streamed on the SQUASHTV Youtube channel.
For more information on the event, visit the tournament website. You can also follow the British Open Twitter page here. Follow the PSA World Tour on Twitter,  Facebook, Instagram and TikTok.
You can buy tickets here.
Allam British Open 2022 : Round One Draws
Men's First Round Draw
[1] Ali Farag (EGY) – Bye
[17/32] Victor Crouin (FRA) v [WC] Nick Wall (ENG)
[9/16] Karim Abdel Gawad (EGY) – Bye
[17/32] George Parker (ENG) v Mahesh Mangaonkar (IND) [17/32] Karim El Hammamy (EGY) v Borja Golan (ESP)
[17/32] Baptiste Masotti (FRA) v [WC] Sam Todd (ENG)
[9/16] Eain Yow Ng (MAS) – Bye
[5] Tarek Momen (EGY) – Bye [7] Marwan ElShorbagy (EGY) – Bye
[17/32] Todd Harrity (USA) v Edmon Lopez (ESP)
[9/16] Mazen Hesham (EGY) – Bye
[17/32] Mohamed ElSherbini (EGY) v Tayyab Aslam (PAK) [17/32] Lucas Serme (FRA) v Ramit Tandon (IND)
[17/32] Nicolas Mueller (SUI) v Leonel Cardenas (MEX)
[17/32] Raphael Kandra (GER) v Bernat Jaume (ESP)
[3] Mohamed ElShorbagy (EGY) – Bye [4] Mostafa Asal (EGY) – Bye
[9/16] Fares Dessouky (EGY) – Bye
[17/32] Patrick Rooney (ENG) v Declan James (ENG)
[17/32] Omar Mosaad (EGY) v Greg Lobban (SCO) [17/32] Adrian Waller (ENG) v Dimitri Steinmann (SUI)
[9/16] Youssef Soliman (EGY) – Bye
[9/16] Miguel Rodriguez (COL) – Bye
[8] Joel Makin (WAL) – Bye [6] Diego Elias (PER) – Bye
[9/16] Youssef Ibrahim (EGY) – Bye
[17/32] Shahjahan Khan (USA) v Alan Clyne (SCO)
[17/32] Iker Pajares (ESP) v Sebastien Bonmalais (FRA) [9/16] Gregoire Marche (FRA) – Bye
[17/32] Moustafa El Sirty (EGY) v Abdulla Mohd Al Tamimi (QAT)
[17/32] Nathan Lake (ENG) v Auguste Dussourd (FRA)
[2] Paul Coll (NZL) – Bye
Women's First Round Draw
[2] Hania El Hammamy (EGY) – Bye
[17/32] Zeina Mickawy (EGY) v Cindy Merlo (SUI)
[9/16] Olivia Clyne (USA) – Bye
[9/16] Georgina Kennedy (ENG) – Bye [17/32] Tinne Gilis (BEL) v Anna Serme (CZE)
[17/32] Rachael Grinham (AUS) v Milou van der Heijden (NED)
[9/16] Joshna Chinappa (IND) – Bye
[6] Salma Hany (EGY) – Bye [5] Joelle King (NZL) – Bye
[17/32] Lucy Turmel (ENG) v Sana Ibrahim (EGY)
[17/32] Danielle Letourneau (CAN) v [WC] Katie Malliff (ENG)
[17/32] Nada Abas (EGY) v Cristina Gomez (ESP) [17/32] Farida Mohamed (EGY) v Ineta Mackevica (LAT)
[9/16] Hollie Naughton (CAN) – Bye
[17/32] Lisa Aitken (SCO) v [WC] Millie Tomlinson (ENG)
[4] Sarah-Jane Perry (ENG) – Bye [3] Amanda Sobhy (USA) – Bye
[17/32] Emily Whitlock (WAL) v Liu Tsz Ling (HKG)
[17/32] Mariam Metwally (EGY) v Alexandra Fuller (RSA)
[17/32] Jasmine Hutton (ENG) v Emilia Soini (FIN) [9/16] Olivia Fiechter (USA) – Bye
[9/16] Tesni Evans (WAL) – Bye
[17/32] Hana Ramadan (EGY) v Haley Mendez (USA)
[7] Rowan Elaraby (EGY) – Bye [8] Nour El Tayeb (EGY) – Bye
[9/16] Nadine Shahin (EGY) – Bye
[9/16] Nele Gilis (BEL) – Bye
[17/32] Donna Lobban (AUS) v Rachel Arnold (MAS) [17/32] Sabrina Sobhy (USA) v Yathreb Adel (EGY)
[17/32] Aifa Azman (MAS) v Ho Tze Lok (HKG)
[17/32] Sivasangari Subramaniam (MAS) v Enora Villard (FRA)
[1] Nouran Gohar (EGY) – Bye