New Zealand's World No.8 Joelle King was forced to hold off a comeback from USA's World No.21 Sabrina Sobhy in a five-game thriller as she booked her place in the quarter finals of the Allam British Open, taking place at Hull's Allam Sport Centre this week.
King was forced to do things the hard way as Harvard graduate Sobhy bravely fought back from two-games down to push proceedings to a tense fifth game that went all the way to the tie-break before King, who was sporting strapping to her ankle, was able to convert on her fourth match ball attempt, winning 11-1, 11-9, 11-13, 2-11, 13-11 in 63 minutes.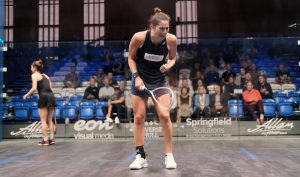 "Sabrina is a great athlete and if you put that ball loose, she puts it away," said the New Zealander afterwards. "I was finding it really hard to win at the end of games, she just didn't go away. There were a couple of points there I thought it wasn't my day today, but somehow I found a way to win.
"She made me work for every point and sometimes those games are good. They make you really sharpen up. The first one obviously was quite comfortable and then she changed what she was doing. I'm just really pleased to win."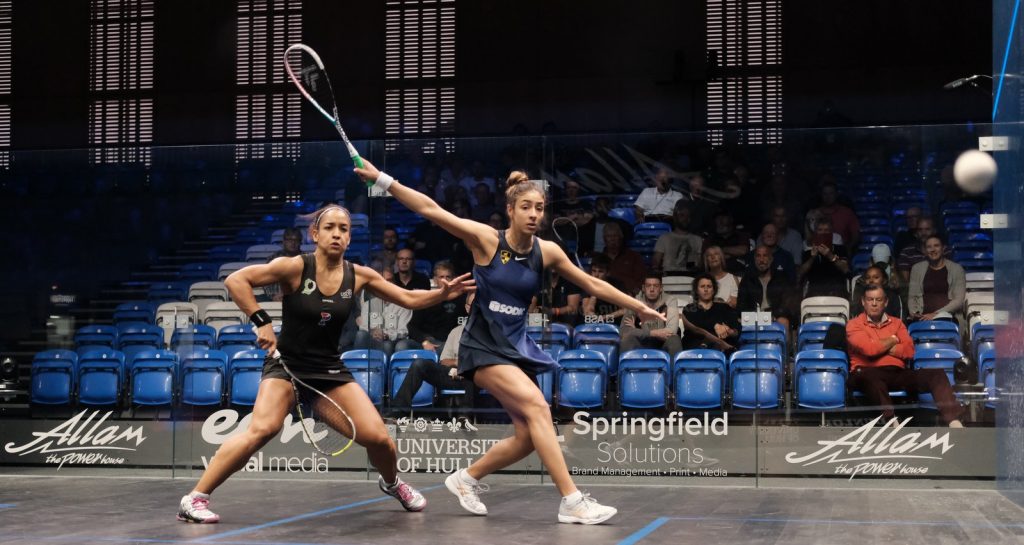 The 32-year-old will face Egypt's Hania El Hammamy in the next round after she overcame France's World No.26 Melissa Alves in straight-games at the PSA World Tour Platinum event
Manchester Open champion El Hammamy was dominant in the opening two games before 27-year-old Alves rallied well in the third, pushing the Egyptian into a tiebreak and threatening a fourth game. El Hammamy, however, kept her cool to see off the challenge, eventually taking the game to seal a 3-0 victory, 11-6, 11-4, 14-12 (39m).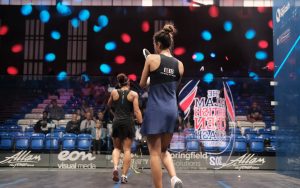 "I think I played well," said the World No.7. "Melissa kept me on my toes from the beginning of the match. I knew I would have to be very alert and focused because she keeps throwing everything at you and you have to keep up with her. I managed to do that in the first two games and then I lost a little bit of focus in the third. All credit to her, she played so well.
"I've played against Joelle a lot of times, so I know what to expect. Hopefully tomorrow's going to be a tough match against her. I'm definitely happy she had a five-setter today, maybe that will help a little tomorrow. I think tomorrow's going to be a physical and tough match."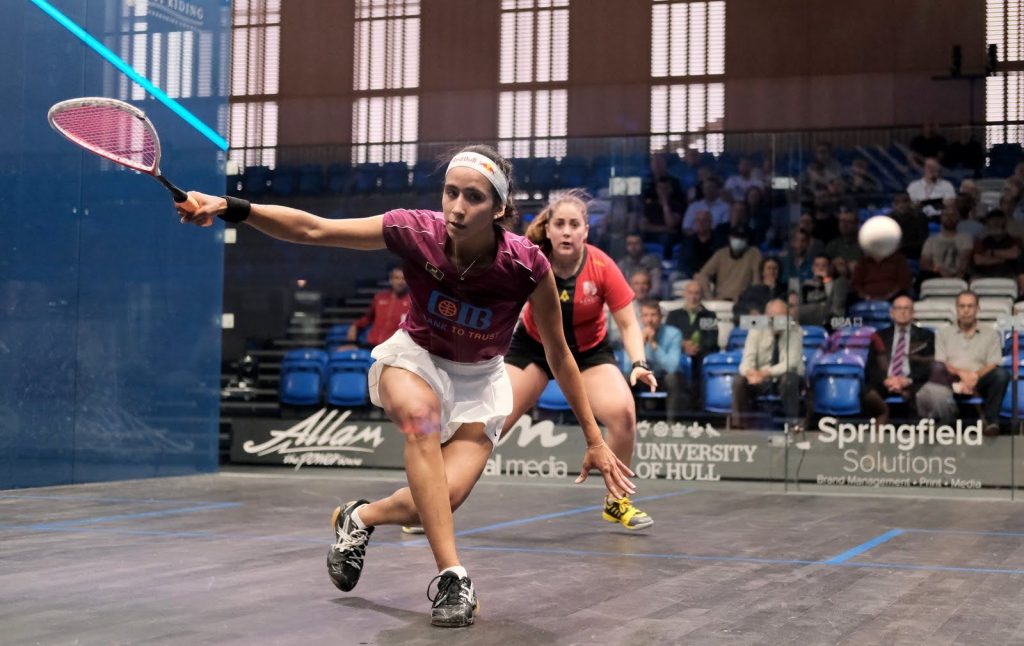 Meanwhile, defending champion Nouran Gohar ensured her run at the 2021 instalment continued in strong form as she produced an impressive display against Wales' World No.11 Tesni Evans.
Gohar, who beat France's Camille Serme in the final in 2019 to win the title, took the first game by an 11-7 margin before Evans began to cause real problems for her in the second as she went game ball up. However, a few errors cost the Welshwoman at the crucial time and the World No.2 was able to fight back and despite Evans saving one game ball, was able to convert on the second attempt, winning 11-7, 13-11, 11-3 in 33 minutes.
"She's a talented player so I knew it wasn't going to be easy," said Gohar. "I was just trying to find my range and my targets, sometimes it works and sometimes it doesn't, but it's fine as long as I have a 3-0 win.
"The memories of 2019 are the highlight, but back to 2016 as well, I had some great matches and reached the final when I was 16 – it's great when I remember those times. I always look forward to play this tournament, there's some good vibes on court."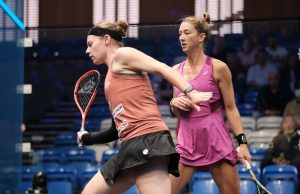 She will face English No.1 Sarah-Jane Perry for a place in the semi-finals after the 2017 runner-up defeated Australia's Donna Lobban by a 12-10, 11-5, 11-7 margin.
"I think I was a little bit lucky towards the end of the first to sneak that one," said Perry afterwards.
"I thought I was starting to find my line and length, it is a bit of a baptism of fire even though we have practiced on here, coming and playing a match on here when you've been on the back courts. It's probably been a bit of a theme, but you just have to adapt to it and I'm pleased to get through to another quarter final here, it's awesome.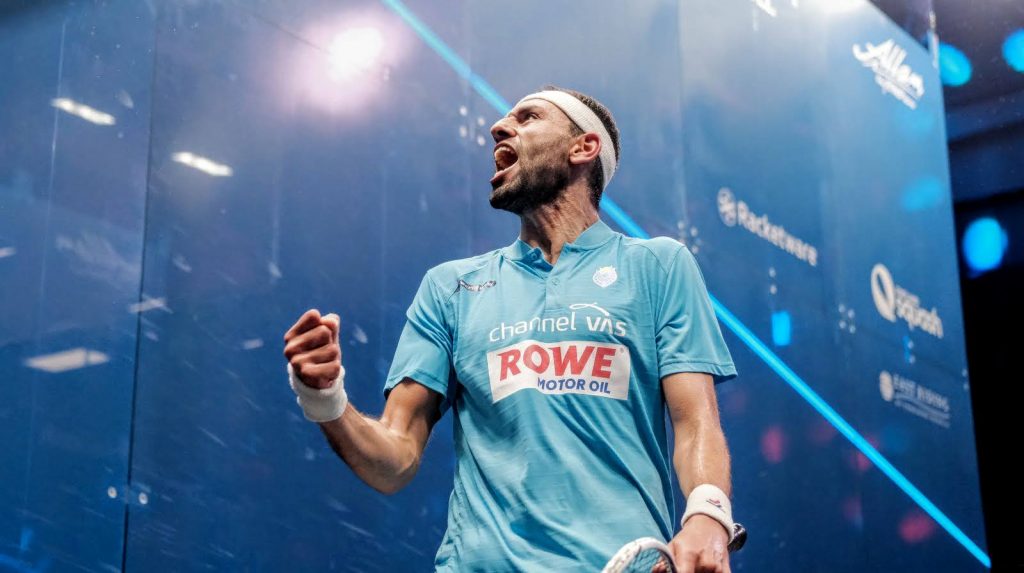 In the men's draw, Mohamed ElShorbagy continued his title defence and defence of the World No.1 spot as he overcame France's World No.24 Baptiste Masotti in a competitive battle to end the day's play in Hull.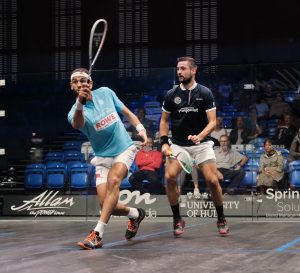 It's the third time the two players have faced each other this season and ElShorbagy made sure to make it a hattrick of victories over the 26-year-old as he prevailed 11-7, 8-11, 13-11, 11-7 in 55 minutes.
"This tournament is a big challenge for a lot of players at this event. To come back after the World Championships and try to back it up here," said ElShorbagy, who finished runner-up at this year's PSA World Championships in Chicago.
"I go to every tournament, I go to every single match, to try and win. I've done that for the last 15 years of my career and I'm still going to do it hopefully for so many more years. Every single tournament I play, I try to win it.
"The World Championships were a disappointment, but I'm going to come back at it next year and go at it again. But right now it's the British Open, I'm going to try and win it for a fourth time. There are lots of players playing very well but I'm here to fight another day."
He will face Egypt's Youssef Soliman in the quarter finals after he received a walkover following the withdrawal of Spain's Iker Pajares Bernabeu, who he was due to play in round three today.
The Spaniard was withdrawn from the event yesterday following guidance from Public Health England after he was contact traced in relation to a positive COVID-19 test from a fellow passenger on his flight from Spain to the United Kingdom.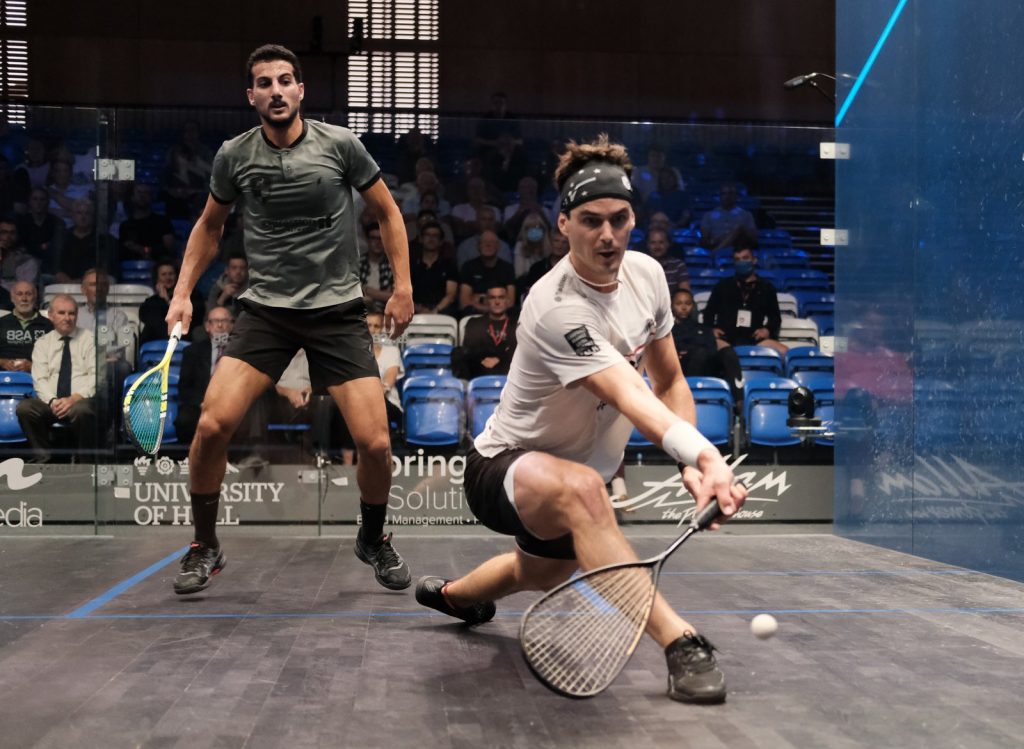 The other quarter final in the bottom half of the draw will see New Zealand's Paul Coll go up against close friend Diego Elias of Peru.
Coll was forced to five in his thrilling 73-minute battle with World No.14 Mazen Hesham. The Kiwi struggled to get to grips with the talented shotmaker as he found himself 2-1 down following an imperious start from the Egyptian.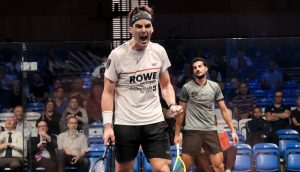 The World No.4 managed to wrestle control back in the fourth and finally settled into his rhythm as he comfortably drew back level once again with Hesham hitting a string of errors, before closing out the fifth to win 5-11, 12-10, 7-11, 11-2, 11-4 (73m).
"It was very tough, a lot of people see his shots to the front but today his weight of stroke to the back was really good," said Coll afterwards.
"I had to cover the front, those boast nicks and quick shots, but then his holds and then that weight of stroke to the back was real tough today. Real mental battle for me today, I got pushy – my coach is going to have my head because I was pushing a lot of shots and I think he makes you do that. I know what I've got to work on but happy to get through that."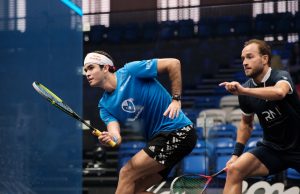 Elias meanwhile continued his rich vein of form that saw him claim last week's Manchester Open title as he comfortably dispatched France's World No.13 Gregoire Marche 11-9, 11-7, 11-3.
"It's never easy playing Greg, he's a very fit player," said the Peruvian. "I had to be at 100 percent the whole time. I'm feeling good after [winning the Manchester Open] last week. My body's feeling good and I just want to enjoy every single match and give my 100 percent."
Results – Men's Third Round (Bottom half): 
[3] Paul Coll (NZL) bt Mazen Hesham (EGY) 3-2: 5-11, 12-10, 7-11, 11-2, 11-4 (73m)
[7] Diego Elias (PER) bt Gregoire Marche (FRA) 3-0: 11-9, 11-7, 11-3 (39m)
Youssef Soliman (EGY) bt Iker Pajares Bernabeu (ESP) 3-0: Walkover
[2] Mohamed ElShorbagy (EGY) bt Baptiste Masotti (FRA) 3-1: 11-7, 8-11, 13-11, 11-7 (55m) 
Results – Women's Third Round (Bottom half): 
[4] Hania El Hammamy (EGY) bt Melissa Alves (FRA) 3-0: 11-6, 11-4, 14-12 (39m)
[7] Joelle King (NZL) bt Sabrina Sobhy (USA) 3-2: 11-1, 11-9, 11-13, 2-11, 13-11 (63m)
[5] Sarah-Jane Perry (ENG) bt Donna Lobban (AUS) 3-0: 12-10, 11-5, 11-7 (23m)
[2] Nouran Gohar (EGY) bt Tesni Evans (WAL) 3-0: 11-7, 13-11, 11-3 (33m)