Allam British Open 2021 : Day FIVE, QUARTER-FINALS
[6] Amanda Sobhy (Usa) bt [9/16] Rowan Elaraby (Egy) 3-0: 11-7, 12-10 retired (24m)
[9/16] Miguel Rodriguez (Col) bt [4] Marwan ElShorbagy (EGY) 3-2: 11-13, 11-6, 9-11, 11-4, 13-11 (87m)
[2] Nouran Gohar (Egy) bt [5] Sarah-Jane Perry (Eng) 3-1: 11-9, 11-2, 11-13, 13-11 (46m)
[1] Ali Farag (Egy) bt [8] Mostafa Asal (Egy) 3-2: 9-11, 11-0, 7-11, 12-10, 11-8 (79m)
[1] Nour El Sherbini (EGY) bt Nadine Shahin (EGY) 3-0: 11-5, 11-2, 11-4 (19m)
[3] Paul Coll (NZL) bt [7] Diego Elias (PER) 3-0: 13-11, 11-9, 13-11 (65m)
[4] Hania El Hammamy (EGY) bt [7] Joelle King (NZL) 3-2: 6-11, 11-5, 9-11, 11-4, 11-4 (65m)
[2] Mohamed ElShorbagy (EGY) bt Youssef Soliman (EGY) 3-2: 11-4, 7-11, 11-7, 10-12, 11-7 (66m)
Sobhy Reaches Maiden British Semi-Final Following Elaraby Retirement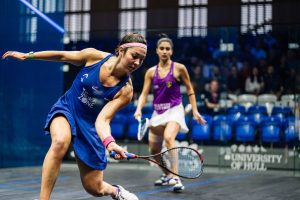 USA's World No.5 Amanda Sobhy has reached her first semi-final at the Allam British Open after her opponent, Egypt's World No.12 Rowan Elaraby, was forced to retire after the second game of their match.
Sobhy, who has been in rich form this season, started strongly as the two traded points in the opening of the first to take the lead, with Elaraby struggling towards the end of the game and not committing fully to the rallies.
That resulted in the Egyptian needing the physio to come and look at her hamstring during the break, but despite that she came onto court for the second and took Sobhy all the way to a tie-break, before retiring at the end of that game due to injury.
Sobhy will face World No.1 Nour El Sherbini in the semi-finals tomorrow.
"In the movie 'Anchorman' they say 'I'm a glass case of emotion' and literally I'm in a glass case of emotion," said Sobhy afterwards.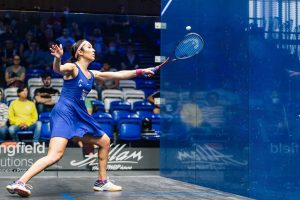 "I feel really bad for Rowan, she is a really talented player. She spent some time in Philly before coming over to the UK, so we had some hits and she's gotten up to No.12 in the world and it's because of how skilful she is. I was looking forward to a battle and I know she was pleased to get through to the Quarters of the British Open and so it's disappointing to have it end this way and I wish her all the best for her recovery. Any kind of strain is brutal, so I hope it's nothing serious and she can build up to the next string of tournaments.
"It's phenomenal, the British Open is second tier to World Championships, it's such a prestigious event. I've never made it to the semis of the British before and I'm pleased to be able to get to the semis, even though it's an anticlimactic way to get there. I'm pleased to continue the form I've been in and thankfully my body hasn't been put under too much strain for the semis, which is huge.
"Both of them are attacking [Nour El Sherbini and Nadine Shahin] and the court is a bit dead, so I expect short, sharp rallies, but if Nour gets through and I have to play her again then I'm looking forward to it. She gave me quite a lesson at the World Champs, so I'll be trying to redeem myself tomorrow if I do play her."
Result: [6] Amanda Sobhy (USA) bt Rowan Elaraby (EGY) 3-0: 11-7, 12-10 retired (24m)
Rodriguez Sends Marwan ElShorbagy Out of British Open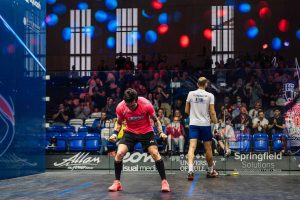 2018 British Open champion Miguel Rodriguez pulled out another show stopping performance in Hull as he sent out World No.5 Marwan ElShorbagy in an exhilarating five-game battle in the quarter finals.
It was a match that had it all with plenty of drama, controversial decisions and high-quality squash much to the delight of the crowd inside Hull's Allam Sport Centre.
ElShorbagy came from game ball down in the first to take the lead in a tightly contested first game. Rodriguez – who famously claimed the 2018 British Open title when he defeated Marwan's older brother, Mohamed, in the final – looked as though he had got off to the better start until ElShorbagy gradually found his range and built up his control to put himself in a strong position.
There were a few decisions in the second to come that interrupted the flow of the game with ElShorbagy in particular unhappy with the movement of the Colombian at times. However, it was Rodriguez that played some of his best squash for a while as he struck back to take the second.
The momentum swung once again in the favour of the Egyptian as he regained control of the match to take a 2-1 lead, before a conduct stroke against ElShorbagy in the fourth caused him to lose his focus as Rodriguez got back on level terms once again.
A 7-5 lead for ElShorbagy in the fifth didn't sustain as Rodriguez showed exactly why the British Open is his favourite tournament as he went 10-7 up, before squandering three match balls as it was the No.4 seed's turn to make the comeback.
Decisions kept coming on the tie-break, before Rodriguez was eventually able to close out 13-11 in 87 minutes.
🤯

Just look at that passion! @MiguelSquash loves the British Open🔥#BritOpen21 #WhereLegendsAreMade pic.twitter.com/ngfLkLwrIv

— Allam British Open (@BritOpenSquash) August 20, 2021
"That was a difficult match, I think I had different plans today," said the 35-year-old afterwards.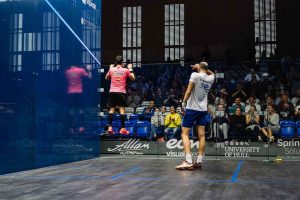 "I was talking with my coach about this game and how it was a really important match for me. This tournament really motivates me and I'm over the moon. This is a special court for me and I gave everything again, I had a tough battle two days ago and thank god I had a day off yesterday.
"Don't tell me about that dropshot [at 10-7 up], there was so much adrenaline in that match ball at 10-8 and I was just reacting and I'm happy to keep that mentality strong and calm in the tie-break and it worked.
"Mostafa is definitely a superstar and he's coming so strong, he's looking forward to be very active and offensive in this tournament because he didn't play the World Championship. Ali Farag is so consistent in the rankings and every time he reaches the semis and the final. For me this tournament is special and the equation is happening again, so I'm just going to enjoy the day. I didn't feel exhausted after this like when I played with Eain Yow Ng and thank you crowd for the support today."
Result: Miguel Rodriguez (COL) bt [4] Marwan ElShorbagy (EGY) 3-2: 11-13, 11-6, 9-11, 11-4, 13-11 (87m)
Gohar Stays Strong Against Perry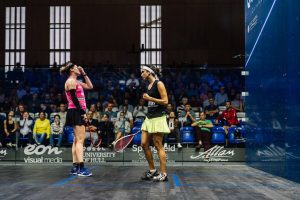 Defending British Open champion Nouran Gohar remained resilient against English No.1 Sarah-Jane Perry in an 11-9, 11-2, 11-13, 13-11 match to advance to the semi-finals of the PSA Platinum event.
Gohar started brightly to open up a two-game lead, as Perry cut a frustrated figure on court before she got her sharpness back in the third.
The World No.6 saved three match balls before converting her own game ball in the third as she looked to mount a comeback against the Egyptian. There were opportunities to draw level in the fourth as Perry found herself 9-6 up and held two game balls, but Gohar showed exactly how much she wants to keep her hands on the British Open title as she fought back to close out in four games.
Gohar will face compatriot Hania El Hammamy in the next round.
"It was really strange to hear my name in the crowd today as I was playing Sarah," said the World No.2 afterwards.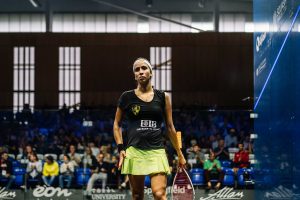 "I thought everyone would be against me today, but it helps. You guys are very fair and encouraging me on the good points, so it's good to have that. One of the main reasons I love to play here is because of you guys [the crowd]. I love to play in front of a British crowd, they are very knowledgeable about the game and really appreciate players here. I'm really happy to be back.
"SJ always does this. When you're 2-0 up, like the past five or six matches, she came back against top players. I knew even if I was 2-0 up and won the second game 11-2 that wasn't a reason to win the whole match. I was pretty happy with the way I dealt with the fourth game even though for the whole game I was down and at 9-6 down, I went for my shots and maybe she plays good shots, but I can as well. I was just trying to relax and calm down and just think even if I'm going to lose this fourth game, I need to attack and be brave. I'm happy with the mental side of it more than anything else."
Result: [2] Nouran Gohar (EGY) bt [5] Sarah-Jane Perry (ENG) 3-1: 11-9, 11-2, 11-13, 13-11 (46m)
Farag Battles Past Asal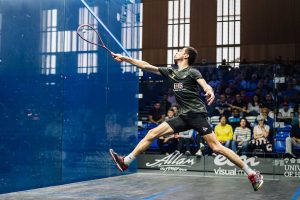 World Champion Ali Farag was forced to come from 2-1 down against compatriot Mostafa Asal as he booked his place in the semi-finals of the British Open after a fraught match that went to five-games.
World Tour Finals winner Asal came out of the blocks early, finding his range and accuracy quickly as Farag once again suffered from a slow start, as he did in the previous round against Mohamed Abouelghar.
Asal found himself 8-3 up and despite a fight back from Farag was able to close out 11-9. The World No.2 did not take kindly to going a game down and put in an imperious display in the second to take it quickly without dropping a single point.
🚨 🥯 @AliFarag did not take dropping the first game lightly! 😱

What a response! #BritOpen21 #WhereLegendsAreMade pic.twitter.com/1U1j1fXBS7

— Allam British Open (@BritOpenSquash) August 20, 2021
That did not seem to affect Asal though as he regrouped for the third with decisions beginning to interrupt the flow of the match as referee John Massarella gave a stern talking to the young Egyptian and warned him that he would not tolerate his movement, but that did not stop him from going on to regain the lead.
🔥

Three dives in a row by @mostafasal_!

Putting it all on the line 👊#BritOpen21 #WhereLegendsAreMade pic.twitter.com/KAZcbA11JQ

— Allam British Open (@BritOpenSquash) August 20, 2021
Decisions continued to interrupt the match in the fourth and fifth, causing frustration and stoppages for both players but it was Farag who held his composure and was able to get the job done once again in five.
He will face Colombia's Miguel Rodriguez for a place in the final.
"I don't know how much emotion I want to get out today, I'm not sure how much I want to say about how I feel," admitted Farag afterwards.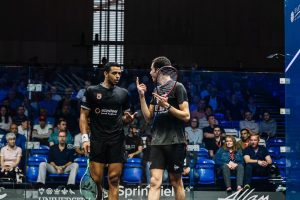 "Very relieved to have won this. Mostafa is a top player, a very good squash player, very explosive and has a variety of shots that he can kill you with, just sometimes it doesn't turn very pretty. I was not proud of myself with how I let it get in my head in the third and if I let more emotion out then I would lose it. That's why I was trying to stay calm for the whole match, even now I have so much emotion inside, probably in the room I will be shouting at myself.
"I enjoy it when I play well, I don't enjoy getting bageled or bageling anyone. I was thinking 'should I keep going?' and then I thought I should because I don't want him getting any momentum back, but he came back strongly in the third. One game does not win you the match.
"The very last point is the one that counts the most and I was able to win that one. There are a lot of positives, I had a good game plan – I executed it well actually in the third but then I gave away three strokes and some errors and that's very costly at this stage of the tournament. I'm just happy that I stayed calm and then you saw the ball getting colder at the end and I tried to take advantage of it. I'm very happy."
Result: [1] Ali Farag (EGY) bt [8] Mostafa Asal (EGY) 3-2: 9-11, 11-0, 7-11, 12-10, 11-8 (79m)
Top seed El Sherbini eases into semis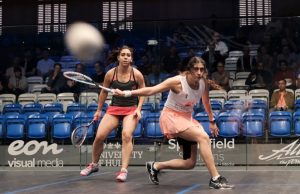 Egypt's World No.1 Nour El Sherbini cruised into the semi finals after beating compatriot Nadine Shahin 3-0 in 19 minutes.
El Sherbini, a winner in 2018 and 2016, went into the match as the firm favourite despite injury concerns. She reached today's match without dropping a game and boasted a 3-0 record against Shahin, again without dropping a game.
This sentiment was seemingly felt by Shahin, too. Ahead of today's match the World No.16 spoke glowingly of El Sherbini, saying: "To me, Nour has no fault, God bless her. I don't think she has anything. Everyone, when you go against Nour El Sherbini, you don't expect to win."
Shahin's apprehension was well placed.
El Sherbini took the first match 11-5 in six minutes, before decimating Shahin – who made a number of mistakes – 11-2 in four minutes in the second.
Although her concentration improved, the third game was little better for Shahin and El Sherbini completed the rout with an 11-4 victory.
El Sherbini will play Amanda Sobhy in the semi final.
🗣️ "That's a good game for me. I know how big a deal it is for @Nadine1Shahin to be playing in this round."

Unstoppable 🔥

Hear what @noursherbini had to say after reaching the semis ⬇️#BritOpen21 #WhereLegendsAreMade pic.twitter.com/2OyYVh2FZw

— Allam British Open (@BritOpenSquash) August 20, 2021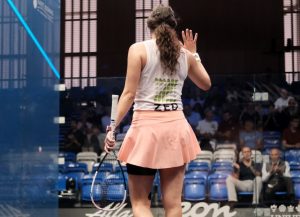 Speaking after the match, El Sherbini said: "That was a good game for me actually, I know how big it is for Nadine to be playing in this round and I'm sure the excitement [affected] how she plays. I know she can play better than this, it's just about time and experience and I'm sure she's going to be back here again. I'm really happy with my performance and trying to be confident with my body this week. I'm playing another semi final, so until now it's going good."
On controlling her nerves, she said: "It never gets easier, the nerves are always on. You just try to work mentally more to overcome this feeling. I was in this situation many times and I struggled a lot with them and I've overcome some of them. I went through this phase, I'm glad I'm not the one now doing it."
On her semi-final opponent Amanda Sobhy, she said: "It's our fourth meeting this season and we've been playing in big stages in Platinum events now, so I think [the way she's playing in] every tournament she's really in good form this season. She's playing her best squash ever. Every time is a good and tough match. I'll try to forget all the past matches and just think of tomorrow's match and there are a lot of things I have to focus on and have a good game plan."
Result: [1] Nour El Sherbini (EGY) bt Nadine Shahin (EGY) 3-0: 11-5, 11-2, 11-4 (19m)
Coll downs friend to make second-successive semis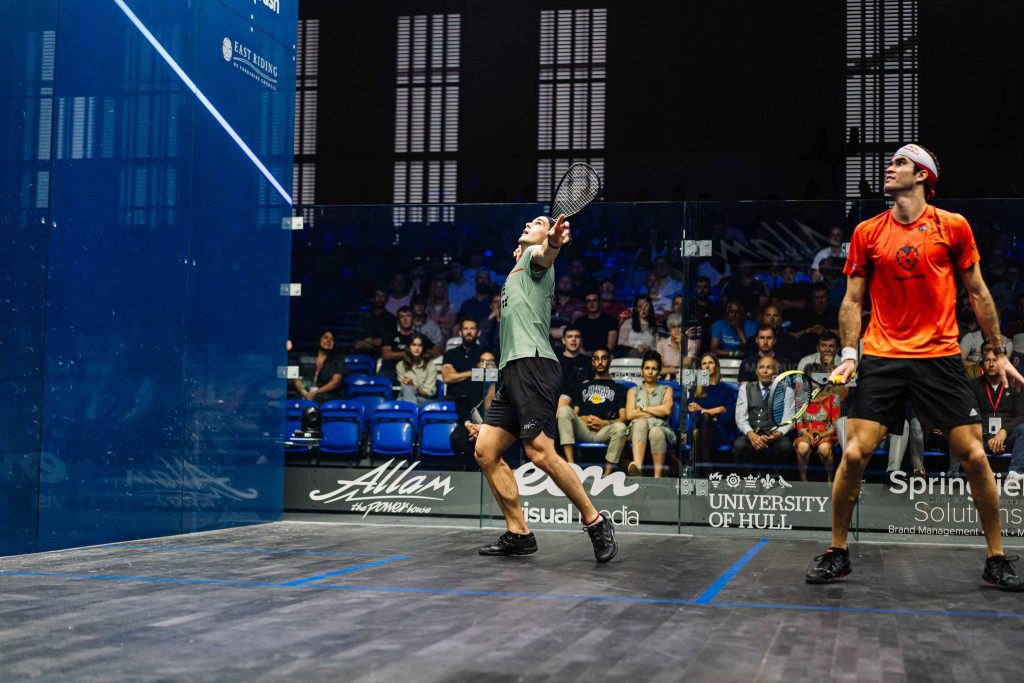 New Zealand's Paul Coll made his second-successive British Open semi finals after beating Peru's Diego Elias 3-0.
Both players went into the match in good form. World No.4 Coll impressed in 3-0 and 3-2 wins over Youssef Ibrahim and Mazen Hesham in the previous rounds. World No.8 Elias, meanwhile, looked assured in 3-1 and 3-0 wins over Mathieu Castagnet and Gregoire Marche, a week on from winning the Manchester Open.
The two went into the match well aware of each other's abilities. Besides their 1-1 record, the two are good friends and train together regularly, with No.7 seed Elias crediting No.3 seed Coll for helping him improve his stamina.
It was Coll's stamina, though, that was the potent weapon in today's match. In an even first game, both players were happy to trade the lead, with Coll seeking to keep rallies long in the hope of rewards later in the match. This proved effective for the 29-year-old, as, after both players had failed to convert game ball opportunities, Coll eventually took the first game 13-11 in 28 minutes.
Coll built on this first-game success with a strong performance in the second, which he took 11-9, although he was almost reeled in by a furious late-game flurry from Elias.
The 24-year-old kept up this form in the third, and had a golden opportunity to force his way into the match with with two game balls at 10-8. Coll, though, defended them excellently and, with Elias beginning to appear fatigued, flipped the scoreline to have match ball at 11-10.
Although Elias saw off the match ball with an excellent flick, he was powerless to stop Coll from taking the game, and the Kiwi finished the match in three with his second match ball, 13-11.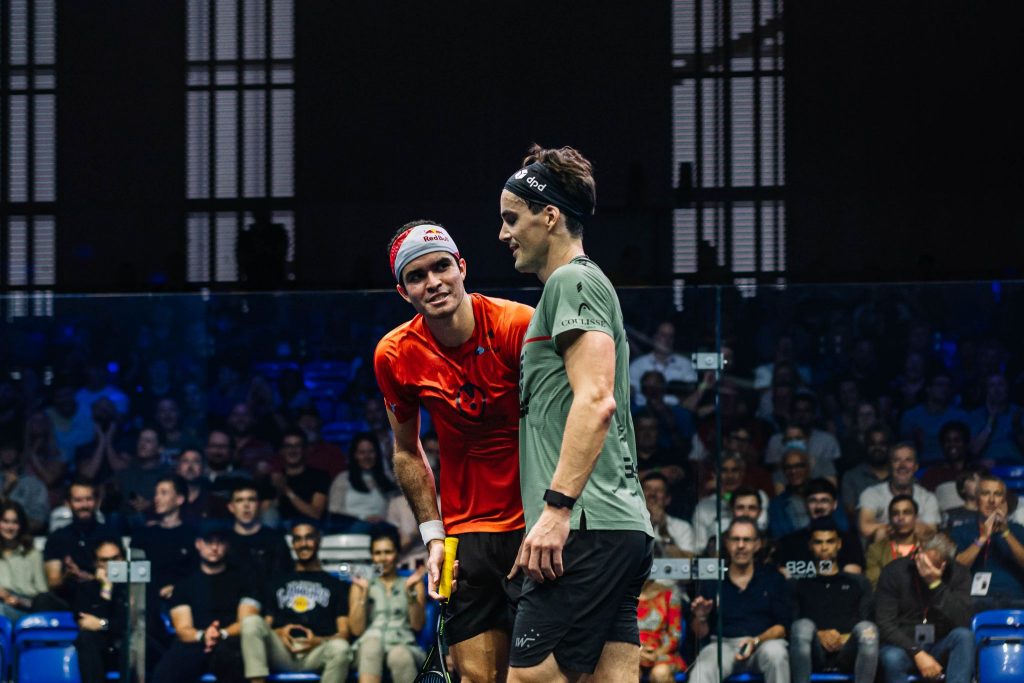 After the match, Coll said: "It was very tough, there were hardly any decisions in there, it was very clean and free-flowing squash which is always physically tougher than it looks. We're great friends off court, it's hard to put that aside but I think it was a very clean match, although he swore at me at the end although I'll forgive him for that.
"I know exactly what he's got in his weaponry, he's got every shot in the book. His holes just slowly eat away at you and I didn't really want to go further than three. But I was physically feeling great after yesterday, I backed up well. I was a lot happier with my movement, my shots to the front were a lot quicker. My footwork, working on that first step off the T, which was a bit slow yesterday, but today was a lot better. I sped up my racket-work to the front. A good improvement on yesterday, I was very happy with it.
On the tumble he took late in the match, he said: "I went with [the fall] and that's what saves you. If you try and fight it and stay up you're going to do some damage. The roll wasn't just for show!"
On tonight's quarter-final match between Youssef Soliman and Mohamed ElShorbagy, he said: "Youssef Soliman haș had a really good run, beating Fares [Dessouky, World No.7] who's one of the in-form players, so he must be playing well but I didn't see any of the match. Mohamed's World No.1 so it's going to be a tough battle for Youssef, but if he play like he did in round one, who knows what can happen.
"I want to shout out to my mate here, from New Zealand who came to support today, and everyone back in NZ getting up at five AM, one-thirty AM watching, I love you all, cheers."
Result: [3] Paul Coll (NZL) bt [7] Diego Elias (PER) 3-0: 13-11, 11-9, 13-11 (65m)
El Hammamy turns on style in fifth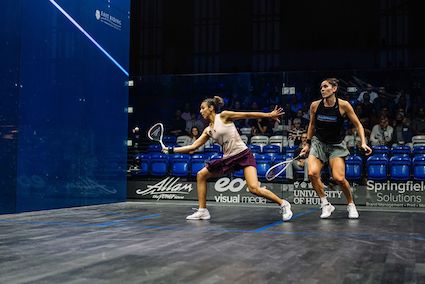 Egypt's Hania El Hammamy consigned New Zealand's Joelle King to a sixth British Open quarter-final defeat to set up a semi-final match against fellow Egyptian Nouran Gohar.
The players went into the match having played five times already, with El Hammamy winning the most recent encounter 2-0 to give her a 3-2 record.
This match was a close and entertaining affair throughout. King made the faster start of the two, coming out of the blocks flying and taking the first game 11-6 after dominating the middle.
El Hammamy responded well in the second.  The 20-year-old played more positively and found the corners more often to force King off the T and take the game 11-6.
The third game was a tighter one, which King took 11-9, with El Hammamy frustrated by the refereeing decisions.
Again, though, EL Hammamy came back strongly. The Manchester Open winner played more freely than in the previous game and gave up few opportunities for King to attack, taking the fourth 11-4 to set up a nervous finish.
Once again, El Hammamy was at her best. She accelerated through the fifth, winning six points in a row to pull away from 5-4 to take the match 11-4.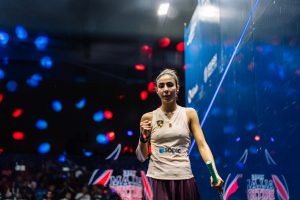 "It's definitely a relief, I lost before to Joelle in three. Today I knew it was going to be a tough game. She had a very tough match yesterday, but she's a very strong player and I knew I shouldn't take that for granted. I knew she was going to come here today up for a fight and she definitely proved that. I'm so happy I was able to get through this and I'm really looking forward to tomorrow.
"I'm here, really focusing on one match at a time, one game at a time. I can't be thinking about tomorrow when I'm having a tough match today. Every tournament I just think about the match I'm playing and when I reach and play against the top, like tomorrow against Nouran [Gohar, tomorrow's semi-final opponent], it's going to be a very tough one. I'm going to think differently, I'm going to make up a new plan, a different one."
"I think playing against Nouran is definitely a challenge for me. Going on court with her I have to be carrying a whole different plan, she's one of the strongest, maybe the strongest, on the women's tour. She hits the ball really hard. That kind of player needs to have a different kind of game plan so I can write one with my coaches and hopefully be able to execute it tomorrow.
"I'm going to sleep and eat well, relax as much as I can. A match that goes to five can go any way, so I have to hold my nerves really well and that definitely requires some relaxation during the day, so I'll try as much as I can to relax for tomorrow."
Result: [4] Hania El Hammamy (EGY) bt [7] Joelle King (NZL) 3-2: 6-11, 11-5, 9-11, 11-4, 11-4 (65m)
ElShorbagy's hunt for fourth British Open gathers momentum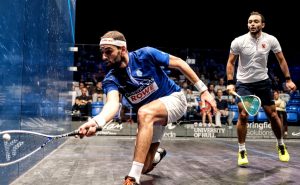 Defending champion and No.2 seed Mohamed ElShorbagy's hunt for a fourth British Open title is still alive after he beat Egyptian compatriot and World No.30 Youssef Soliman to set up a semi-final meeting with New Zealand's Paul Coll.
ElShorbagy and Soliman went into the match well aware of one another's game. The two are good friends of court and train together in Bristol, though today was only their second PSA meeting.
Before the match, ElShorbagy made it clear he would give no quarter to his friend, saying: "It's not going to be a training match. I have to show him the difference between playing me in training and playing me in a tournament!"
Both players came into the match having impressed. ElShorbagy beat Joel Makin and Baptiste Masotti, while Soliman had captured headlines by coming from two games down to beat World No.7 Fares Dessouky, before being awarded a round three walkover after Iker Pajares Bernabeu's withdrawal.
ElShorbagy took the first game in relative comfort, easing to an 11-4 win, before Soliman struck back 11-7 in the second.
The third game was an even one, until the unfortunate Soliman lost a false tooth after accidental contact. This seemed to unsettle the 24-year-old and ElShorbagy took full advantage, claiming the third game 11-7.
ElShorbagy seemed to be coasting towards a fourth game victory, until a startling comeback from Soliman levelled the match, with Soliman turning a 9-6 deficit into 12-10 victory.
Despite seeming to be carrying a minor injury from the fourth into the fifth, ElShorbagy showed the same grit and cool head that have delivered him three British Open titles and, with Soliman running on fumes and chasing winners, the 30-year-old finished the match with an 11-7 victory.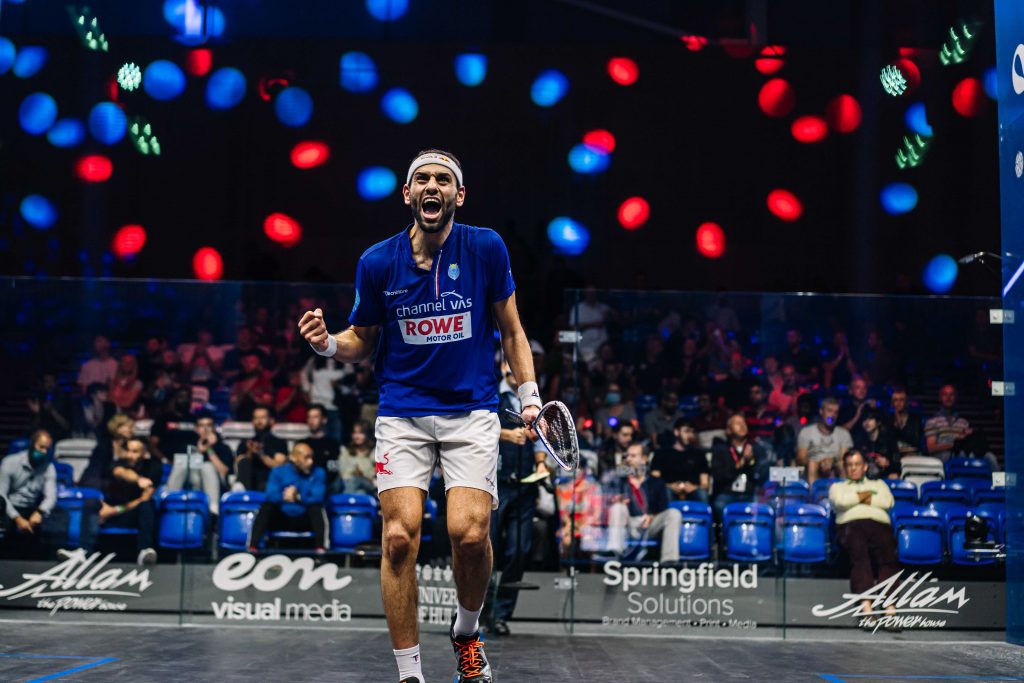 After the match, ElShorbagy said: "I've played so much squash in my life but I've never experienced something like [Soliman's lost tooth] . I've so much respect for him, he's such a great player. I told him after the match this is the first step for him, his first quarter, his first-ever British Open to play in. What a remarkable achievement for him. Today he left it all out there, it was definitely a fifty-fifty at the end and a little bit of experience here and there got me through.
"In El Gouna , World Series final, World Champ, here. Three finals, semis here. I've been having a pretty tough schedule. I've been having to play the last match of the day, every single match of every single tournament. I've had to finish at 10 PM now. So I definitely have much less time to recover but listen, I never give myself an excuse. I'm going to have a 24-hour break, or a 20-hour break to get myself ready for a big battle with Paul [Coll]. If he gets the better of me tomorrow, it's because he played a better match than me and I'm definitely going to leave it all out there. I'm gonna take everything away from him and if he beats me fair enough, he will have played better on the day, no excuses. I'm going to give everything tomorrow and I'm really excited to step on court with him.
"[Paul's] physically very strong. He's one of the best strikers of the ball in the game. I don't think he gets a lot of credit for how good he is as a ball striker. He actually hits the ball really really well. I enjoy watching the way he plays. I actually went to Birmingham last week to hit with him. He beat me 4-0! I'm not really proud of that so I hope I can do better tomorrow. 
"I just want to say thanks to the crowd who stay for all the matches. You guys make it amazing for us. Whether you guys are cheering for me or my opponent, you always make it special. So thank you for staying for the last match of the evening. It's good to see everyone here, thanks guys."
Result: [2] Mohamed ElShorbagy (EGY) bt Youssef Soliman (EGY) 3-2: 11-4, 7-11, 11-7, 10-12, 11-7 (66m)