You can watch live, follow the matches with live scoring and our social media feeds, and we'll have reports and reaction from the Glass Court matches right here, with a roundup at the end of the day.
Allam British Open 2021 : Day SIX, SEMI-FINALS
[1] Nour El Sherbini (Egy) bt [6] Amanda Sobhy (Usa) 3-1: 11-7, 9-11, 11-2, 11-6 (37m)
[2] Nouran Gohar (Egy) bt [4] Hania El Hammamy (Egy) 3-0: 11-8, 11-5, 11-9 (49m)
[1] Ali Farag (Egy) bt [9/16] Miguel Rodriguez (Col) 3-0: 11-5, 11-4, 11-6 (29m)
[3] Paul Coll (Nzl) bt [2] Mohamed ElShorbagy (Egy) 3-0: 11-8, 11-7, 11-5 (31m)
El Sherbini Through to Fourth British Open Final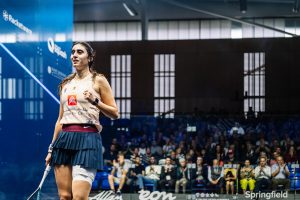 World No.1 Nour El Sherbini is through to her fourth Allam British Open final after defeating USA's World No.5 Amanda Sobhy, 11-7, 9-11, 11-2, 11-6 at Hull's Allam Sport Centre.
The Egyptian, who won the title in both 2016 and 2018, did not let the heavy strapping on her thigh affect her as was clinical and calm to take the first game.
Sobhy, who was featuring in her first British Open semi-final, rallied back well in the second to get back on level terms, but it was not enough to stop the World Champion from stepping up a gear to close out in four games.
She will face either World No.2 Nouran Gohar or World No.7 Hania El Hammamy in tomorrow's final.
"Amanda and I have been playing for a long time," said El Sherbini afterwards.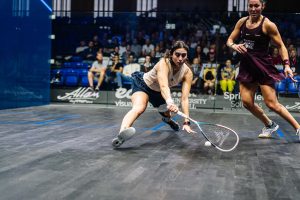 "It never gets easier and every match is more tough than the one before. She's on top form this season, we've played a lot of tough matches. I'm just trying to get myself to the end of the game and respond when she got the second game, kept the momentum I'm playing with and when I started the third game, I wanted to keep going and get a good start. I think that helped me a lot.
"I've been feeling it [abductor] since Chicago, as you know I've been away from home a long time, so I'm trying to treat it as best I can and the physio is helping me this week, trying to finish the tournament good. Nothing is broken, all in one piece. It's tough to play when you have an injury but I'm always trying to play better squash, so I don't move a lot and help my body to recover more. Maybe playing with an injury helped me to play better squash, I'll take it as an advantage. I'm in the final of the British Open, so it's good until now.
"It's hard to choose between them [El Hammamy and Gohar], they have been amazing this season. I've played Nouran in almost every Platinum event now, I'm sure it's going to be a tough one and both will get the best out of each other. I don't prefer either of them, whoever is going to win, I'll be waiting for them."
Result: [1] Nour El Sherbini (EGY) bt [6] Amanda Sobhy (USA) 3-1: 11-7, 9-11, 11-2, 11-6 (37m)
Farag Conquers 2018 Champion Rodriguez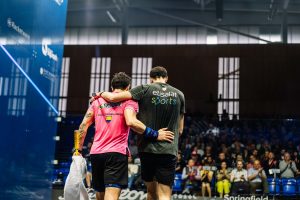 Reigning World Champion Ali Farag axed 2018 British Open champion Miguel Rodriguez of Colombia in straight-games to reach the final of the PSA World Tour Platinum event.
Rodriguez has once again had a memorable tournament, taking out World No.5 Marwan ElShorbagy in dramatic fashion in yesterday's quarter finals, but his run came to an end today at the hands of a formidable Farag.
29-year-old Farag has won just about every major there is in his glittering career, but the British Open title has been the one to allude him so far, but he took a step towards achieving that goal as he prevailed 11-5, 11-4, 11-6 to reach his second final in Hull.
"I'm very very happy," said the World No.2 afterwards.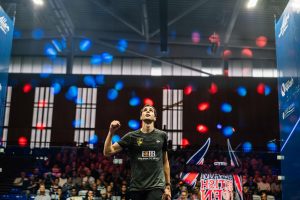 "Miguel has shown his class over and over again over the years and whenever people write him off, he proves it back again like this week. Playing two 100 minute matches back-to-back shows how tough he is physically and mentally, I knew coming into this that both of us had marathons coming into this semi-final. Whoever found their targets better, maybe both of us are a little heavy today, I think I found my targets well today. At the end I think I saw myself too early and this is very dangerous against Miguel as he showed and I was getting edgy.
"Coming into this, I had a very tough draw. I only thought match-by-match, I drew James Willstrop in the first match but then he withdrew and then it became Greg Lobban, Abouelghar, Asal and I barely won each of those matches. I haven't booked my flight back home yet because I didn't know when I'm going to lose or be flying home, but now I know it will be Monday, so it's time to book my flight.
"I'm going to take it the same way. One match to go, both Paul and Mohamed are going to have a great match today, they are both champions and I'm going to be watching that for sure. It will be a belter of a match, as Mohamed alluded to yesterday he has been reaching the last match of each tournament, which is a testament to what a champion he is. He was running on fumes yesterday but found a way to win, Paul is on fire and to get Diego off in three shows how well he has been playing. I'm going to be studying and looking forward to being back tomorrow."
Result: [1] Ali Farag (EGY) bt Miguel Rodriguez (COL) 3-0: 11-5, 11-4, 11-6 (29m)
Defending champ Gohar makes final again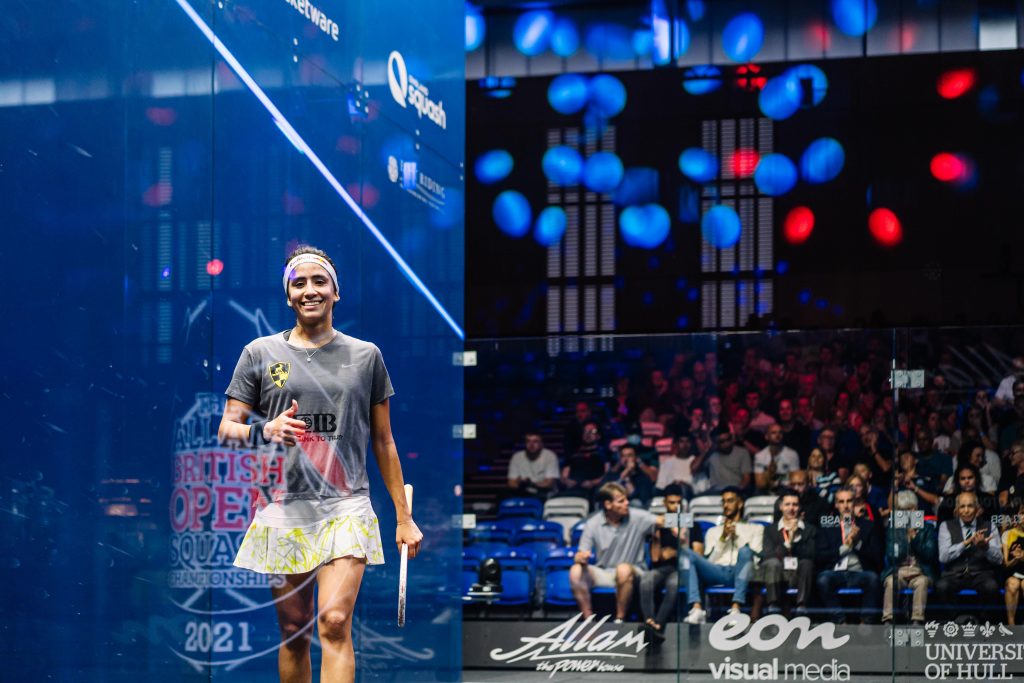 Nouran Gohar inflicted her second semi-final defeat in as many years on Egyptian compatriot Hania El Hammamy to progress to her third British Open final.
No.2 seed Gohar had reason to be confident going into today's match. The defending champion, who made the final as an 18-year-old in 2016, has spoken a number of times about how the British Open brings out her best squash. The 23-year-old also went into the match with a strong record against El Hammamy, having beaten her by three games to one in both the PSA World Tour final in June 2021 and the Egyptian Open semi final in October 2020.
No.4 seed El Hammamy, though, is one of squash's brightest rising stars. The 20-year-old came into today's final in excellent form, coming from behind to beat No.7 seed Joelle King in the quarter finals, one week on from winning the Manchester Open.
Ahead of the match, El Hammamy described Gohar as the strongest player on the women's tour and added that she would need to formulate a specific plan to nullify this threat.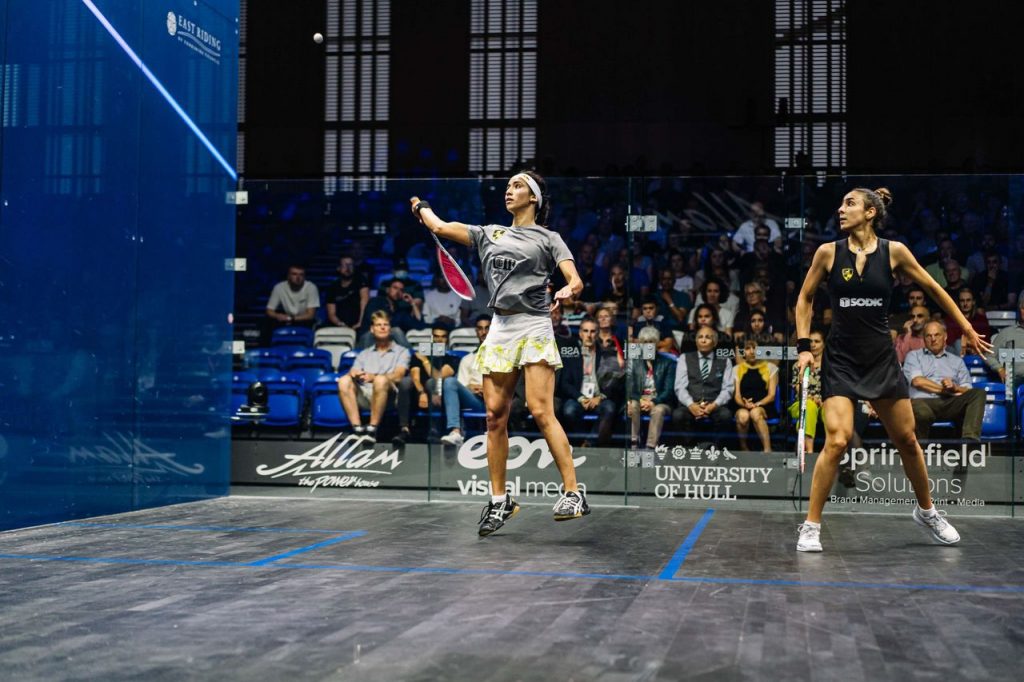 The first game started at a ruthless, frenetic tempo. Both players attacked well, with Gohar immaculate in the early stages as she targeted the back corners with machine-like precision. El Hammamy, meanwhile, had some joy at the front of the court, where she kept the ball tight in an attempt to prevent Gohar from using her deadly full swing. Although El Hammamy did cause Gohar some trouble with this tactic, too often was her accuracy missing, and Gohar took the first 11-8, sealing the game with a brutal smash that left El Hammamy marooned.
Gohar came into the second determined not to let El Hammamy into the match and, despite a strong start for the 20-year-old, Gohar dominated the court, taking the game 11-5.
Game three was a more even affair, with both players content to slow the game down as rallies became more drawn out. Under these conditions, it was El Hammamy who initially thrived, and she was good value for a 9-6 lead.
Gohar, though, fought back incredibly, upping the tempo once again to blow away El Hammamy and take the decisive game 11-9.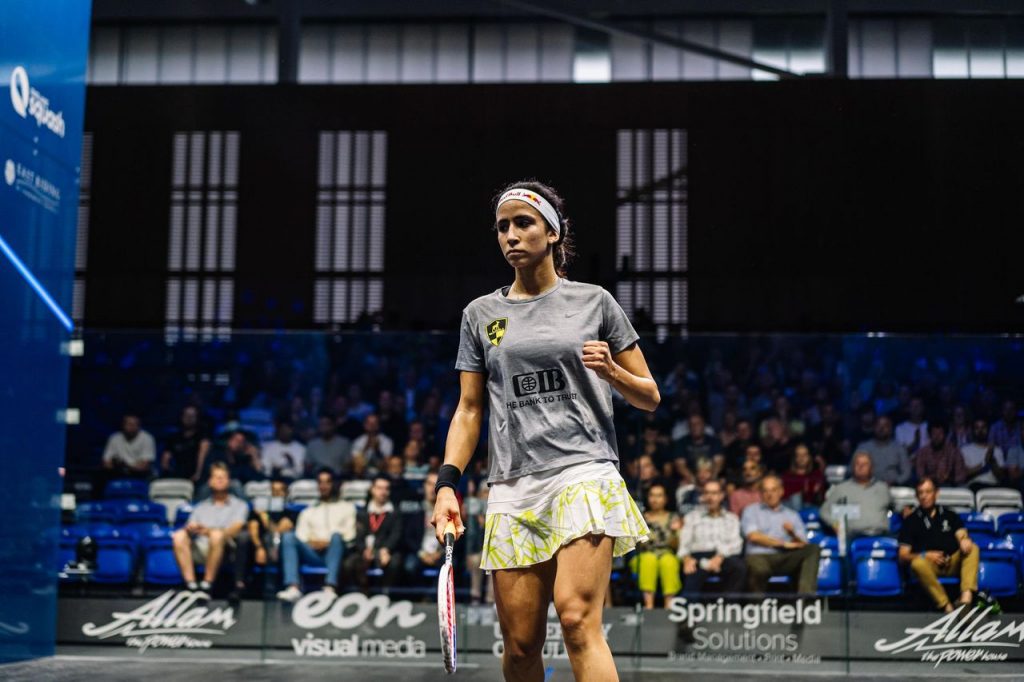 After the match, Gohar said: "If I'm not playing my best squash here, where should I play it? It's the most prestigious tournament and I always love to come back. I've said it in all my interviews but that's true. Even during my solo practices I'm just so happy to be on this court. I think it helps a little bit. Against [someone] of Hania's calibre you have to play your best just to win and to win in three you have to play extra special as well. I'm just happy with the way I played. I've played with Hania quite a few times. We had an exhibition in Seattle two or three weeks ago and we played twice in one week and I was like: 'I don't do this in a practice!' It was tough to play against her and it's always tough, I have to be prepared, 100 percent and I'm happy to be able to be in the final."
On her final with El Sherbini and whether she will be able to take advantage of the No.1 seed's injury, she said: "No, I think Nour is playing better when she's injured actually. I think it's something in this tournament, I won the British Open with a knee brace on, so yeah sometimes it helps actually, it makes you more accurate because you don't want to move a lot around the court so you're just focusing on every shot and it makes you more efficient. I think it didn't hurt her this week, she's playing really well. I'm looking forward to this. We've been playing in all finals, at the Pyramids, El Gouna, World Championships and now here. It's always enjoyable to play against her and I can't wait for tomorrow."
On being a defending champion: "It's no pressure at all, I'm the No.2 seed, she's the No.1. I won it last year, I have it already and it will always be there. I'm just enjoying it. Actually it's a repeat of the 2016 final, which was five years ago. That's incredible! I'm just happy to be able to play against Sherbini in another final and hopefully it's going to be another good one and the crowd will enjoy it."
Result: [2] Nouran Gohar (EGY) bt [4] Hania El Hammamy (EGY) 3-0: 11-8, 11-5, 11-9 (49m)
Paul Coll finally gets better of old tormentor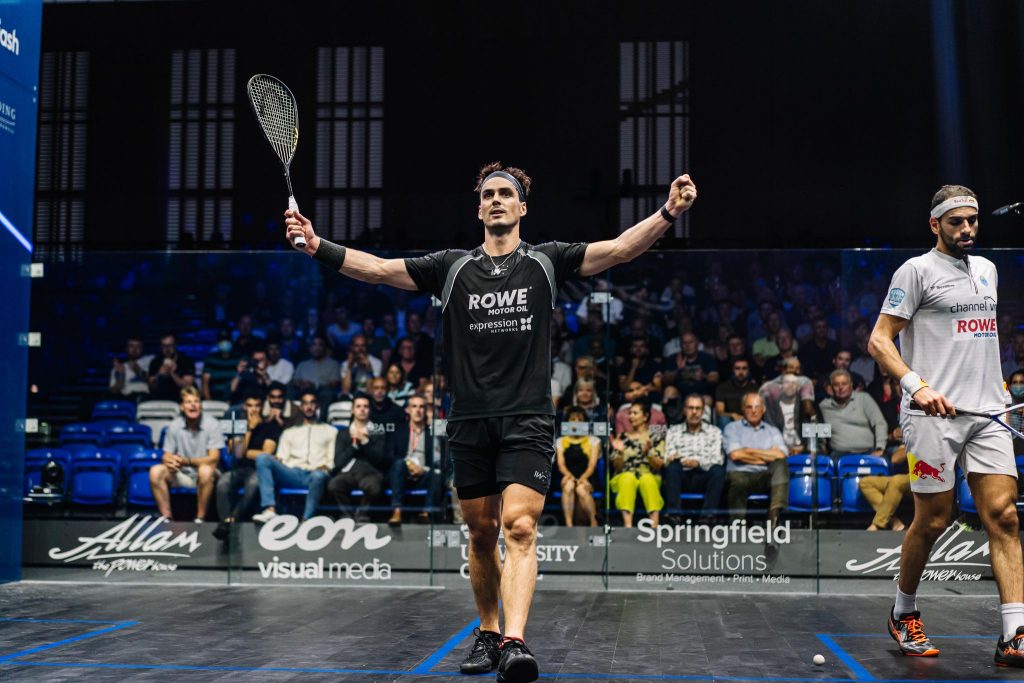 Paul Coll produced one of the matches of his career to shock an out-of-sorts World No.1 Mohamed ElShorbagy in 31 minutes and qualify for his first British Open final.
Going into today's match, the records suggested Coll was facing a gargantuan task. In their ten PSA matches, Coll had the better of ElShorbagy in only one of them. Among the nine ElShorbagy victories were semi-final wins in the World Championships in July and the World Tour Finals in June, as well as a quarter-final victory in the 2018 British Open.
Coll, however, turned the form book on its head with a masterful display.
The 29-year-old took the first game 11-8 and the second 11-7 in just seven minutes, with ElShorbagy – who appeared to having trouble moving – making too many mistakes against Coll's impregnable defence.
ElShorbagy initially came back well in the third, seizing a 5-4 lead at the end of a brutal 34-shot rally, after taking quick points earlier in the game. This, however, proved to be the No.2 seed's final act of resistance, with the 30-year-old looking ready to collapse at the end of the rally.
With ElShorbagy looking broken, Coll took full advantage, claiming seven-consecutive points to seal a memorable win.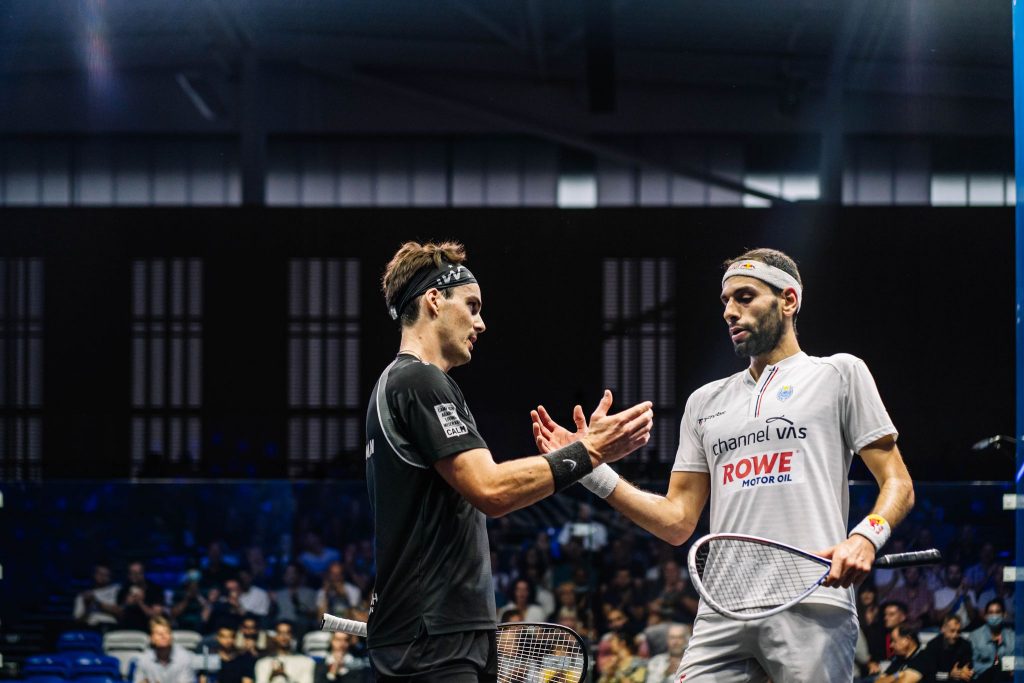 After the match, Coll said: "I knew I had to get my start right this time. The last three times, he's flogged me in the first set and it just hasn't been good enough for my standards. But that's the kind of calibre player he is, he can take a game away from you in a matter of seconds. That's why I got so edgy in the last one, I knew he was trying to win quick points. With his skill and intensity it can happen very quickly.
"[I'm particularly happy with] my general play and my accuracy. I was working with my coach, Rob Owen, last week to get more racket speed going, take the ball earlier but keep my accuracy. To be honest 70 percent of the stuff we were doing was focused on this match. He's got me in the last three tournaments, so a lot of the stuff was focused on Mohamed and trying to stuck into him a bit more, because I haven't been happy with the last three performances against him."
On what he should be wary of against Ali Farag in the final, Coll said: "Everything! He's World Champion twice, World No.1 for a long time now, except for this month. There's not really any area of his game that's super weak. The last time we were on this court [in the 2019 semi final, in which Farag beat Coll 3-2] it was a huge battle and I hope he's ready for another one because it's not going to be easy!
"Everyone back in New Zealand is in lockdown, getting up at four AM and one AM to watch me, so huge thanks guys! One more push tomorrow but we can do it!"
Result: Paul Coll (NZL) bt [2] Mohamed ElShorbagy (EGY) 3-0: 11-8, 11-7, 11-5 (31m)