New Zealand's World No.4 Paul Coll became the first Kiwi since Carol Owens in 2001 to reach the final of the prestigious Allam British Open – taking place at Hull's Allam Sport Centre this week – after he defeated 2019 tournament champion and current World No.1 Mohamed ElShorbagy.
Coll had only ever beaten the Egyptian once in their previous 10 meetings, but the 29-year-old produced some of his best squash to overcome ElShorbagy and become the first male New Zealander to reach the event final since 1986, when Ross Norman finished runner-up to Jahangir Khan.
"I'm a bit lost for words," admitted Coll after his 11-8, 11-7, 11-5 win. "It's an amazing feeling, especially to get some revenge on Mohamed as well.
"He's the in-form player at the moment, he just got to World No.1. I always back my squash but the last three times he's got me, so I'm feeling really good in my game.
"A lot of it is just being there and being familiar with the situation. This is my third major final now so I'm a bit more experienced, I hope. I believe in my game, massively this week. I think a lot of it is having that experience of being here before. I really believe that I can do it now and I'm familiar with the situation, so hopeful for tomorrow."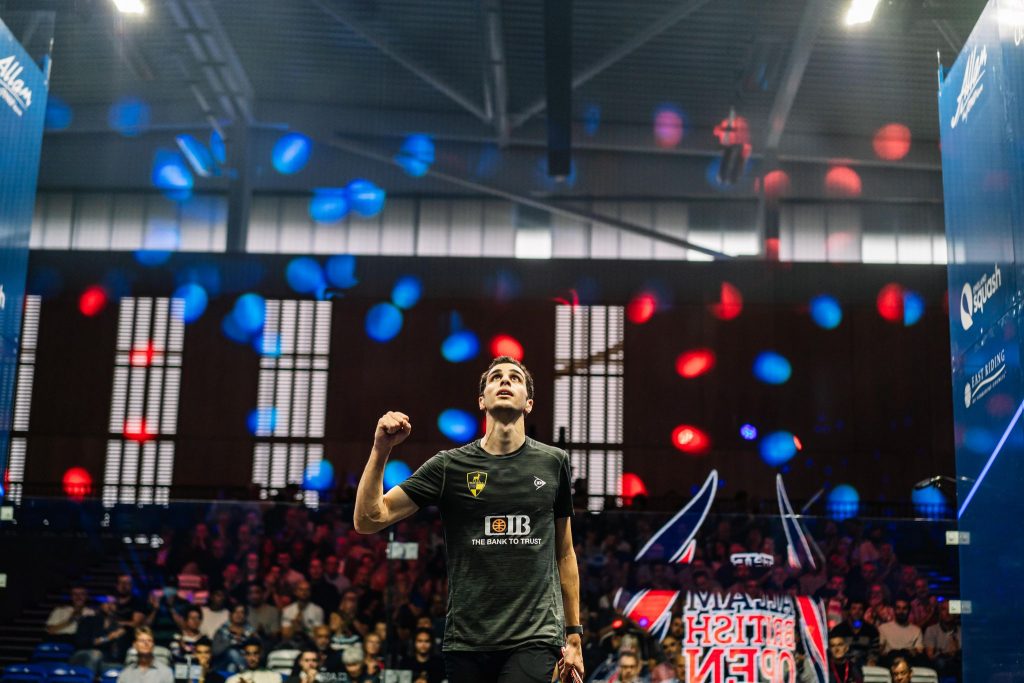 His opponent in the final will be reigning World Champion Ali Farag, who, after ElShorbagy's exit, has ensured he will return to the top of the men's World Rankings next month.
29-year-old Farag has won just about every major there is in his glittering career, but the British Open title has eluded him so far. He took another step towards achieving that goal as he prevailed 11-5, 11-4, 11-6 against 2018 champion Miguel Rodriguez to reach his second final in Hull.
"Miguel has shown his class over and over again over the years and whenever people write him off, he proves it back again like this week," said Farag in his post-match interview.
"Coming into this, I had a very tough draw. I only thought match-by-match, I drew James Willstrop in the first match but then he withdrew and then it became Greg Lobban, Abouelghar, Asal and I barely won each of those matches.
"I haven't booked my flight back home yet because I didn't know when I'm going to lose or be flying home, but now I know it will be Monday, so it's time to book my flight."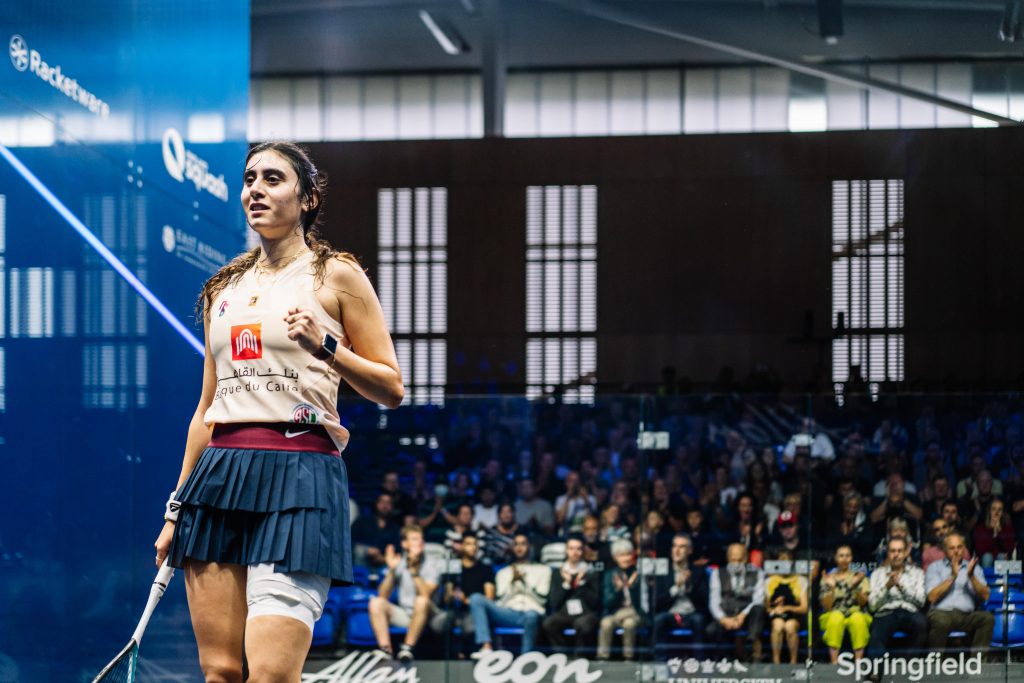 The women's final will see World No.1 Nour El Sherbini and defending champion Nouran Gohar go head-to-head in a final for the fourth time this season, with their last meeting coming just last month in Chicago at the PSA World Championships.
25-year-old El Sherbini, who won the British Open title in both 2016 and 2018, did not let the heavy strapping on her thigh affect her as she overcame USA's World No.5 Amanda Sobhy in four games 11-7, 9-11, 11-2, 11-6  to reach her fourth final at the event.
"It never gets easier and every match is more tough than the one before," said El Sherbini. "She's on top form this season, we've played a lot of tough matches.
"I'm just trying to get myself to the end of the game and respond when she got the second game, kept the momentum I'm playing with and when I started the third game, I wanted to keep going and get a good start. I think that helped me a lot."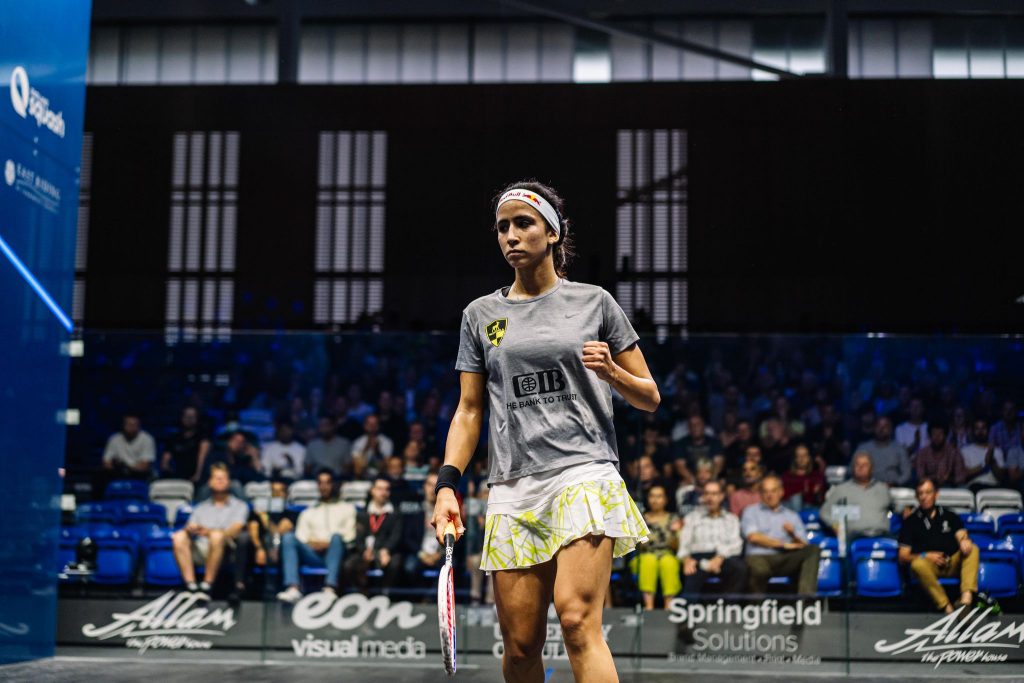 Meanwhile, Gohar put Manchester Open champion Hania El Hammamy to the sword, despite a resilient effort from the 20-year-old, as she came out on top 11-8, 11-5, 11-9 in 49 minutes.
The 23-year-old will be targeting her second British Open title to add to her 2019 victory when she defeated France's Camille Serme.
"If I'm not playing my best squash here, where should I play it?" Said Gohar afterwards. "It's the most prestigious tournament and I always love to come back.
"Against someone of Hania's calibre you have to play your best just to win and to win in three you have to play extra special as well. I'm just happy with the way I played.
"It's no pressure at all [to be defending champion], I'm the No.2 seed, she's the No.1. I won it last year, I have it already and it will always be there. I'm just enjoying it. Actually it's a repeat of the 2016 final, which was five years ago. I'm just happy to be able to play against Sherbini in another final and hopefully it's going to be another good one and the crowd will enjoy it."
Men's 2021 Allam British Open Semi-Finals
[1] Ali Farag (EGY) bt Miguel Rodriguez (COL) 3-0: 11-5, 11-4, 11-6 (29m)
[3] Paul Coll (NZL) bt [2] Mohamed ElShorbagy (EGY) 3-0: 11-8, 11-7, 11-5 (31m)
Women's 2021 Allam British Open Semi-Finals
[1] Nour El Sherbini (EGY) bt [6] Amanda Sobhy (USA) 3-1: 11-7, 9-11, 11-2, 11-6 (37m)
[2] Nouran Gohar (EGY) bt [4] Hania El Hammamy (EGY) 3-0: 11-8, 11-5, 11-9 (49m) 
The finals of the British Open will take place tomorrow (August 22) and play starts at 15:00 (GMT+1). Action from the Allam Sport Centre will be broadcast live on SQUASHTV, the official Facebook page of the PSA World Tour (Indian subcontinent only) and multiple broadcasters around the world.