For Mohamed ElShorbagy, reigning Allam British Open champion, his first win in the tournament is one of his fondest memories.
In the 2015 final, ElShorbagy went 2-1 down only to rally to an epic 3-2 victory against Frenchman Gregory Gaultier.
"It was one of the toughest finals that I have played in my life," the World No.1 reminisces.
"It meant so much for me to have my mother outside, to have [coach] Hadrian [Stiff] outside and to have my team with me. I collapsed on the floor the moment I won that fifth game, it's one of the moments I'll remember for the rest of my life."
Though the final itself was a nerve-wrecking affair, ElShorbagy feels that the victory over Gaultier served as a vindication for his improved stability.
"That season was my first as No.1 and was my first season to show my consistency," he explains.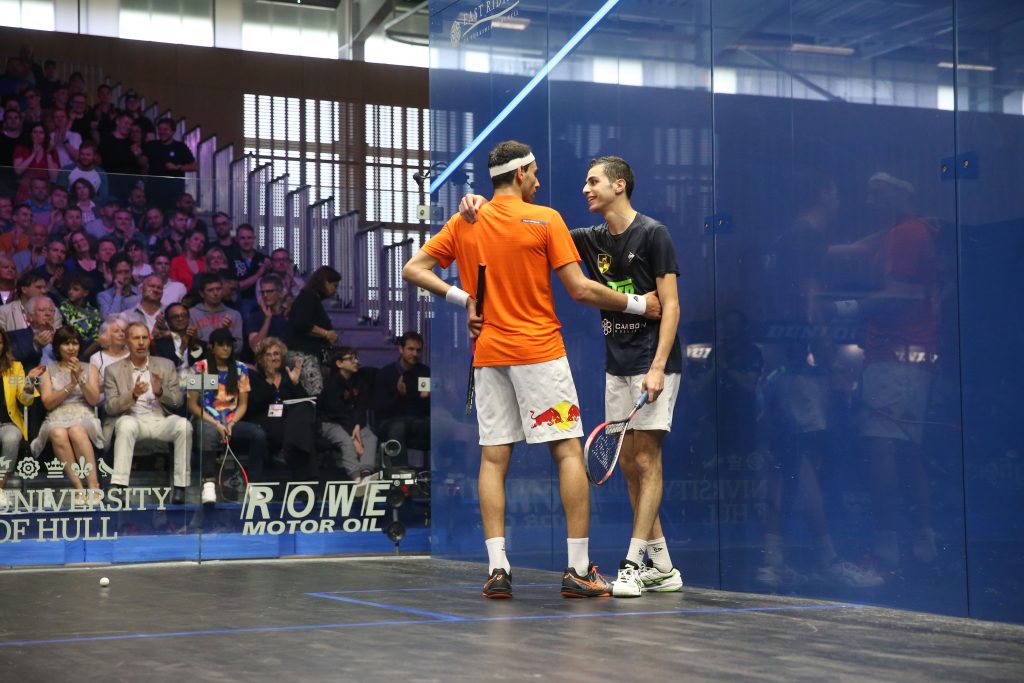 That consistency is something that has stuck with ElShorbagy. Since November 2014, the 30-year-old has spent 50 months as the World No.1 and reclaimed the crown from fellow Egyptian Ali Farag earlier this month after reaching the PSA World Championship final.
It was against Farag in 2019 that ElShorbagy won his third British Open title, having followed up the 2015 prize with another in 2016, when he swept aside Ramy Ashour 3-0.
Though ElShorbagy has great respect for Farag, he admits it was particularly satisfying to have claimed the title against his long-standing competitor.
"It was great to beat Ali in the final, he is my great rival on tour.  We both had a great match. We played many finals that season and it was the season that he got the better out of me ranking-wise to overtake me as the World No.1. So it definitely felt good to beat him in the final there," he explains.
With the next edition of the British Open just days away, ElShorbagy feels he is in good condition to retain the title after last year's competition was not played due to the ongoing coronavirus pandemic.
"I feel it's a good time for me right now and I'm playing the best in my career in terms of I feel like this is the most I have matured in my career, with how I'm playing and understanding the game. Even when I won it before it was I think my youth, my hunger and my physicality that pulled me through, more than my maturity. But I feel now that I have both together, and I think I'm peaking in my career right now."
Ever the competitor, however, ElShorbagy will not be content with a fourth British Open and instead hopes to emulate his idol and former coach, six-time British Open champion Jonah Barrington.
"To try and win it for the fourth time is obviously going to be a great achievement for me, but I want to win it for a fourth time, then a fifth time, then a sixth time," he explains.
ElShorbagy concludes: "To try and put my name beside all the greats of the game is a huge deal for me and to be in the same conversation as them… I have trained for all my life to have my name beside them."
All of the action from the Allam British Open will be shown live on SQUASHTV and the Facebook page of the PSA World Tour (excluding Europe & Japan). The semi-finals and finals will also be shown on the channels of contracted broadcast partners.
For updates on the Allam British Open, please visit the official tournament website or follow the event on Twitter.
Tickets are available for purchase here.