FINALS
[4] Nour El Sherbini (Egy) 3-2 [8] Nouran Gohar (Egy)  11/7, 9/11, 7/11, 11/6, 11/8 (75m) [1] Mohamed Elshorbagy (Egy) 3-0 [5] Ramy Ashour (Egy)  11/2, 11/5, 11/9 (27m)
Sherbini takes the title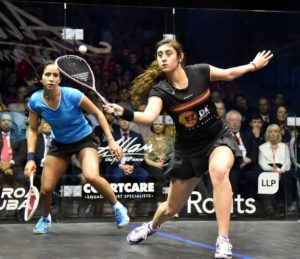 Nour El Sherbini is the 2016 British Open Champion, beating compatriot Nouran Gohar in a see-saw five setter that took 75 minutes to complete.
Momentum swung one way then the other, and in each of the five games whoever got the better start won, Sherbini having the advantage in the first, third, and crucially the fifth.
Leading 8-7 when Gohar had to have treatment to a grazed knee, Sherbini lost the next rally but took the next three to become the new champion.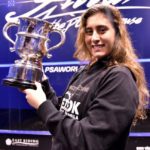 I'm speechless, I don't feel anything," said Nour. "I'm so proud today, to be one of the four finalists, and proud to be the first ever Egyptian winner of such an event. I'm humbled.
It's really weird to think I'm the British Open Champion. All my life, I've been looking up to the top players, but I never thought that one day, I'd be one of them…
Gohar was disappointed but reflected:
I'm sad and disappointed of course, but it was a great battle, I had a great week, and today was a great match. I was so close to winning this match. At the end, it was so close but it is my first final and I didn't have the experience to close the game out. She played fantastic squash, all credit to her.
Shorbagy retains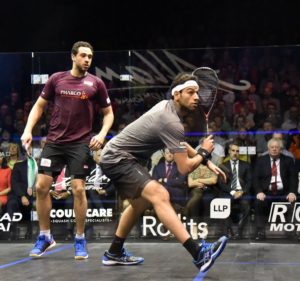 The men's final was a shorter affair with defending champion Mohamed El Shorbagy well on top for most of the match.
The first game was over in a flash with Ramy Ashour not venturing to the front of the court as the world number one fired in comfortable winners.
Ashour improved in the second but it was still the top seed in charge, the third was more competitive again, but today Ashour simply couldn't find the answers as Elshorbagy retained the title to win another World Series event – his fifth in a row!