Allam British Open 2021 : Day THREE, Round THREE (top)
12.00   [6] Amanda Sobhy (Usa) bt [9/16] Olivia Clyne (Usa) 3-0: 11-5, 11-4, 11-4 (30m)
12.45   [9/16] Miguel Rodriguez (Col) bt Eain Yow Ng (Mas) 3-2: 15-13, 11-13, 14-12, 8-11, 11-4 (101m)
13.45   [9/16] Rowan Elaraby (Egy) bt Danielle Letourneau (Can) 3-0: 11-4, 11-3, 11-3 (24m)
14.30   [4] Marwan ElShorbagy (Egy) bt Raphael Kandra (Ger) 3-0: 12-10, 11-8, 12-10 (38m)
17.00   [9/16] Nadine Shahin (EGY) bt Rachel Arnold (MAS) 3-1: 8-11, 11-9, 11-9, 11-9 (45m)
17.45   [8] Mostafa Asal (EGY) bt Omar Mosaad (EGY) 3-0: 11-8, 11-3, 11-6 (40m)
18.45   [1] Nour El Sherbini (EGY) bt Joshna Chinappa (IND) 3-0: 11-4, 11-9, 11-1 (23m)
19.30   [1] Ali Farag (EGY) bt Mohamed Abouelghar (EGY) 3-2: 10-12, 9-11, 11-5, 11-6, 11-9 (76m)
Sobhy on Top Form Against Compatriot Clyne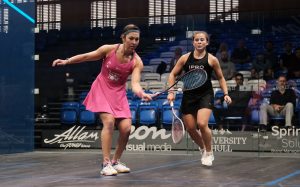 World No.5 Amanda Sobhy was in spellbinding form in the first match of the day at the Allam Sport Centre as she dispatched compatriot Olivia Clyne by an 11-5, 11-4, 11-4 scoreline to advance to the quarter finals in Hull.
Sobhy held the advantage going into the match with eight wins over World No.13 Clyne's one in the head-to-head record and the No.6 seed continue that run of dominance as she hit clean lines and found all of her targets to ensure she advanced and marked her name as one of the contenders for the women's title.
The 28-year-old will face the winner of Egypt's Rowan Elaraby v Canada's Danielle Letourneau on Friday.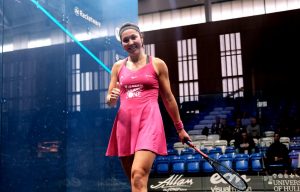 "I think my length and lines were a lot better than yesterday," said Sobhy in her post-match interview.
"Such a contrast from the regular courts that are super hot and bouncy. This is quite dead and a lot slower of a pace and I know how skilful she is, so if I could keep it tight in the back corners, I felt like she would give me an opening and I could capitalise on it. I'm pleased with that and I think it's going to give me confidence going into the next round and I get the rest of the day to recover.
"The court is definitely going to take an attacking ball in, which is nice, but it rewards good length too. I think the level is so strong for the women, especially at the top that it's basically whoever shows up on the day can pull the win, whether that's for the seed or against – it makes things exciting and keeps me on my toes. I'm just going to try and keep enjoying being out here."
Result: [6] Amanda Sobhy (USA) bt Olivia Clyne (USA) 3-0: 11-5, 11-4, 11-4 (30m)
Rodriguez Battles Past Eain Yow in Five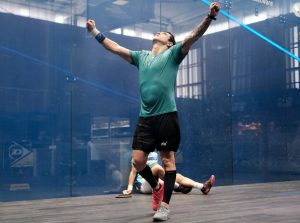 Colombia's World No.11 Miguel Rodriguez was forced to do things the hard way to book his place in the quarter finals of the sport's oldest tournament as he battled past Malaysia's Eain Yow Ng in 101 minutes.
Rodriguez made history back in 2018 when he became the first player from South America to win the prestigious trophy, beating World No.1 Mohamed ElShorbagy in the final and the Colombian made sure to make more memories at the event as he held off a comeback from Eain Yow in a bruising battle.
The two players had never faced each other on the PSA Tour before but Eain Yow was in confident form after claiming his biggest ever career win over former World No.1 Karim Abdel Gawad in the previous round.
A topsy turvy start to the match saw all three games go to tie-breaks with lots of stoppages for decisions from both players as Rodriguez took a 2-1 lead. The young Malaysian rallied back well though as he managed to fight through the pain barrier to draw level once again, letting out a huge scream at the end of the fourth.
What a rally from these two! 🔥

The dive from @MiguelSquash, the finish from @EaiNYow! #BritOpen21 #WhereLegendsAreMade pic.twitter.com/c7TuKMGny2

— Allam British Open (@BritOpenSquash) August 18, 2021
👀We're going to five!

What a reaction from @EaiNYow!#BritOpen21#WhereLegendsAreMade pic.twitter.com/CAhSXVdttW

— Allam British Open (@BritOpenSquash) August 18, 2021
The fifth proved to be a step too far though as Eain Yow was clearly struggling with cramp and finding it difficult to move into the front corners as Rodriguez took full advantage of the drop off from his opponent to close out with a good show of sportsmanship at the end seeing Rodriguez help the 23-year-old off court.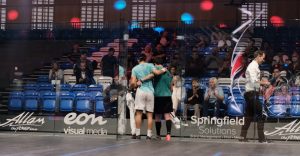 "I knew I was going to have to fight today, that was our first meeting on the PSA World Tour," said Rodriguez following his victory.
"I felt this was a serious serious match, like a three-hour match. I had to dig in and did everything I could. In the first game he played really well and I wasn't sure about my tactics and so I started playing more fluid squash, more patient, maybe more quality shots in the second game but what a match.
"I tried to do Plan A – Plan A is my game but I knew that Ng is very good on the backhand side, very patient and he's volleying every shot and barely makes any mistakes, I had to be on my toes and focused for every shot. I don't know which game I won, all the games were tie-breaks and the last one was different. These kind of matches give me a boost, thank god I have a day off tomorrow.
"This is motivation for me to come back to the British Open, where I became a legend. Winning this tournament in 2018 – amazing memories."
Result: Miguel Rodriguez (COL) bt Eain Yow Ng (MAS) 3-2: 15-13, 11-13, 14-12, 8-11, 11-4 (101m)
Elaraby Cruises into Quarter Finals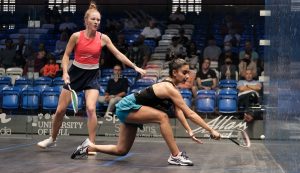 Egypt's World No.12 Rowan Elaraby cruised into the Allam British Open quarter finals for the first time in her career after a comprehensive 11-4, 11-3, 11-3 victory over Canada's Danielle Letourneau.
The 21-year-old didn't put a foot wrong as she axed the Canadian, who struggled to get into the match after receiving a walkover yesterday due to the withdrawal of France's Camille Serme.
Elaraby will battle it out with USA's Amanda Sobhy for a place in the semi-finals of the iconic tournament.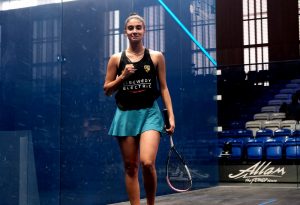 "I'm really pleased with my performance," said Elaraby afterwards.
"I've had a tough time travelling abroad over this period of time, being away from my family, home and friends – it's been really hard. I've been working on myself and I'm really glad I fought and with my performance, I'm happy to be through.
"I have to speak to my coach, talk about today and then see how my tactics will change. We will definitely talk about it, I'm looking forward to playing Amanda on the glass court, I can't wait."
Result: Rowan Elaraby (EGY) bt Danielle Letourneau (CAN) 3-0: 11-4, 11-3, 11-3 (24m)
ElShorbagy Axes Kandra to Reach Last Eight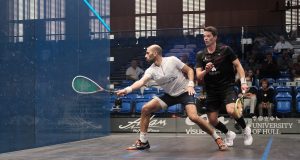 Egypt's World No.5 Marwan ElShorbagy is through to the last eight of the PSA World Tour Platinum event after defeating Germany's World No.25 Raphael Kandra in straight-games.
The German memorably made a name for himself at the 2018 instalment of this tournament when he reached the semi-finals and along the way knocked out ElShorbagy to claim one of the biggest wins of his career.
However, the script was not to be written the same this time around as ElShorbagy executed his game plan well to show his form as he took the first game on the tie-break before doubling his lead.
Kandra built up a healthy 9-5 lead in the third but it was ElShorbagy who stuck with him and was able to grind out the points to take the match in three.
The Egyptian will face Colombia's Miguel Rodriguez for a place in the semi-finals.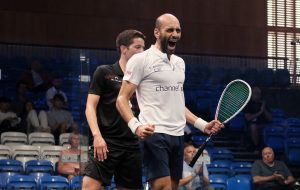 "I lost to Rapha three years ago here in Hull so every time I play against him I remind myself of that lesson," said ElShorbagy.
"I need to be sharp, I'm always fired up when I play him. I'm happy with the way I played today, in the third game I was a little lucky, Rapha had a good lead and I thought I would just stay with him and luckily he made a few errors and a few good shots from me and I won the game.
"I wish we played tomorrow, not the day after [because] he will have a day to recover, hopefully he doesn't recover well! Miguel has great experience, he's done so much for the sport and when I play him I'm just going to think about tactics, I'm not going to put in mind that he might be tired or anything because, as I said, he's got experience on how to recover well. He won this event three years ago. It's a dream of every player to have his name on the trophy. As a junior I looked up to Miguel, I'm just really happy to reach the quarter finals and look forward to coming back here in two days.
"know I've never reached the semis here but I don't really put that in my mind. I've got a lot in my mind already – the opponent on the day is enough on the mind! I'm just focusing on the match, I haven't played Miguel in a very long time so I'm just looking forward to having a good match with him!"
Result: [4] Marwan ElShorbagy (EGY) bt Raphael Kandra (GER) 3-0: 12-10, 11-8, 12-10 (38m)
Shahin comes from game down to topple Arnold 
Egypt's Nadine Shahin came back from a game down to beat Malaysia's Rachel Arnold in a tight encounter.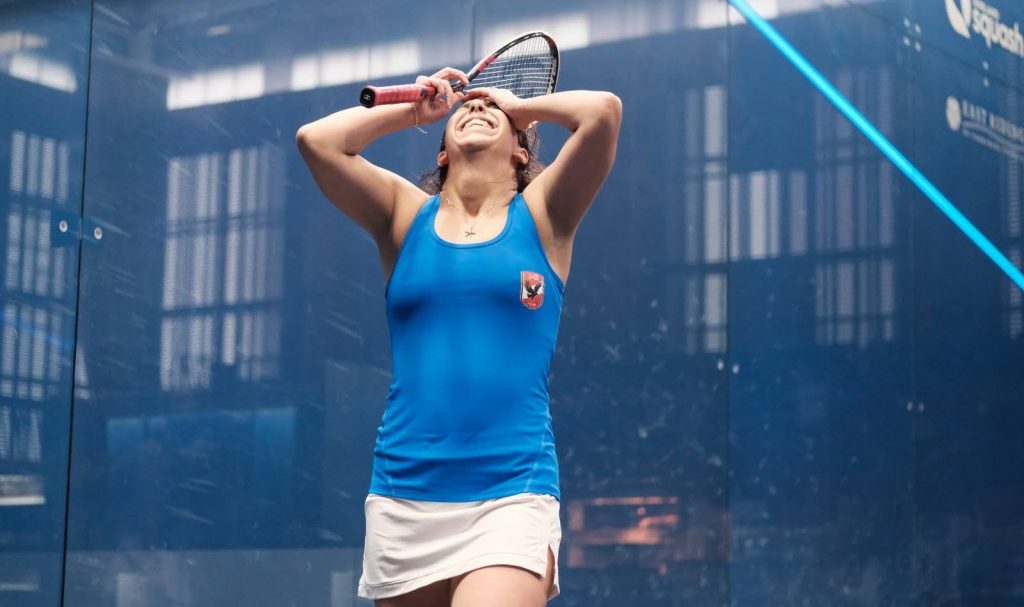 World No.16 Shahin went into the match having won the pair's only previous PSA meeting, a 3-1 victory over the World No.43 in this summer's PSA World Championships.
Both players had looked sharp in this tournament. Shahin – who received a first-round bye, dispatched No.8 seed Salma Hany 3-1 in the second round, while Arnold – playing in her first British Open – beat Hana Ramadan 3-1 in the first round and England's Lucy Turmel 3-0 in the second.
The first game was even and quick-scoring, with the 25-year-old Rachel Arnold having the better of the early play, unsettling the 24-year-old Shahin's rhythm and punishing anything loose. Shahin soon came back into the game, with both players targeting winners rather than rallies.
As both players edged towards 11, it was Arnold who eventually broke out, coming from 8-7 down to take the first 11-8.
Although Shahin increased the pace in the second, initially to good effect, Arnold matched her opponent well, with this game another even one. Unlike the last, however, this time it was Shahin who had the greater staying power, taking the game 11-9.
This win proved to be a decisive one. Shahin kept up her momentum in the third, which she took 11-9 after Arnold made too many errors, before finishing the match in the fourth, 11-9 again.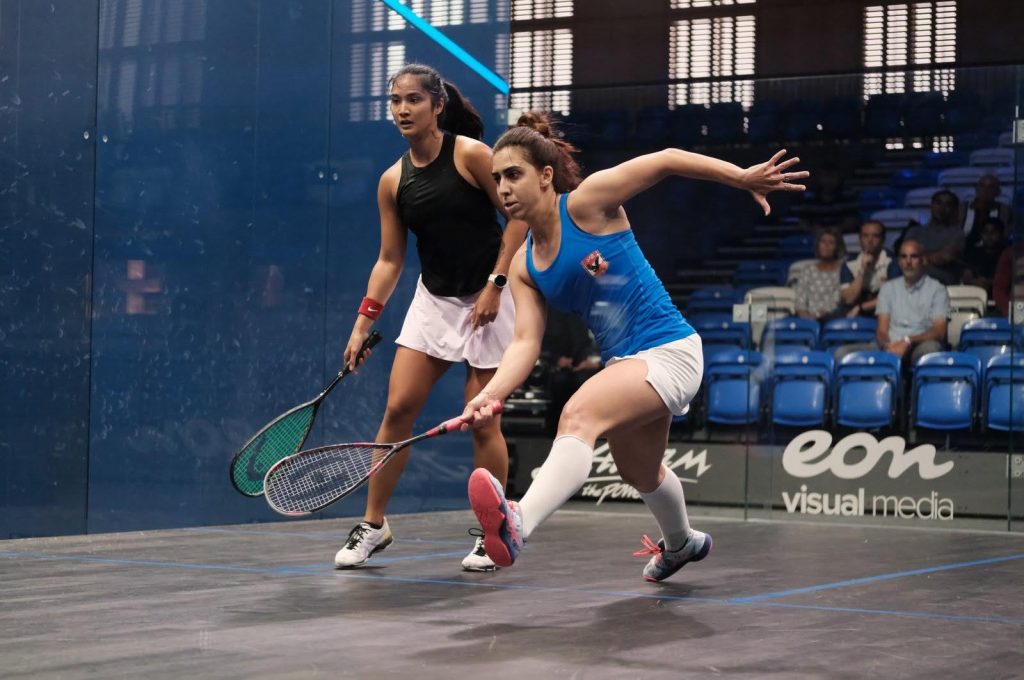 Speaking after the match, Shahin said: "It's still sinking in. It's my first quarter final ever. I was too nervous, too excited, because I think anyone can win, it's 50-50 either way but I'm happy it went in my favour!
"It really could have gone either way, the scores were so close. Maybe just a bit of luck [was the difference between the two]. We both worked really hard this match. It was tough, mentally and physically. We left everything on court."
On a potential matchup with World No.1 Nour El Sherbini, who plays Joshna Chinappa later today, Shahin said: "To me, Nour has no fault, God bless her. I don't think she has anything. Everyone, when you go against Nour El Sherbini, you don't expect to win."
Result: Nadine Shahin (EGY) bt Rachel Arnold (MAS) 3-1: 8-11, 11-9, 11-9, 11-9 (45m)
Asal beats childhood idol Mosaad to progress to quarter finals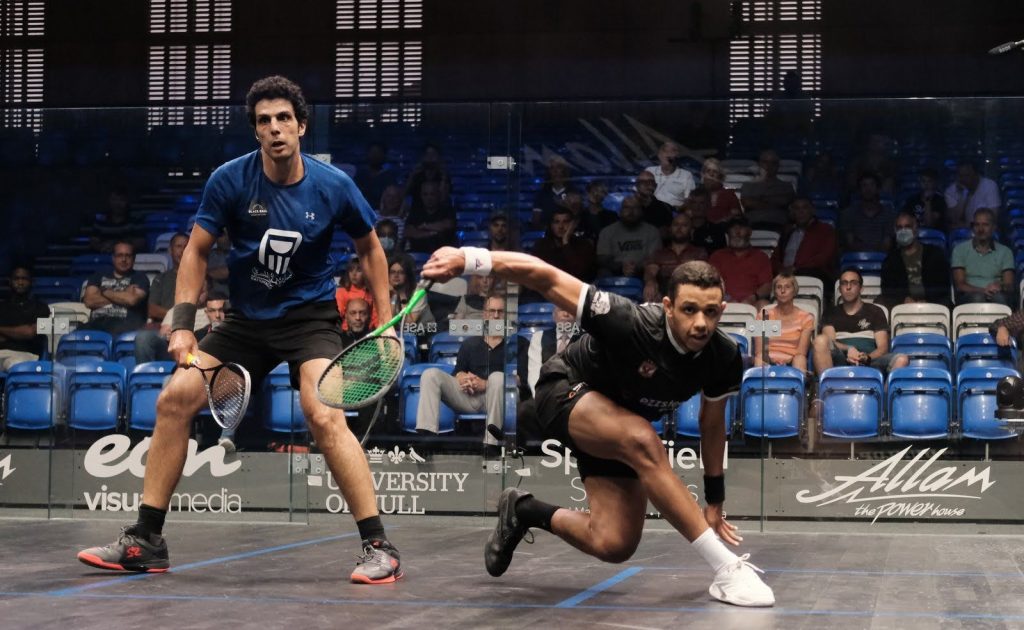 No.8 seed Mostafa Asal progressed to the quarter finals after beating fellow Egyptian Omar Mosaad 3-0 in the pair's first PSA encounter, to set up a quarter-final match with either Ali Farag or Mohamed Abouelghar.
Both players came into the match having entered the tournament in the second round, with Asal beating England's George Parker 3-0 and Mosaad overcoming Qatar's Abdulla Mohd Al Tamimi by the same scoreline. 
Asal took the first game in relative comfort, with World No.17 Mosaad unable to match the World No.9's constant movement and harrying. 
The 20-year-old continued to impress in the second, blowing the 33-year-old away 11-3.
Mosaad improved in the third, with his scoring run spurred by a point awarded after a part of Asal's racket broke off. Asal's confidence, however, remained intact and the Raging Bull finished the match off with an 11-6 victory.

Speaking after the match, Asal said: "Im grateful that I'm here and that I made it here in front of the home of Squash in England. I used to play a lot of British Junior Opens and it's my favourite tournament as well.  I want to thank Mr. Allam for having us here in front of this amazing crowd, they are really making the atmosphere feel good. Thank you guys for coming today and enjoying the matches. I love England and I love to watch the Premier League. After every tournament, me and my dad usually go to London to have a vacation there, so I'm happy to be here as well."
On missing the World Championships in Chicago due to visa issues, he said: "For sure after the World Tour finals I had lots of problems, mentally as well. All my team was disappointed. I had the visa in my hand and my driver beside me and all the team was positive, but suddenly I said to my team I will not make it because I will go through to the  match directly after the flight. I want to compete I want to win the tournament. After the World Tour finals I'm not playing for the first or second round, I'm playing for the tournament. Actually I cried for maybe the first time in my life because of this tournament, I've had problems here, my bags were not here, I just got my clothing and everything 30 minutes before the match. Yesterday I borrowed from Mohamed ElShorbagy all of his clothes, I want to thank him a lot, for the T-shirt, shorts and socks. I want to thank him and my sponsors, Technifibre and Eye for supporting me to make it through. I'm happy to be here, happy to be back and I'm sure there's more to come this tournament."
On tonight's match between Ali Farag and Mohamed Abouelghar, he said: "It's a tough match for sure, lots of rallies are going to come, lots of short game as well. I'm glad that I made it through, Mosaad is a really good character and one of my favourite players that I used to watch when I was young. My father would always say in my solo practice to play like Mosaad, so all the credit to him. I'm looking forward to the match tonight, I'll be watching with my friends."
Result: Mostafa Asal (EGY) bt Omar Mosaad (EGY) 3-0: 11-8, 11-3, 11-6 (40m)
El Sherbini storms into quarter finals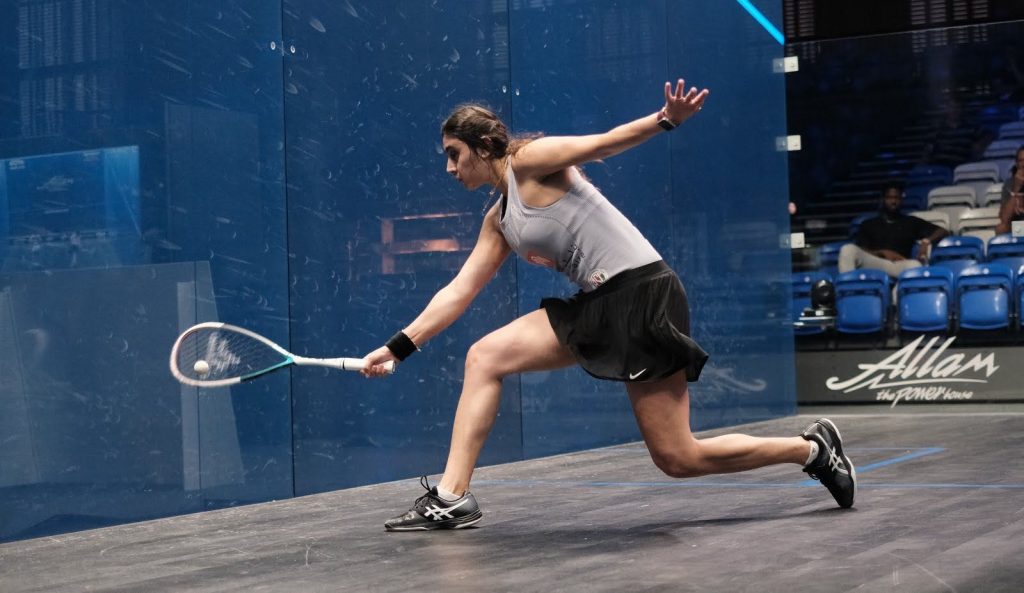 No.1 seed Nour El Sherbini cruised into the quarter finals after beating World No.10 Joshna Chinappa 3-0.
Egypt's El Sherbini, a two-time winner of the British Open, went into the match with a 3-1 PSA record against Chinappa, with their last meeting a 3-0 El Sherbini victory in the 2020 Egyptian Open quarter final.
In truth, this was a relatively simple match for El Sherbini. The World No.1 controlled proceedings from the beginning, taking the first game 11-4.
Although Chinappa offered more resistance in the second, and at one stage was 8-6 up, El Sherbini still had enough to take the game 11-9.
The third was little more than a formality for El Sherbini, with the 25-year-old crushing Chinappa 11-1 to storm into a quarter-final meeting with fellow Egyptian Nadine Shahin.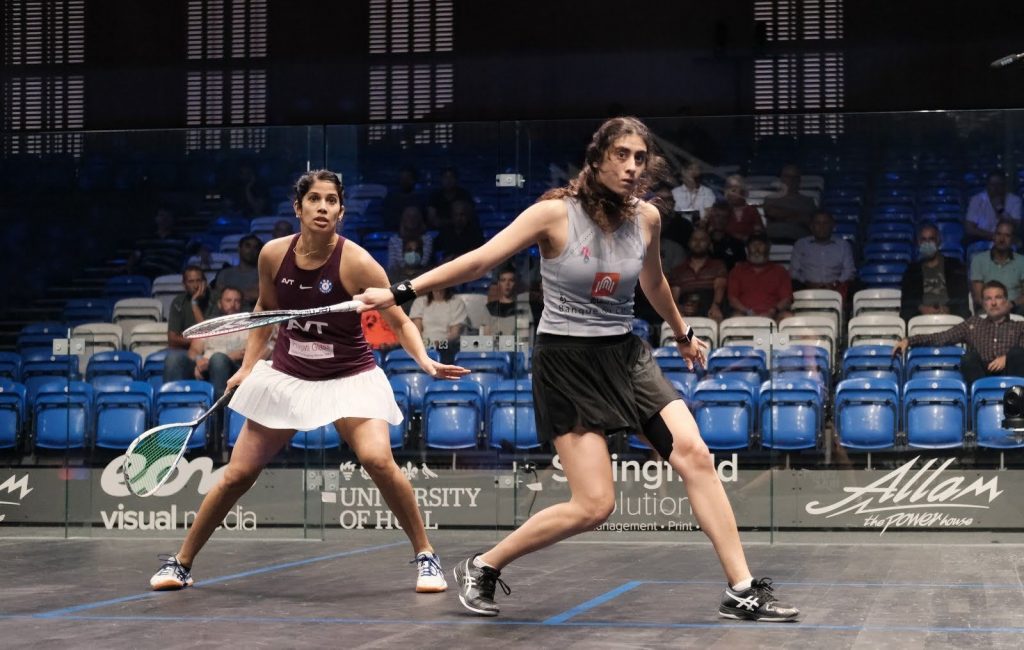 Speaking after the match, El Sherbini said: "Joshna's a very skilful and tricky player and she has a lot of experience and has been playing for a long time. I was tested in this match in the second game but in the third I started really good and kept the momentum until the last point."
"There's a huge difference between 1-1 and 2-0 up, so I didn't want to lose the second game and make the match longer, I just tried to refocus and get my gameplan back and try to win every point. It was a huge advantage to me to win the second game.
"On her quarter-final match with Nadine Shahin, she said: "She's really good, in beating Salma and Rachel in two tough matches. Being in the quarter final of the British Open is something really big for her and I'm sure she's going to be excited and looking forward to this match and I'm also going to be excited and looking forward to it. It's always hard playing an Egyptian, I didn't play her a lot actually but Im looking forward to it."
Result: [1] Nour El Sherbini (EGY) bt Joshna Chinappa (IND) 3-0: 11-4, 11-9, 11-1 (23m)
Farag flips two-game deficit to keep hopes alive
Ali Farag's hunt for a maiden British Open is still alive, after the former World No.1 fought back from two games down to defeat his Egyptian compatriot Mohamed Abouelghar in 76 minutes.
Despite Farag's well-known discomfort when playing Abouelghar, the 29-year-old went into today's match with a 5-2 PSA record against his old friend and had won the last four encounters.
Today's match, however, was far from straightforward for the World No.2, who will return to the top of the World Rankings if he wins the tournament. 
In a combative and fragmented match, Abouelghar took the first game 12-10, impressively saving two game balls to down the 2019 runner up.
A frustrated Farag fought back in the second, which was defined as much by the frequency of reviews and challenged decisions as by the quality of play. However, once again it was the 27-year-old World No.12 who came out on top, taking the second 11-9, to Farag's fury.
With a two-game advantage, Abouelghar became more adventurous in his shot selection in the third. Farag, however, finally found the consistency and assured touch that had previously deserted him and, in a more flowing game, clawed his way back into the match with an 11-5 win.
With the bit between his teeth, Farag continued to dominate in the fourth and it was Abouelghar who now cut the frustrated figure, with the World No.12 unravelling to an 11-6 defeat.
Abouelghar regained his composure in the final game, competing with Farag all around the court. The Raptor, however, was by now looking near his best, with his pinpoint accuracy and devastating drives delivering a steady stream of points from Abouelghar.
The Bullet, though kept pace with Farag, reaching parity at 7-7 with a delightful volleyed drop.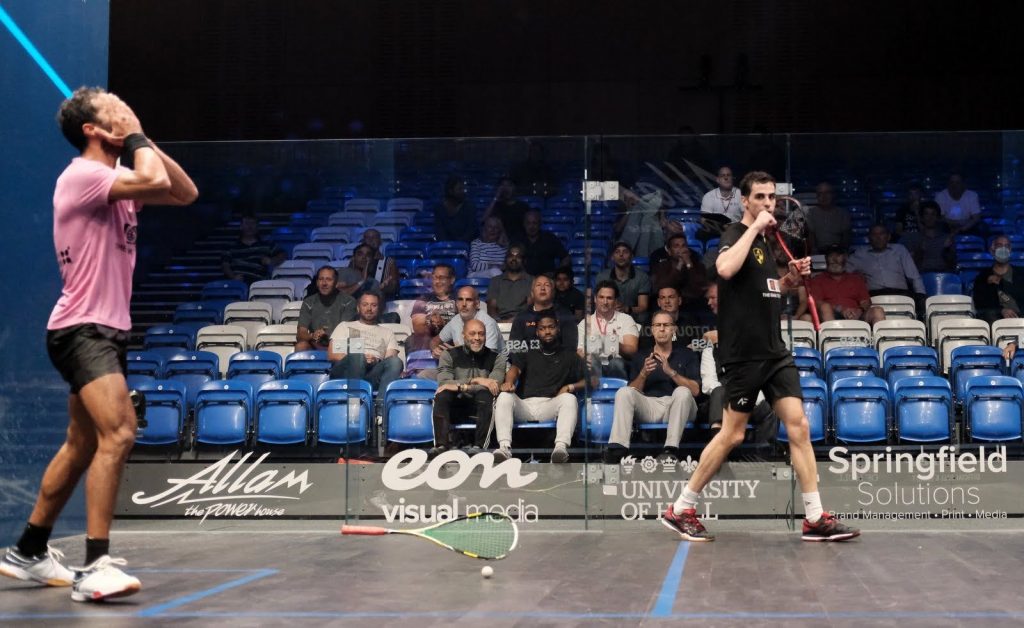 With the game breaking down numerous times as both players contested decisions, the ball showed little life, and both players targeted drops with increasing frequency. It was Farag who was able to have the most joy with this tactic, and he eventually beat his long-time friend 11-9, though not before a nervy wait for an Abouelghar 'no let' review to be completed on match ball.
After the match, Farag said: "I don't remember what I said [to Abouelghar when walking off court]. It's a shame whenever Abouelghar and I share a court because we're such very very good friends and you don't want either of us to lose really when you're on court but obviously you've got to think about yourself and do your best to try and win but whenever it ends it's a sad moment for whoever wins as well because of the friendship. But obviously I'm very relieved and very proud of how I fought back. Mohamed was so clinical today. I didn't start off badly, or maybe I did, but he was hitting winners out of nowhere with the bouncy ball as well. So I had to step it up a little, which I did, but then it was edgy in the first two games so I decided to slow it down in the next three. I didn't want to go out without a fight, trying every plan A,B,C all the way to Z and if it doesn't work then it doesn't work and he's a better player on the day, I just wanted to try everything. It's one of the proudest matches of my life, definitely."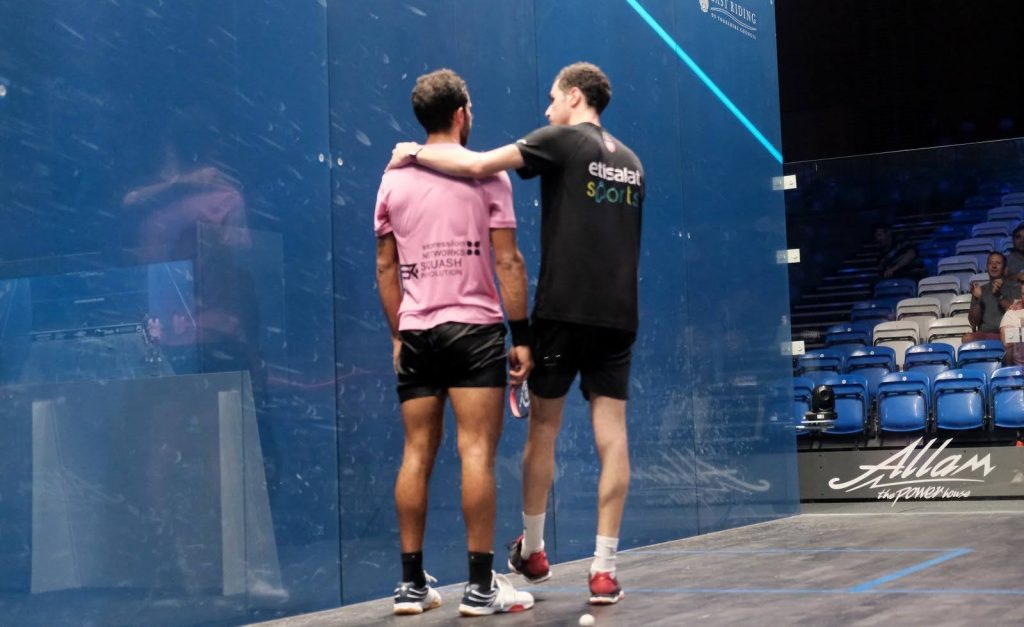 On what the difference was that allowed him to win the battle: "Did I win the battle? I'm not sure. Mohamed is so clinical in the front two corners but I was counter-dropping rather than me initiating because when I do and it's not good enough, he goes and counter-drops very well. So I was trying to contain him in the back corners and whenever he goes I pounce on it and go for it. I'm super happy, super relieved. Coming into this after the World Championships is not easy. Also the fact that I wasn't home and had to change my routine. I love my routine so much, it gives me confidence! So to change it was not easy. So happy with the way I fought back."
On his quarter-final opponent opponent Mostafa Asal, he said: "He's a top top player at the age of 20, which shows how good he is, already winning the World Tour finals. We've played a few times so I know what to expect and he knows what to expect. He's getting better every day, so I have to be on my metal. But for now I'm not really thinking of that to be honest, for now I have to think of my recovery. It's a good thing I have an off day tomorrow, and a photoshoot with the PSA, and then I'll get ready for the match on Friday.
"In those down times, you need some support from outside and obviously in the bubble I can't travel with any coaches, Nour [El Tayeb, Farag's wife and fellow professional] is not here so the Dunlop team has been amazing today. I could hear the entire team after every point and between games, it gave me a huge boost. It's way more than a partnership, it's more of a family thing, so I'm super grateful. Thank you very much."
Result: [1] Ali Farag (EGY) bt Mohamed Abouelghar (EGY) 3-2: 10-12, 9-11, 11-5, 11-6, 11-9 (76m)