It's finals day in the 2022 edition of the Allam British Open, with the top seeds set to contest the Women's and Men's finals, it's also finals day in the Masters, on the traditional courts.
You can watch all the action Live, follow on Live Scoring and our Social Feeds, and we'll have reports, player reaction and photos right here, with a roundup to follow at the end of the day.
Allam British Open 2022 : Sun3rd April, Day SEVEN, FINALS
15.00 Start
[2] Hania El Hammamy (Egy)  bt [1] Nouran Gohar (Egy) 3-1 : 11-9, 11-7, 8-11, 11-4 (76m)
[2] Paul Coll (Nzl ) bt [1] Ali Farag (Egy) 3-0 : 12-10, 11-6, 11-4 (50m)
Hania El Hammamy wins her first British Open title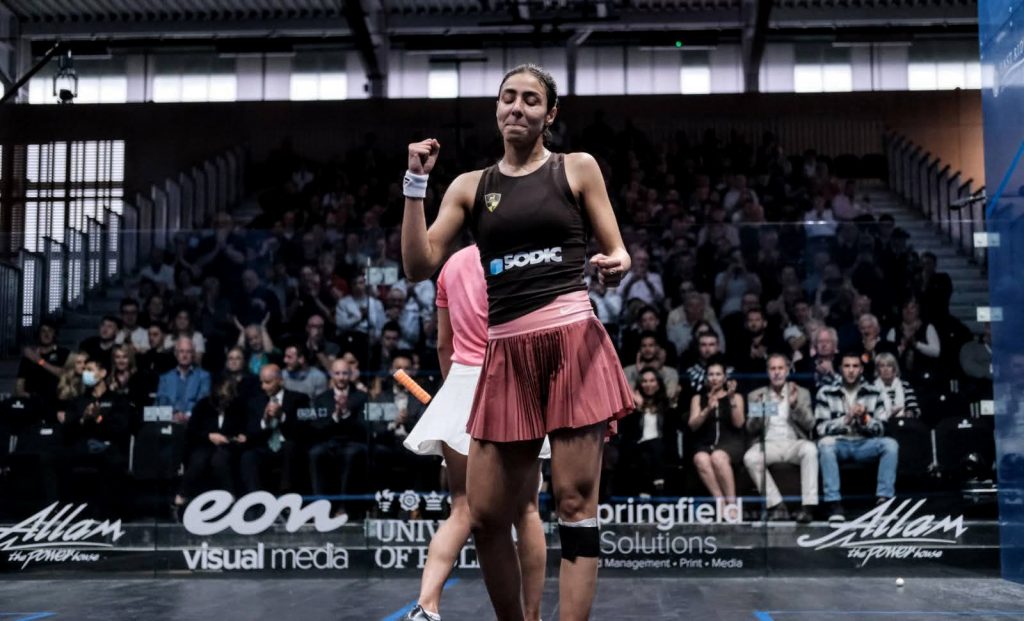 The 2022 Allam British Open final was an all-Egyptian contest between World No.1 Nouran Gohar and World No.3 Hania El Hammamy.
Nouran Gohar has been in superb form this season and was aiming to claim her fifth consecutive Platinum event title and her second British Open title. El Hammamy was featuring in her first British Open final after being on the losing end to Gohar in last year's semi-final.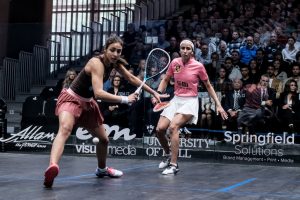 Due to the occasion, both players showed signs of nerves in the early stages of the first game. They were both trying to find their accuracy to the back of the court and create opportunities to take the ball short. There was nothing between the two as the score reached 9-9. El Hammamy managed to squeeze a stroke to get to game ball. Gohar then hit the ball out of court to give the younger Egyptian the first game.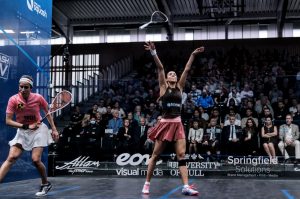 The scrappiness continued in the next game as both players were putting referee Roy Gingell to work. El Hammamy started to find a consistent, accurate line through to the back corners as the game progressed and after capitalising on some uncharacteristic errors from Gohar, took the game 11-7 to hold a huge 2-0 lead in the match.
Gohar responded in true World No.1 style. She closed down the angles of El Hammamy and started to step up the court, taking time away from her younger opponent. Gohar took the third game 11-8 to give herself a fighting chance in the match.
El Hammamy started the fourth game superbly, racing out to a 6-2 lead. From there, El Hammamy went from strength to strength and showed no signs on slowing down. El Hammamy set herself up with six game balls and converted at the first time of asking, claiming her first British Open title in 67 minutes.
Here is the moment that @HaniaaElHammamy got her hands on the British Open trophy! 🏆#BritOpen22 #WhereLegendsAreMade pic.twitter.com/CmhJ8qugxk

— Allam British Open (@BritOpenSquash) April 3, 2022
The new British Open Champion had this to say after her win: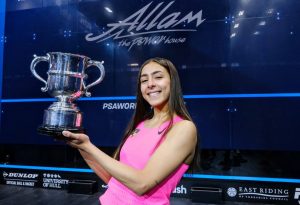 "I just can't believe it. British Junior Open's have always been so special to me. I've won a lot of British Junior Opens and it's always been very special, so to win the senior one is absolutely amazing and beating the World No.1 in the final is actually unbelievable.
"Nouran has been giving me a lot of tough times, I've never been able to get a proper win against her. The last time I won, she retired at 2-1 so I never got a proper win so, getting the win in this final in this way means a lot to me.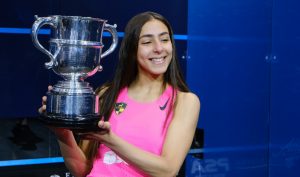 "It was 8-1 in the head to head, so every time I play Nouran I turn off my notifications because I don't want to see the predictions so I just tried to come here today and give it my all. I always knew I had the game to beat her but I wasn't consistent enough to win, so I guess today I was very solid and kept my focus to be consistent to beat her.
"The first thing I thought of was that I wanted to tell myself that I can do it without anyone, I can do it and its all within my own hands, it's all in my mentality and whenever I have my mind right I can beat Nouran. I used to struggle a lot against her because I wasn't consistent enough and as I said I wanted to make a statement to myself that I can do it."
"I dedicate this win to my parents, they're always supporting me in my wins and losses so this one is for them."
🗣 "I've won a lot of British Junior Opens and it's always been very special, so to win the senior one is absolutely amazing and beating the World No.1 in the final is actually unbelievable."

Hear from the new British Open champion, @HaniaaElHammamy! 🏆#BritOpen22 pic.twitter.com/zhCUB4iVgw

— Allam British Open (@BritOpenSquash) April 3, 2022
Result
[2] Hania El Hammamy (EGY) bt [1] Nouran Gohar (EGY) 3-1: 11-9, 11-7, 8-11, 11-4 (67m)
Coll Makes it Back-to-Back British Open Trophies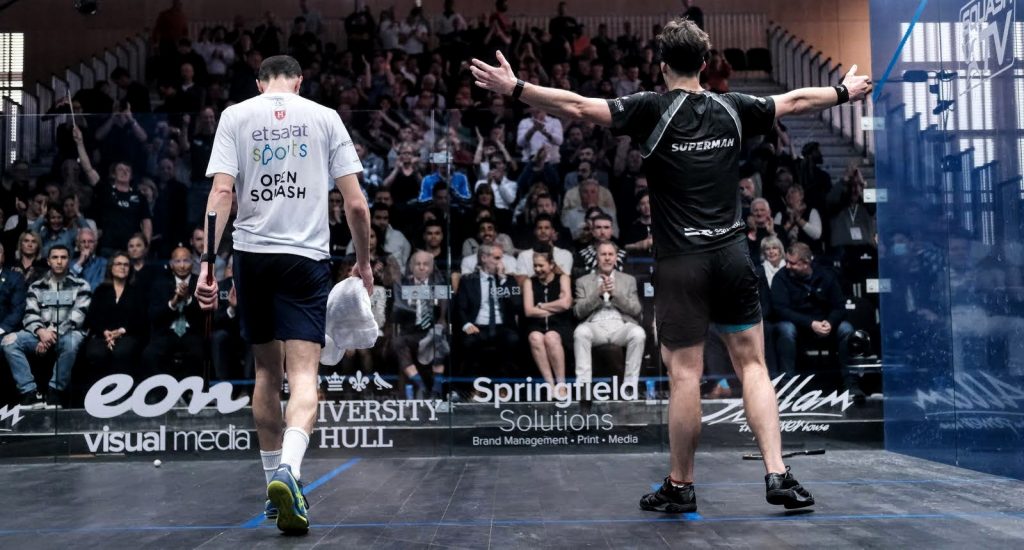 Not only was the men's final a battle for the British Open title, but it was also a World No.1 showdown. Defending Champion, Coll, currently sits at the top of the PSA rankings but a win for Farag would take him to the top in the May rankings.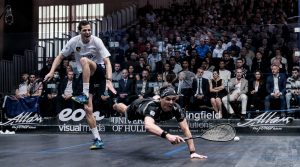 Coll impressively beat Mostafa Asal 3-0 in his semi-final, whereas No.1 seed, Farag, overcame compatriot Mazen Hesham in four close games to reach the final four.
In an attritional start to the final, Coll got to work on narrowing down the angles and restricting Farag's attacking opportunities. The New Zealander's counter drops were dragging Farag far up the court and making the Egyptian's life very difficult. Despite saving two game balls to force a tiebreak, Farag couldn't stop Coll's momentum as he took the first game 12-10.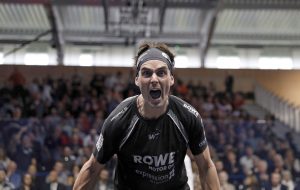 The second game followed a similar pattern. Coll was frustrating Farag with his accurate and stingy squash. Not allowing the reigning World Champion any attacking opportunities and then adding outright winners of his own. Coll doubled his lead in 12 minutes as he took the second game 11-6.
Coll stormed out to a huge lead in the third game, playing fast and measured squash to set up a 6-0 advantage. The accurate squash of Coll was too much for Farag to handle and his consistency throughout the match was frustrating the Egyptian. Coll converted the match 11-4 to successfully defend his British Open title without dropping a single game and extend his lead at the top of the World rankings.
🏆 Back-to-back @BritOpenSquash titles for @paulcollsquash! 🏆

He hasn't dropped a single game throughout the event! 🤯#BritOpen22 #WhereLegendsAreMade pic.twitter.com/QfE4rpLUEL

— PSA World Tour (@PSAWorldTour) April 3, 2022
"It's a very very surreal feeling for me, my good friend Lee said to me before the event that nobody gave this spot to me easy so don't give it up easy.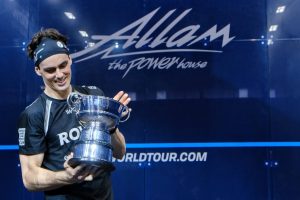 It sort of motivated me this week just to try and defend this title as hard as I could and all I wanted to do was give my best effort out there. I played some amazing players this week, and Ali, it's such a mental battle with us two, and it's just enjoyable squash, he's a great champion. I have so much respect for him, with what he's doing with his family, travelling around with their baby, he and Nour are just incredible so I'm very proud to win this title against such a great champion.
"I just try and calm down. I put that credit down to my whole team, Rob, Lee, Francisco, Bart. Everyone just gives me amazing advice and I just take it all in, I'm super clear about what I'm doing on court these days and it just makes my life easier. I always have a game plan and I just try and execute it. I focus on myself, I'm feeling great on court, I'm enjoying my squash but it's the people around me who really make me able to play like this.
"I think if you look at my forehand about three years ago I wouldn't be able to do that, my coach probably has one of the best forehands in the game so credit to him for changing my technique, it's taken about three years but thanks for noticing it.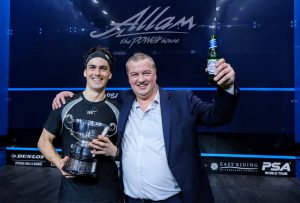 "I just want to thank Dr Allam for sponsoring this event for so many years now, it's a pleasure to play here, there are so many other sponsors that make this event happen. To me personally, my team, Rob, Lee, Francisco, I had a great week with Rob and I always feel a million dollars coming on court and I think it shows. To all my sponsors, Head, Abir, Rowe. Everyone on my shirt means a lot me, they don't just go on there for the money, they're part of the team and I really appreciate every one of them. I'll leave names out but I can't do this myself and there are a thousand people I want to thank and I'm super proud of this.
"Holding the No.1 spot and winning the title, there was a lot of pressure on it. I'm just extremely proud to win and keep my No.1 spot for another month and then we have to do it all again. I'm just extremely proud of myself for pulling through."
Result
[2] Paul Coll (NZL) bt [1] Ali Farag (EGY) 3-0: 12-10, 11-6, 11-4 (50m)