The British Open continued at Birmingham's Rep theatre today, with eight Round Three matches from the bottom half of the draws – there were no seeding upsets today as the quarter-final lineups were finalised.
Victor, eventually….
[8] Victor Crouin (Fra) v [9/16] Nicolas Mueller (Sui) 5-11, 11-9, 11-6, 22-20 (71m)
TEighth seed Victor Crouin sealed his place in the quarter-finals after an epic battle with Nicolas Mueller.
The French No.1 came out on top 3-1, coming from one game down to beat Switzerland's top player but he had to do it the hard with an entertaining fourth game.
Crouin won the second and third games 11-9 and 11-6 and had a staggering nine match balls and was unable to convert any of them. Mueller had two game ball opportunities which were unsuccessful before Crouin eventually converted match ball at the tenth attempt to round off a 71-minute battle.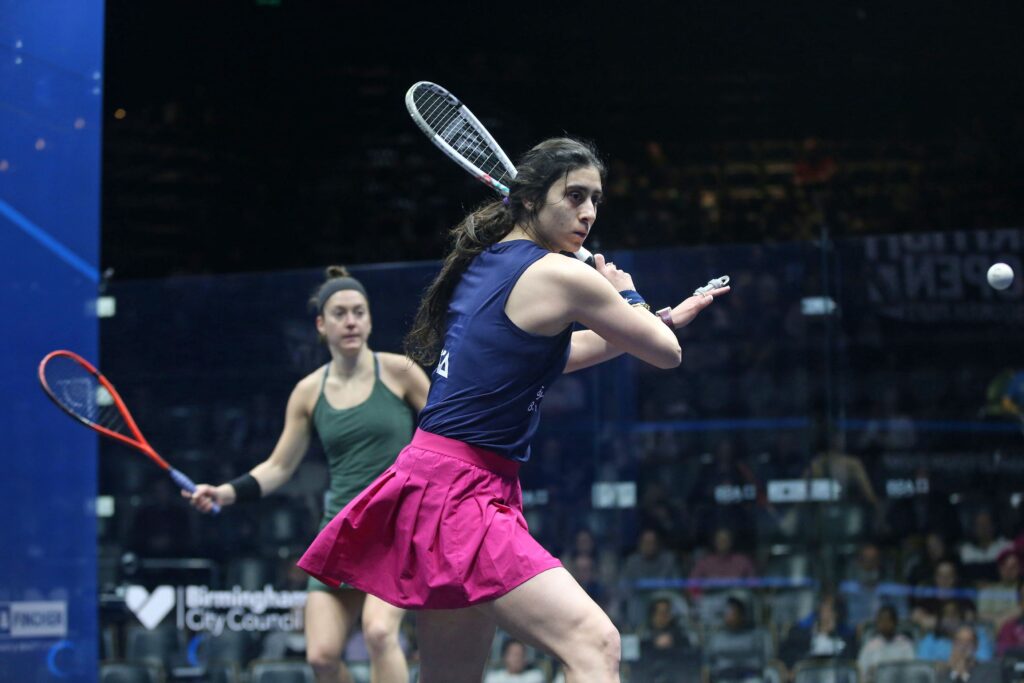 Sabrina is way better than her ranking – Sherbini
[2] Nour El Sherbini (Egy) v [9/16] Sabrina Sobhy (Usa) 9-11, 11-8, 11-8, 11-2 (44m)
Three-time British Open champion Nour El Sherbini came from one game down to advance to the quarter-finals, seeing off Sabrina Sobhy 3-1.
World No.2 El Sherbini made a slow start to the opening game, which was capitalised on by Sobhy as she drew first blood. However, the Egyptian provided the perfect response to going a game down by levelling the match with a triumph in the second, before turning it up a notch by overturning the deficit and sewing up the match with a comprehensive 11-2 win in the fourth.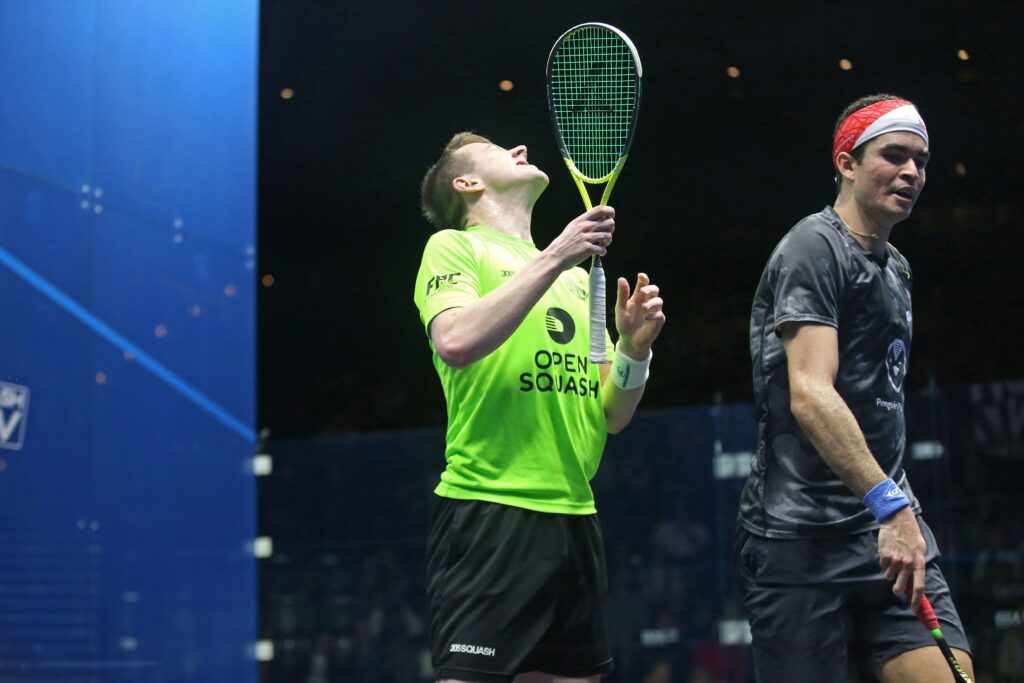 World number one on song
[1] Diego Elias (Per) 3-0 Nathan Lake (Eng)  11-8, 11-8, 11-7 (37m)
World No.1 elect Diego Elias marked his momentous milestone by booking his place in the quarter-finals of the British Open.
Elias, who will become World No.1 on Monday, defeated Nathan Lake 3-0, with the Englishman providing a stern test for the Peruvian Puma.
Lake, who hadn't beaten Elias previously, took the game to the top seed but Elias showed why he will be at the summit of the World Rankings next week as his quality came to the fore to progress to the last eight.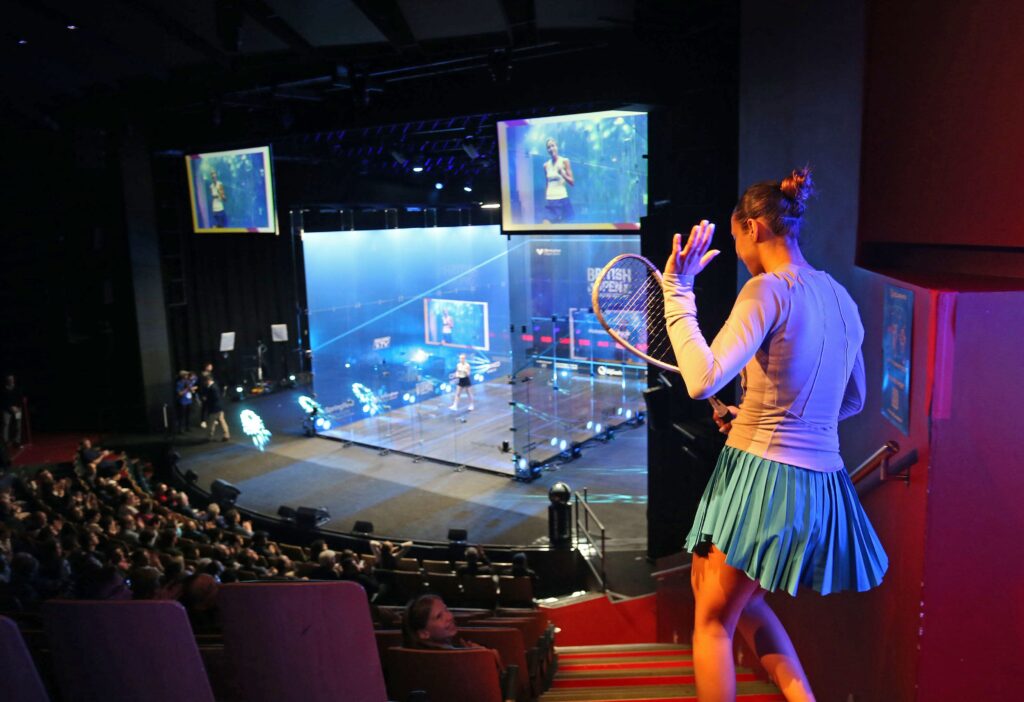 A clinical performance from the Title Holder
[3] Hania El Hammamy (Egy) 3-0 Emily Whitlock (Wal)  11-6, 11-4, 11-4 (30m)
Defending champion Hania El Hammamy stepped up her title defence by dispatching Emily Whitlock in straight games.
It was the third time the duo had met on the PSA World Tour, and El Hammamy extended her unbeaten run to three matches against Whitlock. The reigning champion was relentless in her approach, sealing the match in just 30 minutes against the Welshwoman with 11-6, 11-4, 11-4 victories.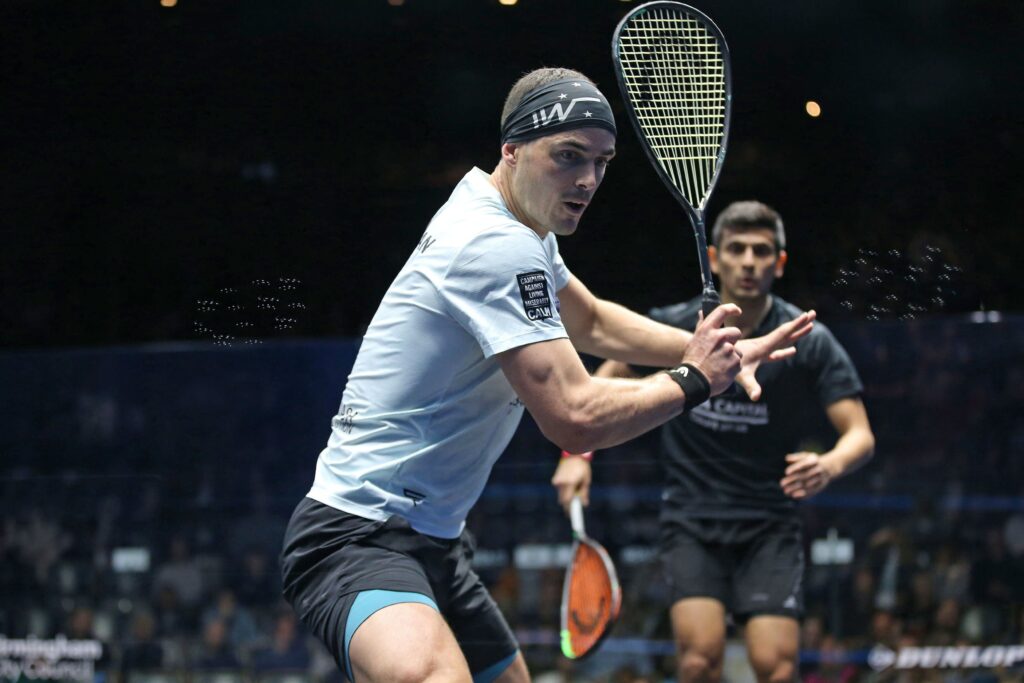 Defending Champ Coll produces faultless performance
[3] Paul Coll (Nzl) 3-0 [9/16] Saurav Ghosal (Ind) 11-6, 11-9, 11-1 (51m)
World No.4 Paul Coll continued the defence of his British Open crown with a faultless performance to overcome Indian No.1 Saurav Ghosal in straight games. Coll, who won this title in both 2021 and 2022 in Hull, was featuring for the first time at The Rep this week, but he looked at ease with the glass court on stage, and ran out an easy winner.
The second game was tougher for the Kiwi, as Ghosal started to play some of his trademark squash. However, a tight 11-9 win for Coll killed the match, and he dropped just a single point in the third. The former World No.1 will now take on Marwan ElShorbagy in Friday's quarter finals.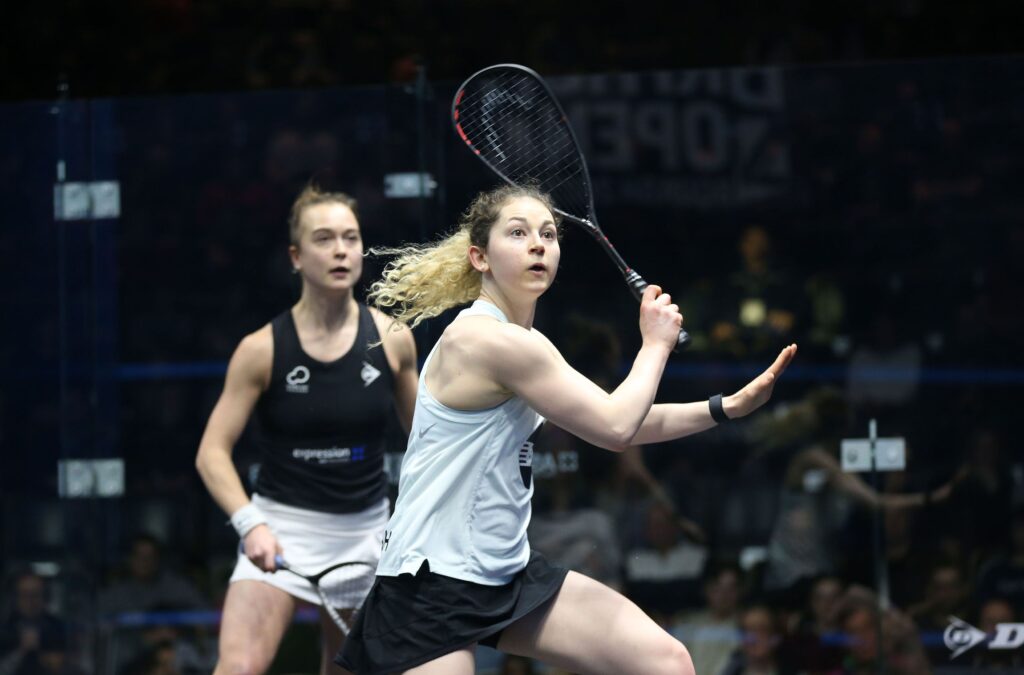 Kennedy Survives Thriller With Gilis
[8] Gina Kennedy (Eng) 3-2 [9/16] Tinne Gilis (Ned)  15-13, 11-9, 3-11, 5-11, 11-6 (71m)
England's Georgina Kennedy delighted the home crowd to take a five-game thriller against Belgium's Tinne Gilis, after staving off a comeback from the World No.12.
The opening game went to a tie-break, with both women saving game balls in the process. Kennedy saved three, including one to push the game into a tie-break, and she eventually came through it 15-13. She then doubled her lead, with the Belgian seemingly struggling with a problem.
However, Gilis fought back into it, and with some quick rallies, she got the third game back. Kennedy asked for a new ball, but that only allowed the Belgian to keep picking up more balls, and keeping more rallies alive. That saw Gilis take the fourth as well to send the match into a decider.
The game break was good for Kennedy, as she came out sharply in the fifth and deciding game. A 6-2 lead came quickly, and from there, the Englishwoman never looked like relinquishing the advantage. She took the victory, to move through to the last eight, in the same city where she won Gold at the Commonwealths in 2022.
Marwan downs Soliman again in all-Egyptian matchup
[5] Marwan ElShorbagy (Egy) 3-0 [9/16] Youssef Soliman (Egy)  11-8, 11-6, 11-8 (43m)
For the fifth time in the last six months, Marwan ElShorbagy has defeated compatriot Youssef Soliman, this time to make the quarter finals.
The pair had met at the U.S.Open, Grasshopper Cup, Hong Kong Football Club Open and the Pittsburgh Open, with the World No.6 having won all four matches. This one also went the same way, with ElShorbagy in control throughout the contest.
He consistently was able to stay in front of Soliman on court, and on the scoreboard. The pressure would tell for the lower-ranked Egyptian in all three games, as he was unable to keep ElShorbagy at bay, with 'the Jackal' winning in three.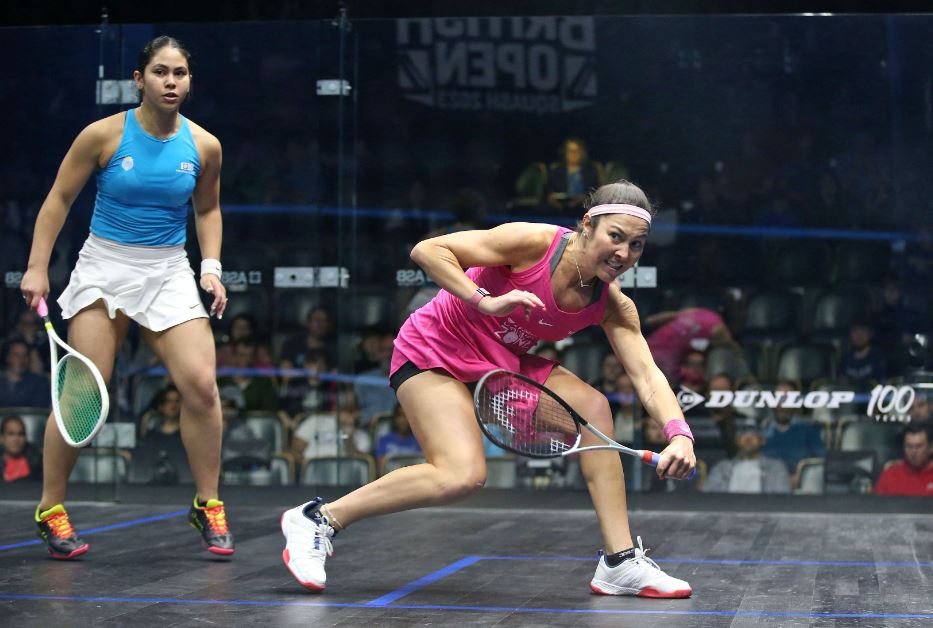 Soby storms into Quarters
[5] Amanda sobhy (Usa) 3-0 [9/16] Salma Hany (Egy)   11-5, 11-5, 11-4 (27m)
US No.1 Amanda Sobhy put on a clinic in her third round performance, as she got the better of Egypt's Salma Hany in straight games to reach the last eight.
The American had won all ten matches against Hany previously, and that run continued with an imperious display in Birmingham. She dropped just 14 points in a match lasting less than half an hour.
Sobhy was on point from the off, with her attacking squash being too much for the Egyptian to handle. The former World No.3 won out 11-5, 11-5, 11-4 to book her quarter final spot.