Karakal British Open Masters 2019 : Finals Day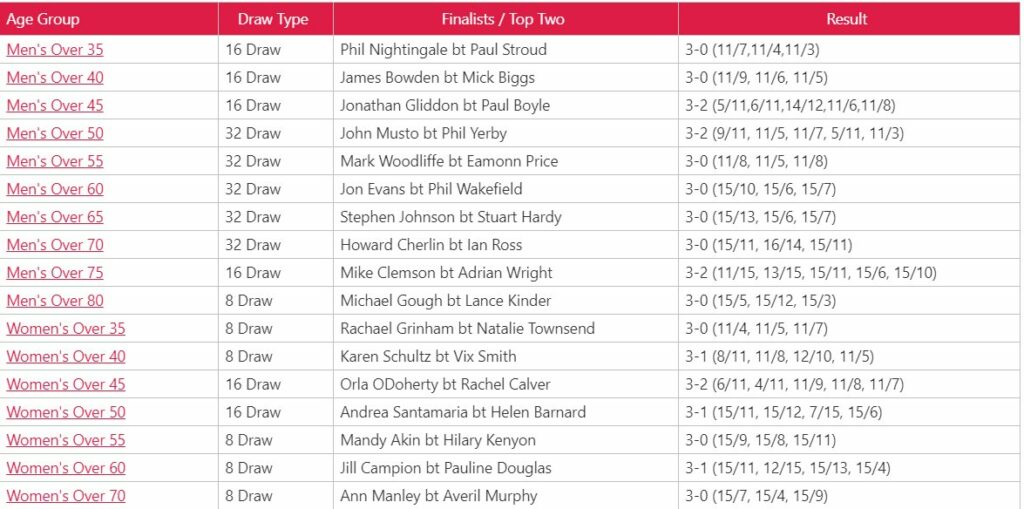 Day FIVE : the Finals
And so, it all came to the Finals. All the shots, games and matches to get to the point where seventeen Masters Squash players would be crowned British Open Champions.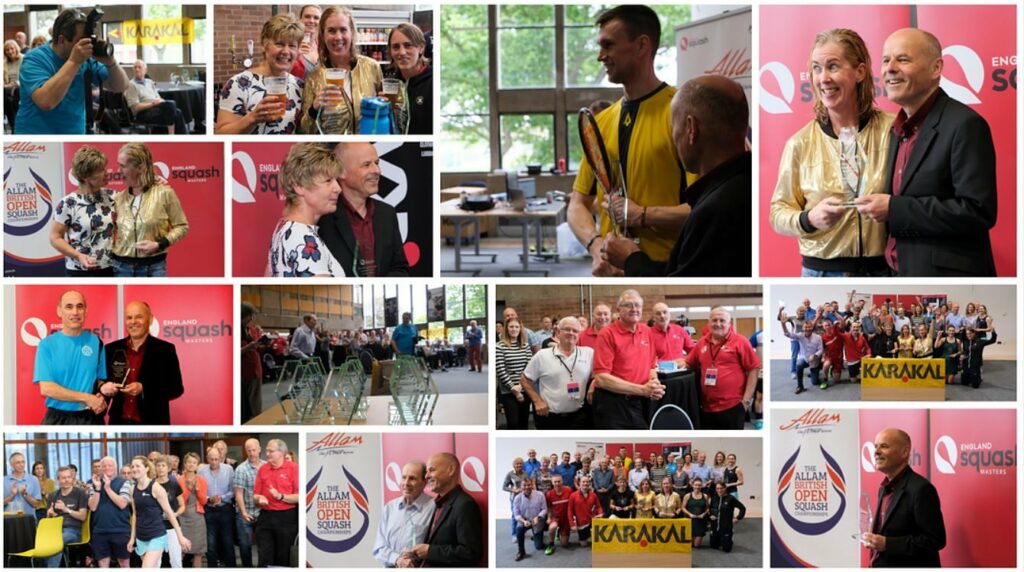 FULL DRAWS   PHOTO GALLERY   DAILY REPORTS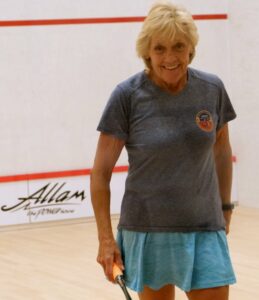 The Women's 70s featured defending Champion Ann Manley of Avon and Averil Murphy of Essex. Both women have a score of titles between them through the age groups, but Manley has been dominant in recent years. And so it proved as she emerged the stronger winning 3/0.
The Women's 60s also had a stellar field with three World Champions in the draw. Current World Champion Jill Campion (MDX) had to play former Champion Pauline Douglas of Scotland and in a game that swung from one to the other it was Campion playing her focussed game that won through 3/1.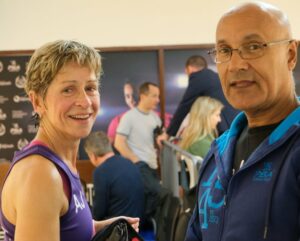 Mandy Akin (KNT) again was the W55 defending Champion and her arch-rival Fiona McLean of Scotland was absent this year. Hilary Kenyon (CHS) took her chance to reach the final but Akin's athleticism and power were decisive. 3/0 to her.
Andrea Santamaria (YKS) has proved to be the best of British and proved to be so again. Her W50 final opponent was no. 2 seed Helen Barnard the Wales No. 1 but as at the Internationals recently the English player had the edge and took the title with a four-game win here.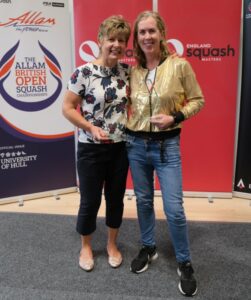 Irish No. 1 Orla O'Docherty was top W45 seed and favourite but was two games down to England No. 1 Rachel Calver (LEC). Calver, a former National Champion could not convert the third game, however, losing it 9/11 and then the next two. A first British Open for O'Docherty.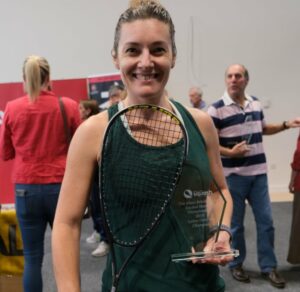 Karen Schultz of South Africa was playing her first British Open and she made it a memorable visit by winning the W40 title. Vix Smith of Surrey gave her a battle, however, and after sharing the first two games a crucial third went to Schultz and she pushed on to take the fourth and the win.
Rachel Grinham is something of a British Open legend having won the Women's title four times on the professional tour. Still competing professionally she made this her first Masters event and almost inevitably added another British Open title to her collection. In the final she beat England 35s player Natalie Townsend (WKS) who competed well but went down 3/0.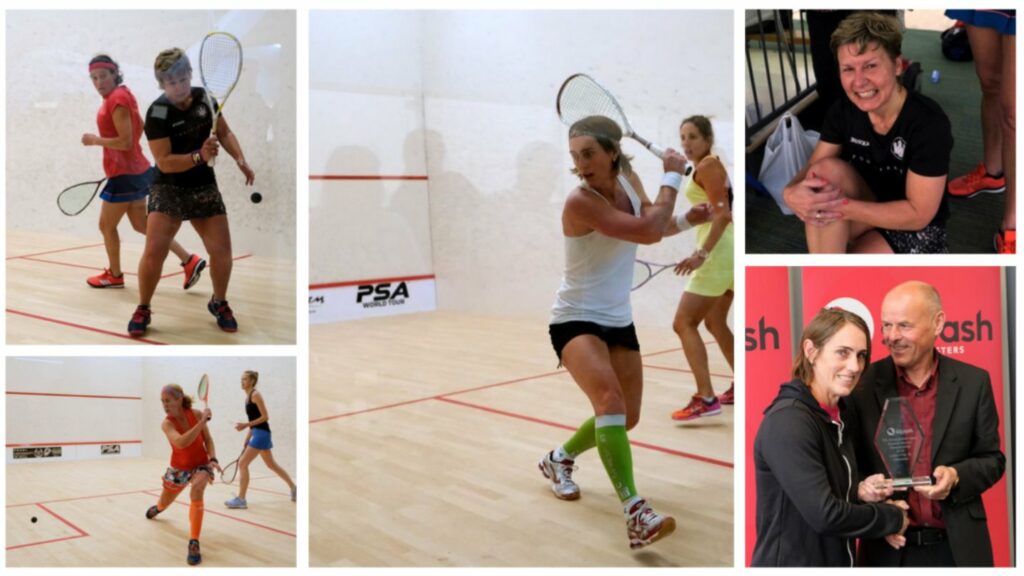 To the Men.
The Elder Statesmen of Squash, the Men's over 80s are certainly inspirational and two very good exponents of the game were in the final here. Michael Gough of the USA was an over 75 World Champion while Lance Kinder (HPS) is the current World Masters Champion. The younger man proved the stronger here, though and the American won another British Open to go with his U.S. Open won earlier this year.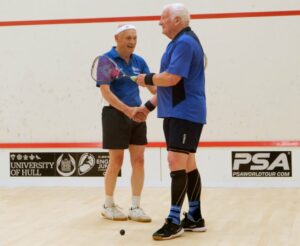 Two Yorkshiremen played the final of the 75s and they have played each other many times in Finals with the honours about even. Four-time World Champion Adrian Wright went two games up and looked to be heading for victory, but Mike Clemson, a diminutive bundle of energy had other ideas and powered back to win the next three games.
Howard 'Merlin' Cherlin (MDX) is the most elegant of shot makers and can sometimes be almost unplayable. Other times he can make too many errors but today the defending M70 Champion was on his 'A' game and Ian Ross the Scotland No. 1 and European Champion had few chances apart from a close second game. A second British Open for Merlin.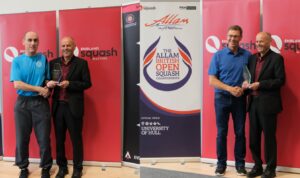 In the 65s Steve Johnson (LNH) is ranked as the best over 65 player in the world and so he proved here defeating Tournament Director Stuart Hardy (MDX) 3/0 after a close first game. The match was stopped in the third for ten minutes after Johnson fell into a wall after being (rarely) on the wrong end of a rally, but he recovered to close out the match.
After removing two top four seeds, nothing seemed beyond Phil Wakefield (YKS) in the 60s, but National Champion and Wales No. 1 Jon Evans the No. 2 seed decided to restore some order to things. He was too fast and mobile for the Pontefract man, winning 3/0.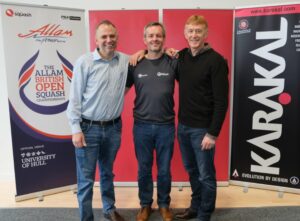 In a very competitive M55 age group Mark Woodliffe (GLS) has seven British Opens, and has won the last three in this group. Eammon Price (HFD) has also won British Opens and was hoping to end that run. But Woodliffe was just too strong and controlled and took the title with some beautiful squash in straight games. Coincidentally, Mark's father John also won the over 55 title back in 1996.
American Champion John Musto probably had the hardest week of any player at Hull. In the Men's 50s he had five matches and accounted for former Champions Andy Cross and Yawar Abbas, German Champion Predi Fritsche and finally National Champion Phil Yerby (BUX) in five games. And all those matches were close, full powered battles. Well done to him!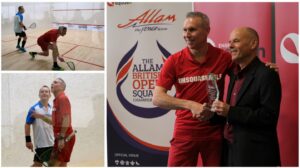 The 45s had some upsets as Jon Gliddon (DVN) put out the relentless top seeded Jamie Goodrich in the semis to earn a final with National Champion Paul Boyle (BUX), the second seed. Boyle went two games up and even had a match point in the third, but Gliddon's renowned power game saw him come through to clinch the title in five closely contested games. A first title for the England Squash Masters Chairman.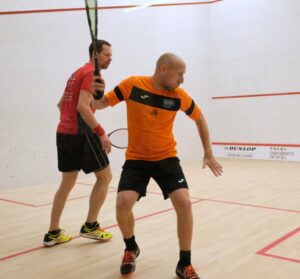 The very talented James Bowden (LEC) was hot favourite for the Men's 40s title and he literally blew away the opposition this week. In the final he met a very strong player in Mick Biggs (MDX) who had played very well to reach the final but he had no answer to Bowden's speed and range of shot.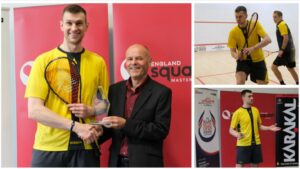 Phil Nightingale the Surrey professional has lost the last two British Open over 35 Finals but he was not going to let that happen again here. A tall man, he dominated the court and out-powered the opposition with accurate and strong hitting. Paul Stroud (LEC) had made the final after a great semi-final five-game win, but had no answer to Nightingale's game today. A very solid straight games win and first British Open for Nightingale.
At the presentation, thanks were made to the sponsors the Allam family and Karakal. And also to Hull University for all their help in hosting us. The Referees were thanked for their sterling work all week and most importantly the Event Manager for England Squash Masters, Brian Brock.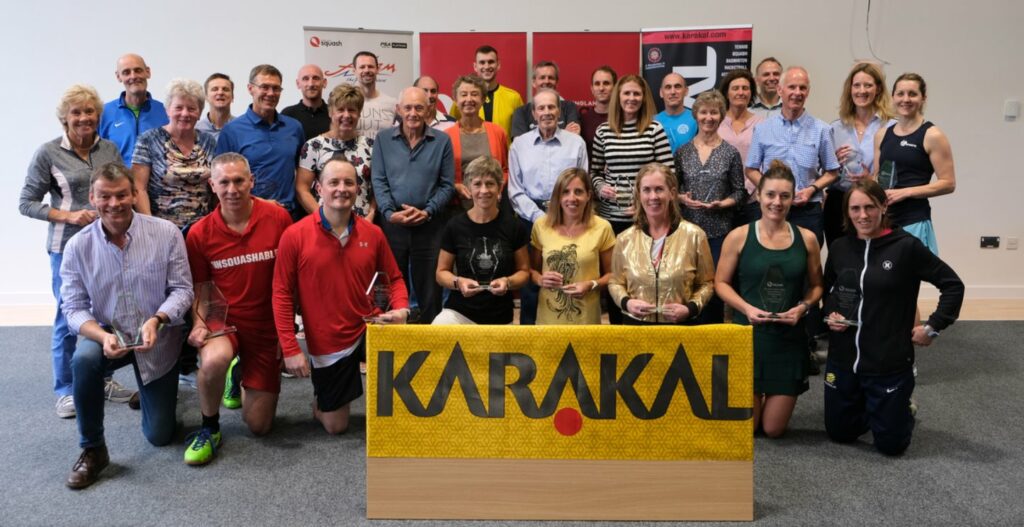 The Presentations were made by Andrew Shelley the CEO of the World Squash Federation.
Stuart Hardy, Tournament Director