Finals Day
The 2018 British Open Champions were crowned at the Airco Arena today.
World #1 Nour El Sherbini claimed her second BO title as she beat compatriot Raneem El Welily in three close games, while Colombia's Miguel Rodriguez won an astonishing match against World #1 and World Champion Mohamed ElShorbagy..
BRITISH OPEN FINALS
[1] Nour El Sherbini 3-0 [2] Raneem El Welily (Egy)                                 11-6, 11-9, 14-12 (47m)
Miguel Rodriguez (Col) 3-2 [1] Mohamed ElShorbagy (Egy) 11-7, 6-11, 8-11, 11-2, 11-9 (102m)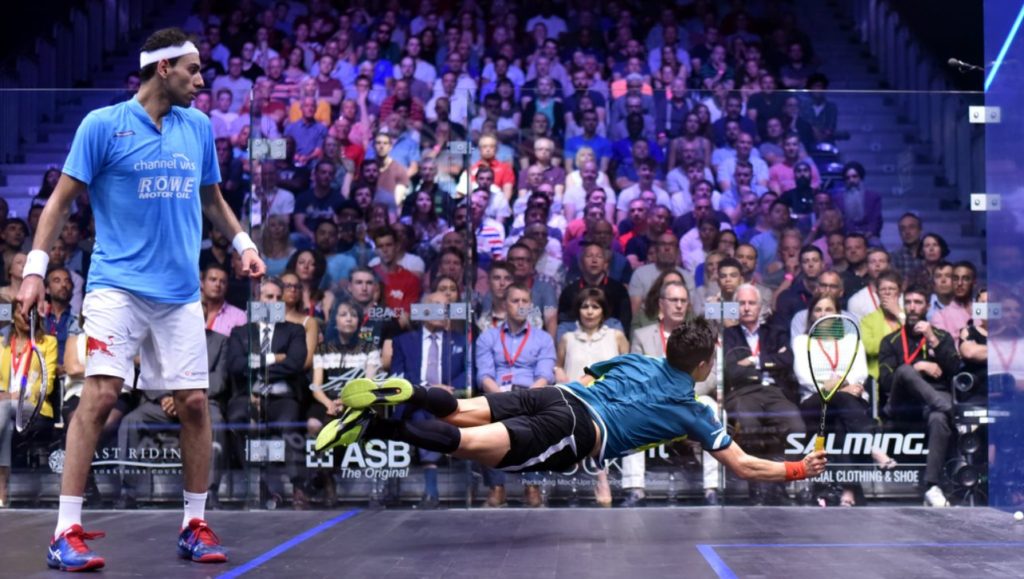 Rodriguez beats ElShorbagy in astonishing final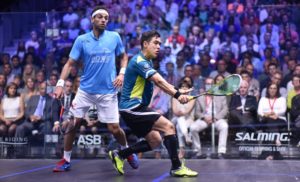 Unseeded Colombian Miguel Rodriguez, appearing in his first World Series Final, came through an incredible five game marathon to beat World #1  and World Champion Mohamed Elshorbagy – for only the second time in 14 attempts – to become British Open Champion.
The Egyptian started the match well, taking an early lead in the opening game, but a determined Rodriguez fought back to take the lead 11-7.  ElShorbagy recovered to take the next two games, but was clearly feeling the effects of his previous matches – coming from two-nil down twice and a brutal semi-final to dethrone Gregory Gaultier – and by the middle of the third he was, as the saying goes, running on fumes.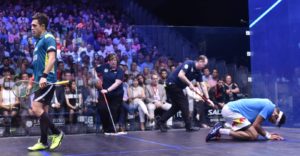 Somehow he managed to hold on to close out the third, but he then threw away the fourth, flapping at Rodriguez's serves and staying at the back, conserving energy for the fifth.
He needed it – the final game took 27 minutes. ElShorbagy led 4-0, but Rodriguez kept plugging away, extending the rallies as much as he could and eventually reaping the benefits as ElShorbagy hit the tin and Rodriguez levelled at 8-all – the crowd now really behind him.
It wasn't over yet though, Shorbagy edged ahead again 9-8, but Rodriguez took the next two points, and on Championship ball threw in a boast that ElShorgaby couldn't get, and after just ove 100 minutes he was the Champion!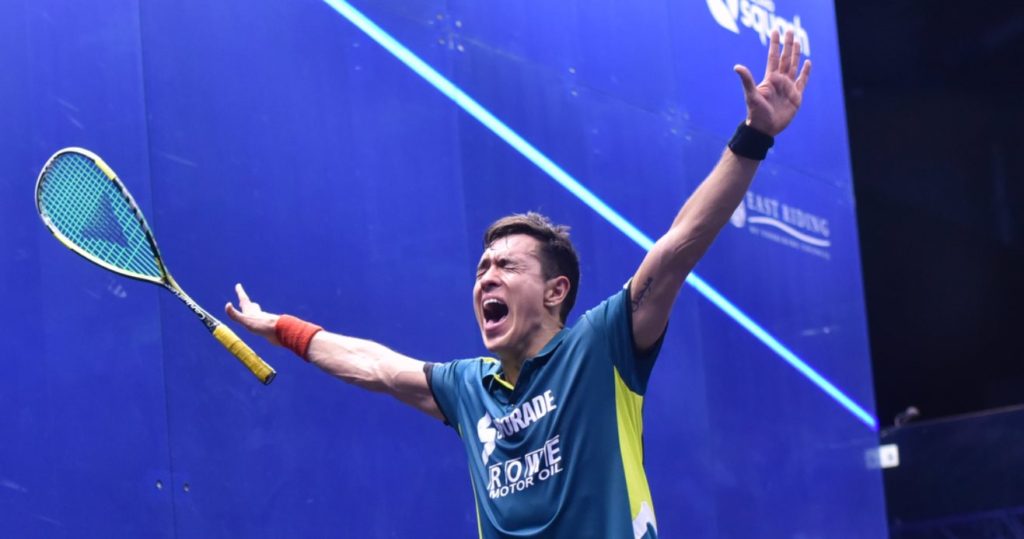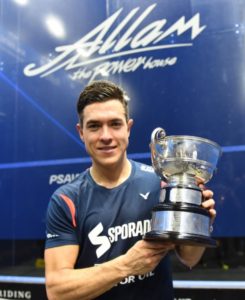 I think everything was mental – I dreamed it, I visualised it.
I had emotions during the week but I am just speechless. I'm so grateful for this opportunity to win this event, this major tournament – the greatest of all time.
I was just giving it everything. Mohamed was fighting and fighting, I hated him [and I hated you replies Mohamed] – he was on the floor and looked like he was struggling but then he came back so strongly and was hitting winners from the back of the court and I had a little bit of pressure and I didn't know what to do.
I did the same as him and was fighting and fighting until the end. I was believing, and it happened.
It's huge, this is like winning the Wimbledon of squash – no-one in South America has achieved this before, I'm the only one, now I'm a legend I think I can say. I'm so happy to be in the hall of fame here with Jahangir Khan and David Palmer my coach – I haven't worked with him for the past two years, but I learned so much from him, from my physical trainer, all my coaches, my manager Pablo Cerna. I want to thank a lot of people but I will have time to do that personally.
I just want to enjoy this moment.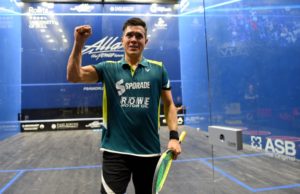 Most of the fifth game we were playing at the back court like a conditioned game and when I had that match ball I decided to go for a boast and I hit the shot and it was a winner and I couldn't believe that I was able to fight with a top player like Mohamed, he is really a Beast, I am so proud of him, he has achieved so many titles.
I'm so proud of myself, this is for my parents, for God, for my family and Colombia.
I can't believe that I am 32-years-old and I just won the British Open.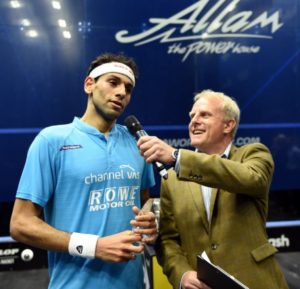 I don't know what to say, I don't know what to say today. I gave it everything I had.
Miguel was amazing the whole tournament.
The only thing I know how to do in my life is fight. When I had that bad body language at the end of the first game, at the beginning of the second I told myself to fight and fight and I raised my head up. Head up. Head up.
And I just fought till the end. No regrets.
Of course, really disappointed to lose, but you get good days and you get bad days in our sport. And if you can't accept the bad days, you don't deserve the good days, so I have to accept today.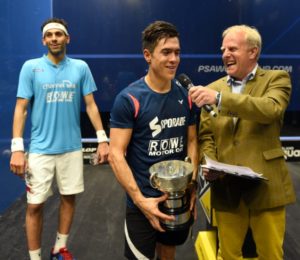 I had an amazing season, can't complain, I trained really hard last summer, but Miguel was class the whole event, he deserves the title, he has been playing so well the whole season, and I'm so happy for him. The emotions he had at the end of the match, when he won that last point, I understand it, I have been there before and I hope to be there again one day.
This is his moment, he deserves it, enjoy it. These moments do not last forever, keep going man, you really really deserve it.
It's title number two for Sherbini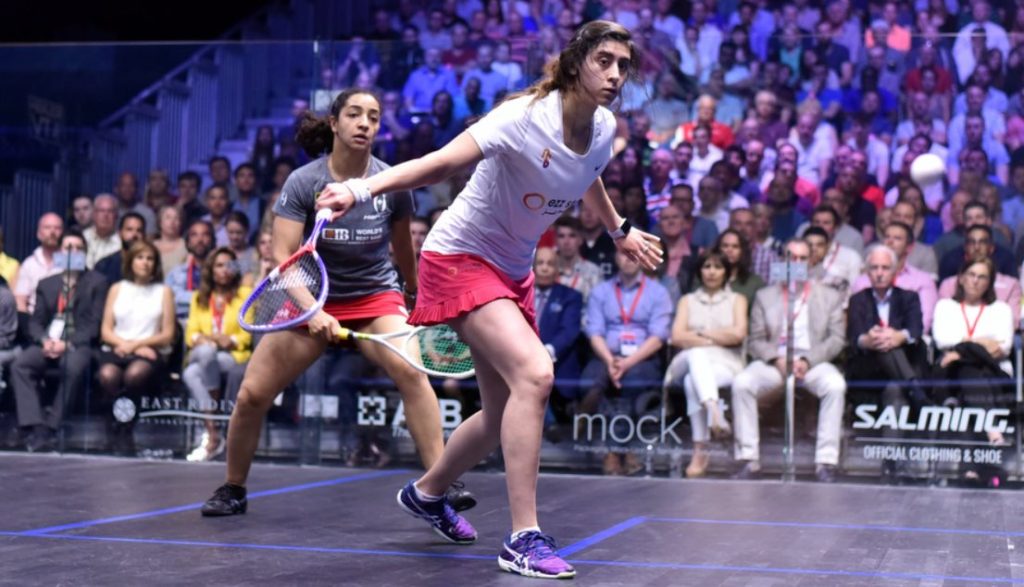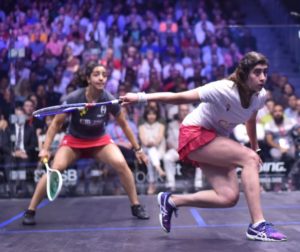 Their previous six meetings had all been in World Series – or World Champs – finals, and the score was three apiece, so another close contest between world numbers one and two Nour El Sherbini and Raneem El Welily was to be expected.
All three games were indeed close, but it was world #1 Sherbini who got the better of each of them,  holding a lead in the first, recovering from an early deficit in the second, then recovering after losing a 7-4 lead in the third, saving a couple of game balls before taking her second title on the second match ball.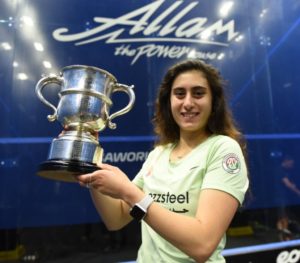 I'm really happy. The British Open is the biggest tournament on tour. It's a real honour to win it once, and now, I have two titles, so it's really big for me and I'm very proud.
With Raneem, we always have very tough battles, as you can see. Today it was 3/0 but it's never really 3/0..
The last game was very important. Last tournament in Gouna, she was 10/5 up, I came back but didn't make it. So this time, when I was 10/7 down, I told myself I could come back that I could do it.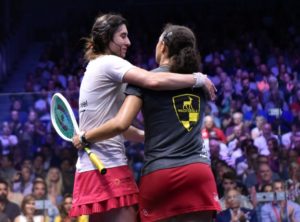 And I'm glad I came back to win that third.
It's still hard to play Raneem, every time, it's harder than the time before. We are really good friends and I learn a lot from her. She is a good sister to me, and a role model to any player.
I hope we will never finish this battle, I hope we'll continue playing against each other hopefully in the finals, not before…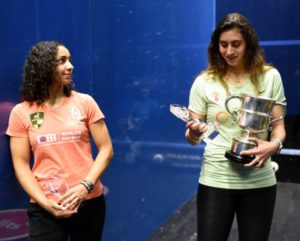 I'm obviously disappointed to lose today but all credit to Nour, she played fantastic squash today.
It wasn't maybe my best day of squash, but I gave it everything that I had on the day, so that's what counts.
All and all, a good week for me in Hull, not too disappointed after all.
I just want to say thank you to Dr Assem for bringing us to Hull, for always supporting our sport and showcasing it in such a beautiful way, thank you, we are truly grateful.